Why learn new ways to make cauliflower rice? Because it's an easy, healthy cooking hack that brings more nutrition and less starch into your diet.
What is cauliflower rice?
Cauliflower rice is a low-carb, grain-free alternative to white rice made entirely of cauliflower. A quick chop in the food processor reduces a large head of cauliflower to grain-sized pieces, resulting in faux rice.
Cauliflower's rigid structure makes it easy to chop into small pieces and ensures that they keep their grain-like shape when cooked.
Cauliflower rice's history
Cauliflower "couscous" is thought to have been invented in 1998 in California by a chef named Ben Ford. As far as we can tell, it's the same thing, just called something else. The term "cauliflower rice" did not become popular on the internet until around 2012. But, since then, this nutrient-dense rice substitute has grown in popularity.
How to make cauliflower rice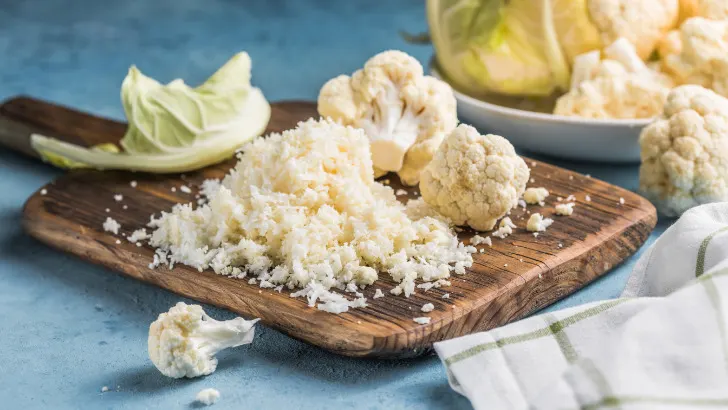 In less than 30 minutes, you can prepare, cook, and eat homemade cauliflower rice. Follow the steps below:
Cut a cauliflower head into florets.

Grate the cauliflower florets in a food processor or with a box grater.

To flavor, the cauliflower rice, sauté 1/2 an onion in a pan with a little olive oil.

Sauté the grated cauliflower for 5-7 minutes in the pan.

Season with salt and pepper and serve, or add some tasty flavor enhancements below.
Make cauliflower rice in a Vitamix
Did you know you can make this in your Vitamix as well? Follow the steps outlined below.
Place the cauliflower in the Vitamix (no more than 2/3 full).

Just enough water to cover the cauliflower until it rises above the blade.

6-8 times, pulse until desired consistency is reached.

Using a sieve, strain the mixture and pat the cauliflower dry.
7 ways to make cauliflower rice
1. Fried cauliflower rice
Cauliflower fried rice adds a healthy twist to a traditional Chinese stir-fried recipe. It's made with cauliflower rice, vegetables, and eggs that have been tossed in sesame oil and tamari or coconut aminos. For a quick and easy weeknight meal, try this low-carb recipe favorite!
Here are the steps:
Grate or chop fresh cauliflower.
Mince garlic and fresh ginger, chop an onion, and grate a carrot.
Heat 2 teaspoons of sesame oil in a skillet.
Saute the ginger and garlic for 20 seconds. Then add onion and carrot. Cook for 2 to 3 more minutes.
Add riced cauliflower. If you like frozen peas, you can add these in this step also. Cook for 2 to 3 minutes.
Make a well in the center of the veggies and crack an egg into it. Stir and scramble the eggs with a spatula.
Season with tamari and chopped green onions. Serve immediately.
2. Cauliflower rice tabbouleh
Cauliflower rice tabbouleh is a delicious variation of traditional tabbouleh that replaces bulgur with cauliflower rice. It's a nutrient-dense, gluten-free, paleo, light, and healthy salad with a lemon herb flavor.
Tabbouleh is a lemony herb salad. Fresh parsley and lemon juice take center stage. After hummus, tabbouleh is probably one of the most well-known and popular dishes from the Levant/Eastern Mediterranean region.
Try Downshiftology's cauliflower rice tabbouleh, which contains cauliflower, cherry tomatoes, cucumbers, scallions, parsley, mint, lemon, and olive oil.
3. Cauliflower mushroom risotto
Don't want to deal with the hassle of grating your own cauliflower? Try Real Balanced's cauliflower risotto that uses frozen cauliflower rice plus fresh Portobello mushrooms, cream, Parmesan cheese, and fresh thyme.
4. Ginger wok-fried cauliflower rice with shrimp
This Asian cauliflower rice recipe features cauliflower, shrimp, scallions, ginger, olive oil, chili flakes, lime, garlic, and cilantro. It comes together in just minutes with a delicious tangy flavor.
5.
Garlic parsley cauliflower rice
Saute minced garlic and chopped onion in a pan until soft. Add fresh cauliflower rice and cook for 5 to 7 minutes. Remove from heat and add fresh parsley.
6. Cilantro lime cauliflower rice
Saute minced garlic and chopped onion in a pan until soft. Add fresh cauliflower rice and cook for 5 to 7 minutes. Remove from heat and add fresh parsley and the juice of 2 limes.
7. Mexican cauliflower rice
Saute minced garlic and chopped onion in a pan until soft. Add fresh cauliflower rice, 2 tomatoes (finely diced), 2 tablespoons tomato paste, one jalapeno pepper (seeded and finely diced), 1/2 teaspoon cumin, the juice of one lime, and finely chopped fresh cilantro. Stir everything together for a few minutes before serving.
Cauliflower rice in other recipes
Try these suggestions to eat more cauliflower rice.
Use cauliflower rice instead of pasta
Pair cauliflower rice as a side for your favorite saucy Italian dishes. One to try is creamy Tuscan chicken — a one-pan dish featuring sun-dried tomatoes, spinach, crispy chicken, and a delicious sauce.
Bake it in casserole dishes
You can use cauliflower rice in any recipe that calls for white or brown rice, including casseroles! You can reduce carbohydrate intake by substituting cauliflower for rice while increasing antioxidants, vitamins, and minerals.
Try combining it with broccoli, chopped chicken breast, and a variety of light cheeses to make a baked dish.
Replace rice with it in a burrito or sandwich wrap
Cauliflower rice provides rice's texture and mild flavor while being lower in calories. It also goes well with almost everything. Make a burrito or a chicken wrap with it. What a unique take on a classic lunchtime dish!
Pizza with cauliflower crust
The cauliflower pizza crust is one of the best healthy-eating hacks out there, and it's a lot easier than it sounds.
Follow AllRecipes pizza crust recipe and you'll be topping your healthy pizza in less than an hour.
Combine cauliflower rice with slow-cooked soup
What about a nice chicken and rice soup instead of traditional chicken noodle soup? Cauliflower rice perfectly complements a slow-cooked soup. Just add it in the last 20 minutes or so of cooking time. Easy peezy.
Cauliflower rice FAQs
Can

you

freeze cauliflower rice

?

Yes! Absolutely. Once the cauliflower has been riced, divide it into freezer bags. It will keep for up to 6 months. When you're ready to eat it, toss it frozen into a sauté pan until hot.
Can you make cauliflower rice without a food processor?
Yes, you can make cauliflower rice without a food processor. Simply grate fresh cauliflower with a cheese grater.
What does cauliflower rice taste like?
When heated, the cauliflower's slightly bitter and cabbage-like aromas fade, allowing mild nutty flavors to shine through. Its neutral undertones make it adaptable, and it's simple to change the flavor by adding different seasonings.
See more about the taste of cauliflower rice here.
How do you store cauliflower rice in the refrigerator?
You can keep raw cauliflower rice for up to 10 days in an airtight container. It's time to make a new batch if it starts to look grey or smells overly sulfurous. Store cooked cauliflower rice for up to 7 days in an airtight container.
Cauliflower rice is easy and nutritious
Cauliflower rice is an excellent low-carb, grain-free, paleo-friendly rice substitute. It's also a clever way to sneak more vegetables into your diet. And the best part is, cauliflower is easy to make in a few minutes.