Asian Meatball Recipe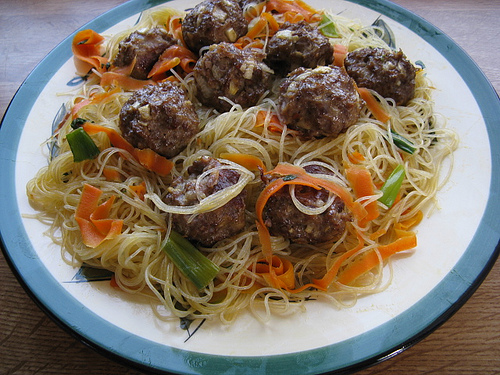 My fascination with foreign food continues tonight as I whip up some Asian meatballs. I found this on Recipezaar a few months back and knew I had to try it, but there was just one little problem, I couldn't find rice stix anywhere. At the time I didn't even know what they were nor did anyone at any grocery store where I looked. Finally last week I stumbled across the Asian section at Wal-Mart and right in front of my eyes there they were, rice stix! I quickly grabbed two bags and at last it was time for me to try this recipe for Asian Meatballs. Now normally I only post recipes on here that I feel are the best of the best, but tonight I'm going to make an exception. This was more of a test than anything and id say it had its up and downs. I thought the meatballs were excellent but I found the flavor of the noodles to be a little bland. If I made this again I would definitely add some more of my favorite vegetables to the mix. We definitely had some mixed reviews. Hit or miss, you decide.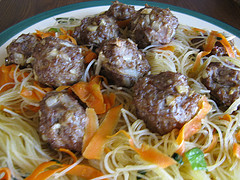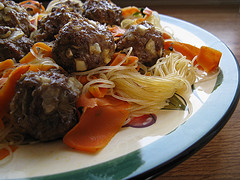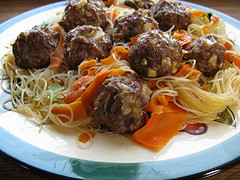 Asian Meatball Recipe
Ingredients:
1lb lean ground beef
½ cup white onion (minced)
1 egg
3 fresh garlic cloves (minced)
1 tablespoon fresh ginger (grated)
½ teaspoon salt
¼ teaspoon black pepper
½ teaspoon red chili pepper flakes
1 tablespoon soy sauce
3 tablespoons flour
Noodles-
1 (6 oz) Package rice stix (also called vermicelli rice noodles)
1 teaspoon sesame oil
2 fresh carrots (peeled into strips)
1 bunch of green onions (sliced into strips)
1 (14 oz) can of beef broth
soy sauce (to serve)
Directions:
Combine meatballs ingredients in a bowl, mix well and form 1 to 1-1/2 inch meatballs.
Place the meatballs in the oven and bake at 350 degrees for 25 minutes or until fully cooked.
Rinse the rice noodles until they go slightly soft and set aside. Slice the green onions into 1" strips. Peel the carrots and then use your peeler to peel all the way down the carrot making long thin strips.
Heat sesame oil in a skillet over medium heat and stir fry vegetables for 3 minutes until the carrots go limp.
Add beef broth and rice noodles to the skillet and bring to a boil. Cook while stirring until the beef broth is absorbed and the noodles are soft. Put meatballs on top of noodles or mix them together and serve with soy sauce if desired.