Ritz Chicken Casserole Recipe

This Ritz chicken casserole is great if you are looking for an easy and delicious meal to prepare for dinner. This casserole combines shredded chicken with cream of chicken soup and sour cream. The casserole is topped off with crushed Ritz crackers. If you want to save even more time you can use leftover cooked chicken or the meat from a cooked rotisserie chicken. If you want to make this a little more healthy you can use Greek yogurt in place of the sour cream. Enjoy.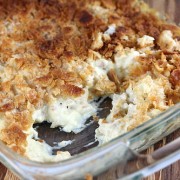 Ritz Chicken Casserole
Ingredients:
3 cups cooked shredded chicken breast
1 (10.75 ounce) can cream of chicken soup
1 cup sour cream (or plain Greek yogurt)
2 sleeves of Ritz crackers (crushed)
1 stick (1/2 cup) butter melted
Directions:
Preheat the oven to 350 degrees F. Lightly spray a 3 quart baking dish.
In a large bowl mix together the soup and sour cream until well blended. Fold in the shredded chicken.
Spoon the mixture into the prepared baking dish. Top with Ritz cracker crumbs and drizzle the melted butter over the top of the Ritz crackers.
Place into the oven and bake for 25-30 minutes or until the crumbs are golden brown and the mixture is hot and bubbly in the center.