Baked Beans Recipe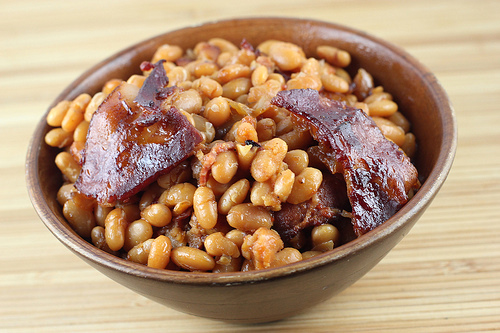 This is a recipe to make homemade baked beans completely from scratch. I see a lot of recipes using canned baked beans but this recipe is not like that at all. These baked beans will go great with your fish fry or several other dishes. These are great for parties or cookouts and the recipe can easily be doubled or tripled to feed a large crowd. They require a little work and a bit of baking time but they are well worth it. The beans are soaked overnight, boiled, mixed with a sauce and baked. Enjoy.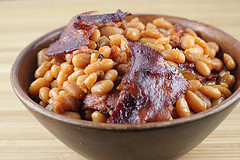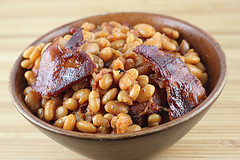 Ingredients:
2 cups navy beans
1/2lb bacon
1 onion (finely diced)
3 tablespoons molasses
2 teaspoons salt
¼ teaspoon ground black pepper
¼ teaspoon dry mustard
½ cup ketchup
1 tablespoon Worcestershire sauce
¼ cup brown sugar
Cooking Instructions: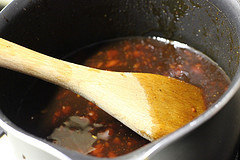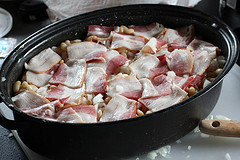 Step 1: Soak navy beans overnight in cold water. The next day simmer the beans in the same water until tender (about 1 to 2 hours). Drain and reserve the liquid. Pre-heat the oven to 325 degrees.
Step 2: Place a layer of the beans into a lightly greased casserole dish. Place a layer of bacon and onion on top of the beans. Repeat layers.
Step 3: In a saucepan combine molasses, salt, pepper, dry mustard, ketchup, Worcestershire sauce and brown sugar. Bring the mixture to a boil. Pour the mixture over the beans and pour enough of the reserve bean water to cover the beans into the casserole dish. Cover with aluminum foil.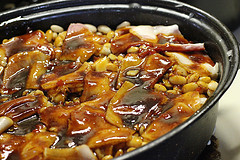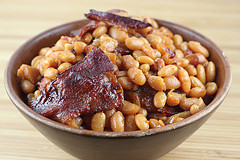 Step 4: Place into the oven and bake at 325 degrees for 3 to 4 hours. Remove the  tinfoil halfway through cooking and add more liquid to prevent the beans from getting too dry if necessary.
(Makes 6 servings)