If you've ever had to stand for extended amounts of time at the kitchen sink washing dishes or the stove making a meal, you know how much strain it can put on your legs and lower back. Knee discomfort, aching joints, and a sore back are typical daily problems many individuals deal with. Fortunately, a kitchen floor mat is available. Kitchen floor mats may not appear to be much, but they can make a significant difference in weariness from standing. However, not all anti-fatigue mats are the same. Some of them are nothing more than rugs that provide minimal support for long periods of standing.
The best anti-fatigue kitchen mats go way beyond those labeled"anti-slip" or "cushioned" to encouraging tiny motions in the legs and calf muscles to help increase blood flow. They have even been scientifically proven to help alleviate the stress on the body caused by standing for lengthy periods, particularly if you already have back, foot, or knee problems.
These mats are available in many colors and styles, as well as a variety of sizes, so endeavor to measure your space before buying one. Consider purchasing a larger mat or many smaller mats if you move around your kitchen while cooking. Consider how thick the mat is as well – for most individuals, a 0.75-inch mat would suffice, but if your floor already has some cushioning (or carpeting), a 0.5-inch mat will suffice. Ensure that the mat is not too thick, as this could provide a tripping danger (textured surface and beveled edges can also help prevent this).
Top 10 Best Antifatigue Mats for Kitchen
When you think "Best Overall," think Sky Solutions. Sky Mat's anti-fatigue mat provides the ideal balance of support and softness. The 0.75-inch-thick mat is constructed of comfy foam and has a faux-leather exterior that makes cleaning a snap – simply wipe it down with a wet towel, and you're ready to go. Tripping is reduced by the beveled-edge design and nonslip bottom. This mat also features a lifetime replacement warranty and is available in nine various color and pattern combinations. The Sky Solutions anti-fatigue comfort floor mat provides maximum standing comfort anywhere your feet need it–at home, in the workshop, in the kitchen, or at the office. This floor mat is made of long-lasting, sturdy, and wear-resistant materials and has soft non-slip foam ideal for high-traffic areas. This mat will make you feel like you're stepping on clouds, in addition to adding premium style to any environment.
Features
Improves balance and Posture
Available in different sizes
Easy to maintain
Cushioned comfort
Pros
Relieves pressure on your spine
Soft foam core relieves stress on your knees and muscles
Non-slip bottom
Cons
Compared to other mats, its texture traps dust easier.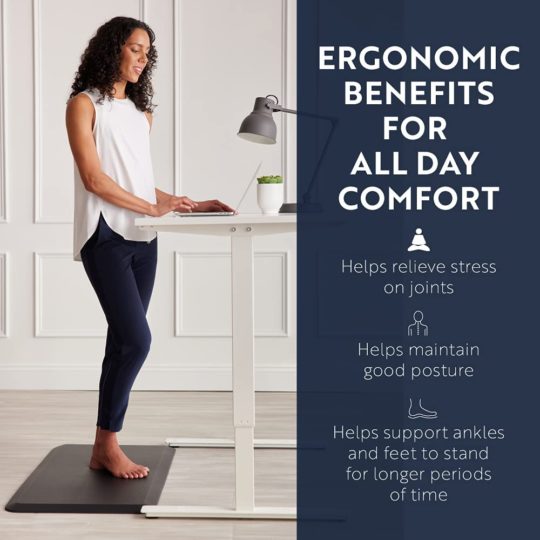 Kangaroo's anti-fatigue mat is popular among users for its wide range of color options, no wonder it is the best when it comes to color selection. Kangaroo's anti-fatigue mat will not only look wonderful in almost any kitchen, thanks to the variety of color and pattern possibilities (over 15 in total). But it will also successfully reduce fatigue due to its ergonomic design and incredibly comfortable padding. The 0.75-inch foam mat has a slightly textured surface for increased traction and foam beneath to protect it from sliding. It has beveled edges that aid in keeping you from tripping. It's also completely waterproof, so you can clean it with a moist cloth or even a vacuum if necessary. This is a worry-free purchase because of the 10-year, no-hassle warranty.
Features
Superior Cushioning
Ergonomic Benefits
Ultra-Durable
Easy to clean
Pros
It comes in a variety of colors and design
The mat is stain resistant
The mat is water-proof
Cons
This mat is not slip-resistant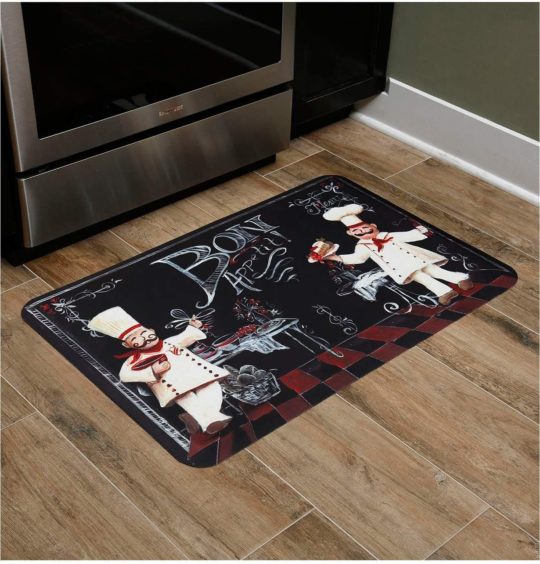 The Oversized Chef Series stands out from the crowd of anti-fatigue mats as "the best decorative." This product is available in many cafe-inspired designs, ranging from flower patterns to wine collages. These anti-fatigue mats' beautiful graphics and patterns will be a great design feature in your kitchen, all of which will add a touch of decor and comfort. But don't worry, just because these mats are adorable doesn't mean they aren't functional. Despite being slightly thinner than the other options, the 0.5-inch mat nonetheless provides padding for your feet throughout even long hours of standing. The beveled edges help minimize tripping, and the non-skid backing keeps the mat in place for added security. And what about cleanup? It's pretty straightforward. Allow the mat to air dry after cleaning it with a moist towel and mild soap.
Features
Multiple sizes and designs
Slip-resistant
Easy to clean
Waterproof
Pros
Provides relief for the feet and knees
Nonskid backing provides additional support and safety
Stain and oil resistant material
Cons
May develop tears within months of usage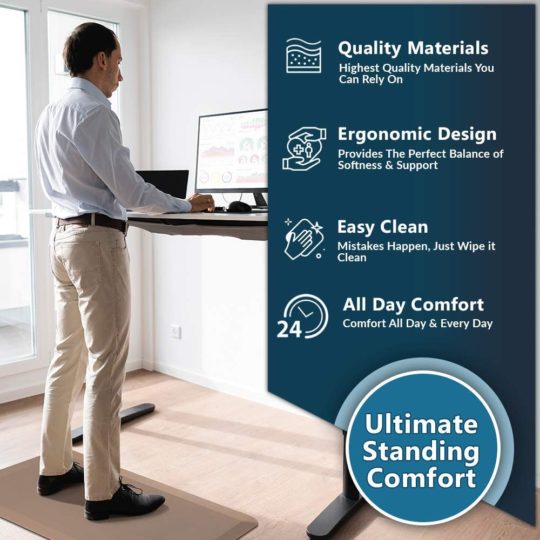 Let's face it; households with children or dogs (or both) are a shamble. Selecting a mat that will withstand the wear and tear of a busy home is difficult, but finding one for a high-traffic location like the kitchen can be nearly impossible. Fortunately, a ComfiLife Anti Fatigue Floor Mat is available. They come in three sizes, are stain-resistant, and are simple to clean. As an added plus, each size is available in a variety of colors, so you'll be able to select one that complements your kitchen decor. When standing for long periods, whether in the kitchen or at a standing desk, the ComfiLife mat relieves pain and discomfort in the knees, feet, back, and legs. It comes with a no-questions-asked lifetime money-back or replacement warranty.
Features
High-quality materials
Lifetime warranty
Multi-use floor mat
Stain-resistant surface
Pros
Non-slip bottoms for additional safety
Beveled edges to prevent tripping
High-density thick cushion to provide support and reduce pain
Cons
Some users complained of an initial noticeable odor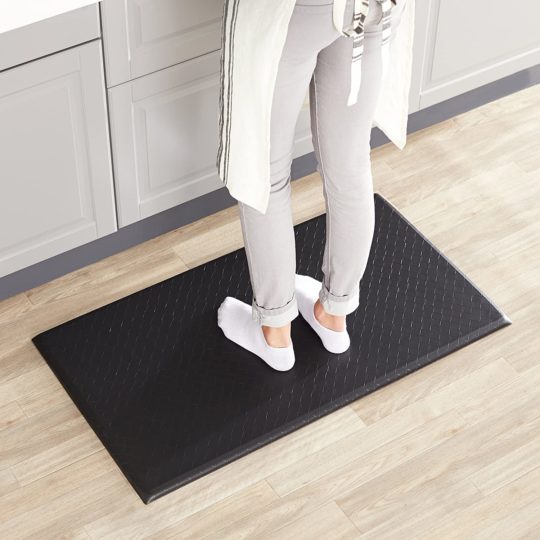 Consider this Amazon Basics standing comfort mat if you're looking for a low-cost anti-fatigue mat and an easy-clean mat. This mat's 1.5-inch thickness means it's cushioned enough to provide support and respite from harsh floor surfaces. This Amazon Basics 20 x 36-inch mat boasts a stain- and abrasion-resistant surface that makes it significantly easier to clean than other mats we've tried. It ensures that your mat will seem as good as new, even in a high-traffic area. As you stand, the foam layer will adhere to the curves of your foot. Each edge is curled to prevent tripping on the material. As you work, a non-slip base keeps the mat in place.
Features
Cushiony foam layers
Stain and abrasion-resistant
Non-curling edges
Easy to clean
Pros
Foam layer contours to feet, relieving pain on spine and joints
Thick and comfortable
Non-slip base for added safety
Cons
Not as durable as other anti-fatigue mats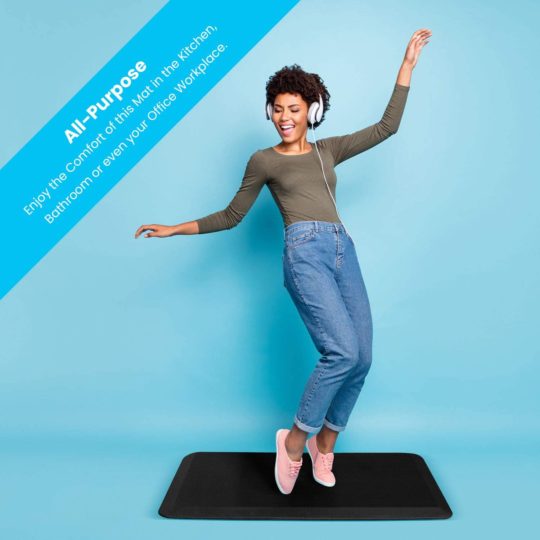 Another good option is the Royal Anti-Fatigue Comfort Mat. It can ease up to 40% of the pressure on your joints, foot, and knees. It's ideal for use in the kitchen, the home office, or anywhere you'll be standing for an extended period. It's smooth, but it's also tough. The Royal Anti-Fatigue Comfort Mat is an anti-fatigue kitchen mat that will not be harmed if you splash water on it. It's also simple to clean, so if it gets dirty, wet, or has something spilled on it, you can simply vacuum it or wash it or wipe it down with a moist cloth. It is attainable in several sizes and colors, and it is ideal for prepping ingredients and cooking. It is safe to use on various surfaces, including laminate, wood, tile, and marble, and will not slip, flex, or fold out of place.
Features
Multipurpose surface use
Smooth, durable, and comfortable
Lifetime warranty
It comes in different sizes
Pros
Soft anti-fatigue cushioning promotes blood flow and good posture
The no-slip base for added safety
Waterproof
Cons
Not suitable for high traffic areas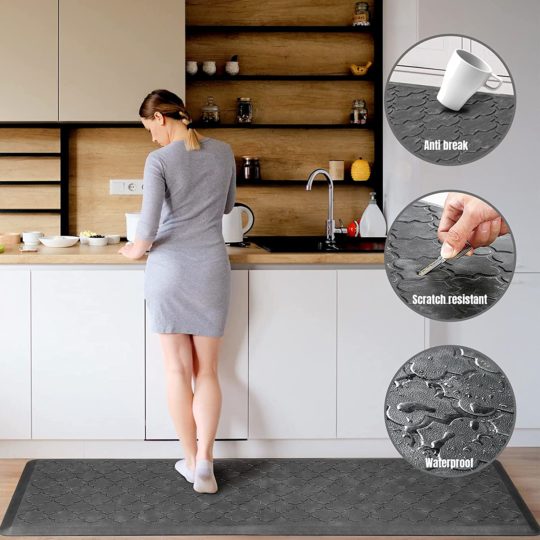 Many anti-fatigue mats are small—often around 3 x 2 feet—but if you're searching for a larger choice, the KMAT 2-Piece Cushioned Anti-Fatigue Mat is over 17 inches broad and 60 inches long, making it more suited for spanning the length of your kitchen counter. The mat comprises phthalate- and latex-free foam with a PVC exterior and is approximately 1/2-inch thick, providing plenty of comforts while working in the kitchen.
Features
Anti-slip material design
Multi-purpose use
Unique beveled edge
Extra-long design
Pros
Memory foam provides support to help relieve pain
Non-slick backing for added safety
PVC material design helps promote proper circulation and posture
Cons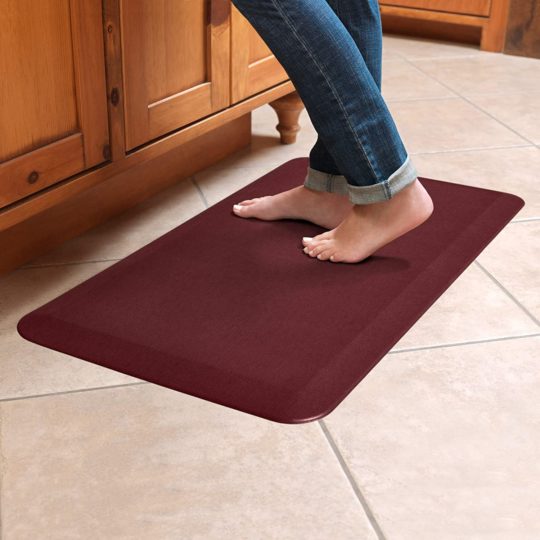 The GelPro Elite Anti-Fatigue Kitchen Comfort Floor Mat is made with unique gel technology and has a 3/4″ dual-layer core of gel and energy-return foam. While standing on GelPro Elite, you will notice a significant relief in your stress, fatigue, and discomfort symptoms. The product is available in three sizes, ranging from 36′′ to 72′′ long, and is obtainable in a wide range of patterns and colors to complement your home design. Its beveled edge ensures that it will not curl and reduces tripping dangers. The top designer layer is water and stain-resistant, and smooth, so it does not collect dirt. It is simple to clean with a moist towel and a light detergent. GelPro Elite will look great for years.
Features
Beveled edges
Slip-resistant bottom
Easy to clean
Ergogenic foam core
Pros
Ideal for hard floors
Thick ergo-foam core reduces fatigue while standing
A stain-resistant surface allows you to clean effortlessly
Cons
The surface can get slippery when wet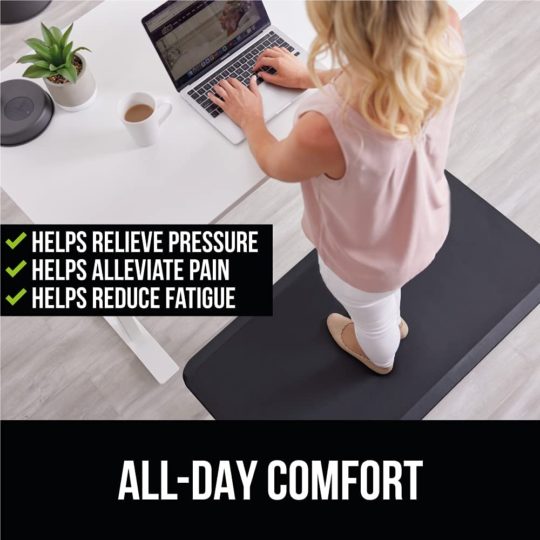 Consider this 3/4-inch-thick anti-fatigue kitchen mat if you need a thicker anti-fatigue kitchen mat. That's plenty of padding to keep you supported while also relieving pressure when standing for extended periods. The mat is made of high-quality foam that not only lasts but also withstands heavy foot usage.
The last thing you want to deal with after ordering a mat is having to smooth out the edges once it arrives—Gorilla Grip ships each mat flat to alleviate this annoyance. The mat is waterproof and composed of non-toxic materials. Spills are unavoidable, but this anti-fatigue mat may be quickly cleaned with a vacuum or a damp cloth.
Features
Sleek and Functional design
Stain-resistant
Extra thick foam
Multi-function use
Pros
Built to withstand heavy foot traffic
Stain-resistant material makes it easy to clean
Multi-purpose usage makes it suitable for many places
Cons
This mat is not slip-resistant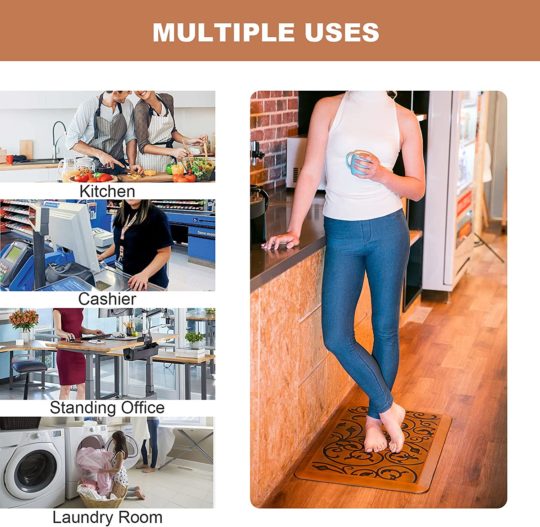 The AMCOMFY floor mat is one of the most attractive floor mats in this review. The AMCOMFY mats are designed in antique-looking finishes and come in various colors and designs to match practically any decor. These long-lasting mats are 3/4″ thick and robust enough to withstand scuffing from sharp objects or high heels – the foam is precisely engineered to rebound rapidly. AMCOMFY anti-fatigue mats are available in four sizes, ranging from 32′′ to 70′′ long, to accommodate most settings. It's stain-resistant and simple to keep clean. All you must do is clean it with water or a common household cleaner. However, soapy water should be avoided in order to keep the mat's finish from wearing away.
Features
Tapered edges
Water-proof surface
Multi-purpose
Non-slip top and bottom
Pros
A water-proof surface makes it easy to clean
Superior cushioning encourages good posture
Durable and long-lasting
Cons
Buying Guide
When it comes to choosing an anti-fatigue mat, there are a few factors to consider. There are numerous mats on the market, and it is critical that you select one designed to relieve tiredness, stress, and fatigue. Furthermore, you want to acquire one that is effective rather than just a cheap piece of rubber. With this in mind, I've compiled a list of crucial things to consider.
Material
Most mats are made of soft materials such as foam or gel, or perhaps both. I recommend polyurethane, a foam found in many commercial mats built to withstand repeated use. The top surface is usually protected by a cover, which is usually waterproof vinyl or polyurethane. This aids in cleanup and protects the mat from spillage.
Safety
The base of many mats has an anti-slip pattern. This acts as a built-in rug pad and will keep you from slipping. This is referred to as "travel control," and anti-slip characteristics are especially vital in locations where a mat may become wet (such as a kitchen sink) or on slippery floors such as hardwood or tile.
View this post on Instagram
Size and Thickness
Whatever material is utilized, the size of the mat must be considered. Most mats are intended to allow one person to stand pretty comfortably but not move around. If you want to be able to go back and forth at a kitchen counter, for example, without leaving the mat, opt for longer, runner-style mats like the KMAT 2-Piece Cushioned Mat.
Durability
"Mats created from less expensive materials are not always less expensive." Look for evidence that the mat will last, such as the use of durable materials. A sealed bottom and top will also keep it from deteriorating and help it withstand everyday spills. Reckon the amount of wear and tear your mat will endure: If you want a mat to stand on while folding laundry barefoot, you'll need far fewer robust materials than someone who has to stand in heels for hours at work without puncturing the mat.
View this post on Instagram
Design
While few anti-fatigue mats win beauty awards, there are more options available in a variety of colors and even designs like the Kangaroo Anti-Fatigue Mat. You can match your mat to the colors in your kitchen or simply select one that matches the floor closely, allowing it to blend in.
Conclusion
If you've ever felt discomfort or exhaustion from standing for an extended period of time, you may be looking for remedies. Some of the best kitchen floor mats are made to help relieve fatigue by relieving pressure on your joints, feet, and knees. Having a kitchen floor mat, however, may be more crucial than you realize. If you don't, you risk developing varicose veins, lifelong joint pain, and possibly increasing your risk of having a heart attack. For these reasons, the best kitchen floor mats should be at least 34″ thick and composed of material intended expressly to relieve tiredness from standing. They should also have beveled edges to prevent tripping and an easy-to-clean surface.
Last update on 2022-12-04 / Affiliate links / Images from Amazon Product Advertising API