The Corona Virus pandemic has taught us all one big lesson. It is to keep a hygienic and healthy lifestyle. Germs are very easy to spread around. It is best to take maximum precaution against contracting germs. Not just to protect one from the Corona Virus, but also other diseases as well.
A lot of times, we need to throw away garbage or take out the trash. We need to use the trash mostly when we are in the kitchen, either cooking or doing the dishes or just general clean up. In the process of touching the garbage lid to open and close it, we contract germs. It is even worse when you have children. I have children in the house, and I can personally tell you, you can only do as much to control their hygiene. You never know when the children will go playing around and touch the garbage can. They may not remember to wash their hands after that. This is why it is necessary to have the best automatic garbage can for the kitchen.
Many manufacturers have recognized the need to create automatic garbage cans. However, choosing the best automatic garbage can for your kitchen can be a little tricky. There are so many factors one needs to take into consideration. These could include; size, availability of space, the durability of product, design, etc. I have put together the ten best automatic garbage cans for the kitchen. Having a little experience purchasing automatic trash cans over 10 years, I have considered the most necessary factors. So if you are looking for suggestions as to what automatic garbage can will be best for your kitchen, look no further. Below are the ten best automatic garbage cans for the kitchen in no particular order.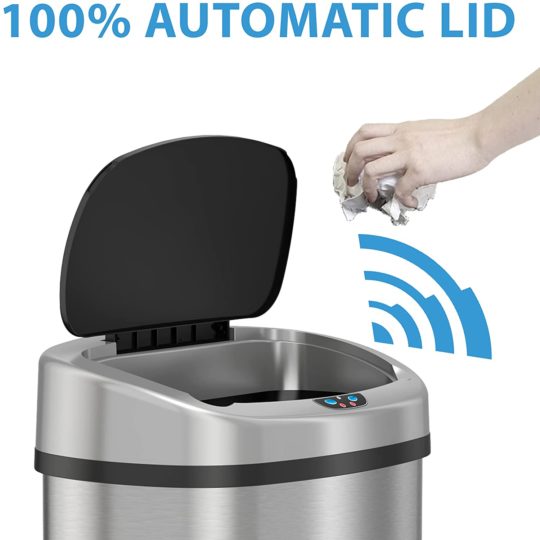 Recently, I went in search of the latest automatic garbage cans for my kitchen. I first searched for the best-rated products. This oval-shaped motion sensor garbage can was Amazon's Choice! So, of course, I went for it. The iTouchless 13 Gallon Sensor Can come with an odor-absorbing replaceable filter. This feature helps maintain fresh air and a healthy kitchen environment and is 100% touchless. This means all you need is to wave your hand over its sensor, and it opens automatically. The product is powered by either an optional AC adapter or 4 D size batteries sold separately. It has an extremely long battery life which is 3x the battery life of its counterparts. The stainless steel used is Smudge and fingerprint-proof. You need not worry about maintenance as it is easy to clean.
The opening of the can is wide enough to accommodate big trash like; pizza boxes, milk cartons, etc. It has the highest customer rating regarding quality, maintenance, durability, sensor, odor elimination, and smudge-proof abilities. It is ranked number #1 in indoor compost Bins and commercial trash cans as well. It has also been given a 4.4 out of 5-star rating
Features
Dimensions: 16 × 11.75 ×25.5 inches
Weight: 10 pounds
ASIN: B07BHXYCXQ
Model Number: 1TOS13B
Price: $68
Pros
Strong and long-lasting battery life
Smudge and fingerprint-proof
Comes with a replaceable Absorb× odor filter
Cons
Motion sensor depreciates over time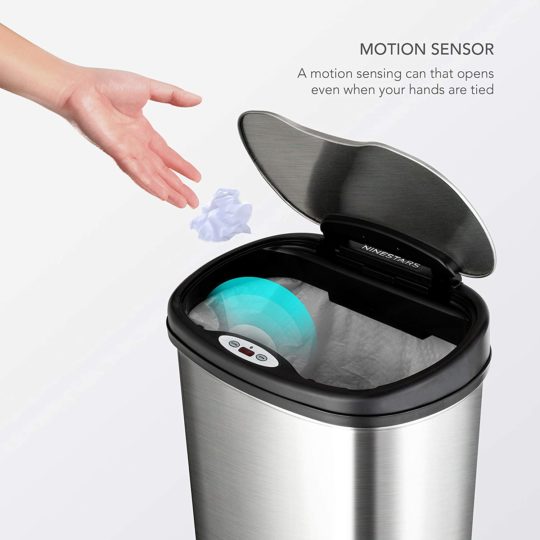 If you are looking for a less expensive garbage can, this is a great choice. It has a 13.2-gallon capacity and works on a motion sensor. This rectangular stainless steel product is also water-resistant. You need not worry about accidental spills messing with the sensor. Its Smudge and fingerprint-proof features help keep the can clean. The product comes with a one-year limited warranty.
The uniqueness of this product is in its advanced technology. Its delayed sensor does not open up the trash can unnecessarily. So you need not worry about it opening up when you walk by or when your pet runs across it. This, in turn, preserves its battery life. It also makes it an excellent choice for busy kitchens. The product requires a 3 C battery set to power it up. Customer reviews give it a 4.6-star rating.
Features
Dimensions: 11.5 ×16.5 × 26.9 inches
Weight: 7.6 pounds
ASIN: B00X2VKFSE
Price: $51
Pros
It is easy to clean
Holds odor inside
Sleek and attractive design
Cons
Easily develops technical malfunctions if not appropriately maintained.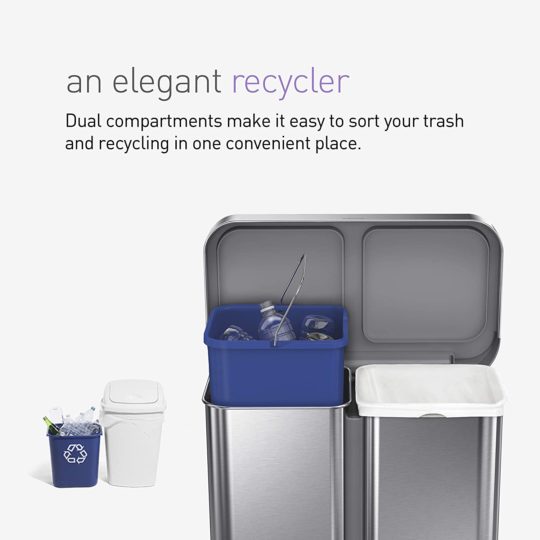 This product is a rectangular-shaped dual-compartment trash can. It has a 15-gallon capacity and features an innovative liner pocket that prevents leaks and tears. The product is fingerprint-proof with Agion antimicrobial. The design is such that it has internal hinges that prevent the lid from bumping the wall. Therefore you can keep this close to a wall or any other surface. It has a 4.7 out of 5 stars rating.
Features
Dimensions:  14.2 × 22 × 25.8 inches
Weight: 21.3 pounds
ASIN: B00VXULPTQ
Model Number: CW2025
Price: $200
Pros
Innovative and efficient H size liner pockets
Removable bottom for easy cleaning
Slow, soft, and quiet close
Cons
It is not designed to go under a counter
Expensive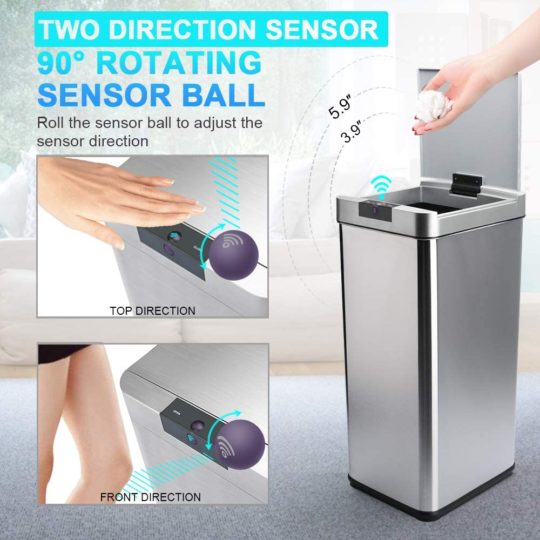 This is a stainless steel can with a 13-gallon capacity. One unique feature of this product is its two adjustable sensor directions and LED Countdown timer. You can adjust the sensor's zone to your preferred angle. However, it is particularly effective when placed in the front or top direction. It has six indicator LED lights—these lights countdown in an anti-clockwise motion when it is about to close. The product is designed with a battery holder, power jack, and switch. This way, you can choose the AC power adapter (for free) or 4 "AA" alkaline batteries to operate. However, the batteries do not come with the product. They are to be bought separately. It is designed to run smoothly, with slow-motion opening and closing. It also comes with intelligent bag retainer rings of stainless steel. These work well in hiding the garbage bag for a neat look. Its odor control is also top-notch. It has been given a 4.1 out of 5-star rating.
Features
Dimensions: 27.1 × 13.9 × 12.5 inches
Weight: 10.68 pounds
ASIN: B07L9X647M
Model number: ZYS – 48LM
Price: $99
Pros
Wide opening, making it easy to accommodate milk cartons, pizza boxes, etc
Quiet and responsive to motion
Small on the outside, deep inside
Cons
The Shape of the can makes it difficult to remove a full trash bag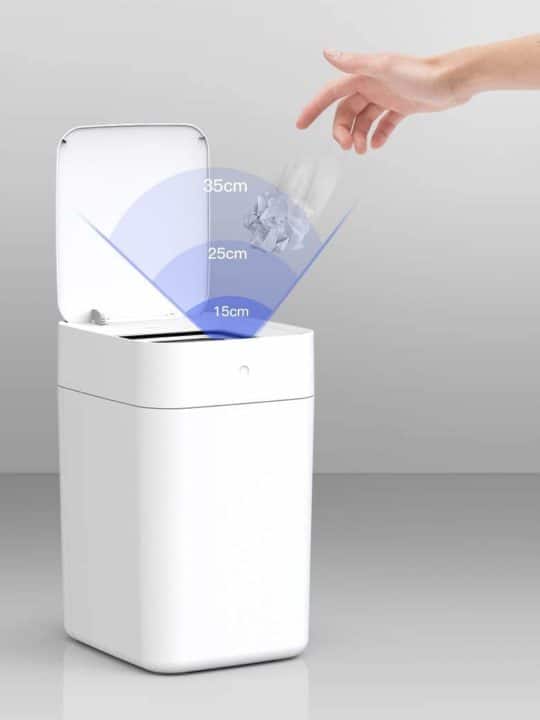 If you hate tying up trash bags when taking out the trash, this is for you. This product is a self-sealing and self-replacing trash can. It is designed with built-thermoplastic sealing technology. In just one touch, trash will be sealed up and replaced. Its latest infrared technology allows this product to detect movements within 35cm above the sensor panel. The lid immediately pops open when it detects motion. A 2000mAH battery powers it. A full charge can last up to 50 days. It also comes with one white trash can, refilling, USB cable, and manual. The product has a 4.4 out of 5-star rating
Features
Dimensions: 9.45 × 11.81 × 15.75 inches
Weight: 5.72 pounds
ASIN: B0921CWFYW
Model number: T1S
Price: $129
Pros
Capable of detecting trash overload
Automatic sealing of filled trash bag
Automatic replacement of trash bag
Cons
4-gallon capacity, it is minimal in size.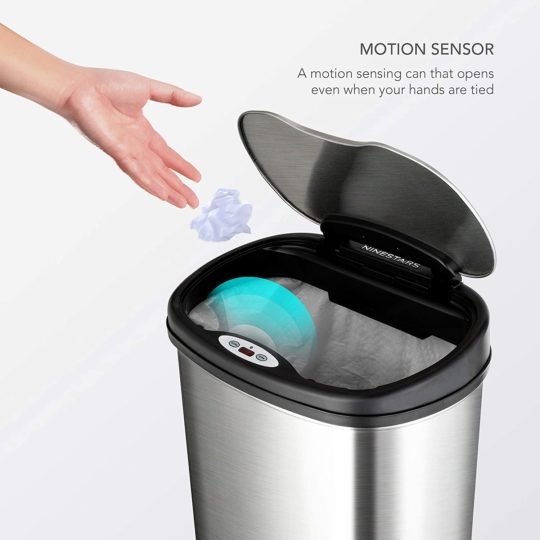 Purchasing this product is quite economical. You get two automatic trash cans. One- a 13-gallon kitchen-sized can, and the other- a 3 gallon can be suitable for bathrooms. It has a water-resistant infrared motion sensor. This prevents moisture or any accidental spill from damaging it. It is fingerprint-proof, thereby keeping it clean always. It seals odor in and eliminates cross-contamination of germs. The product's delayed sensor technology prevents unnecessary opening. This helps preserve its battery life.
This product has the most advanced sensor technology among all Ninestars trash cans. However, only batteries are required to power up this product (3C batteries). It comes with a one-year manufacture warranty
Features
Dimensions: 16.6 ×11.5 ×26.6 inches
Weight: 12.01 pounds
ASIN: B00NF6458Q
Model number: CB-DZT-50-13
Price: $68
Pros
Comes with a 3-gallon automatic trash can
Affordable
Water-resistant motion sensor
Cons
Easily develops technical malfunctions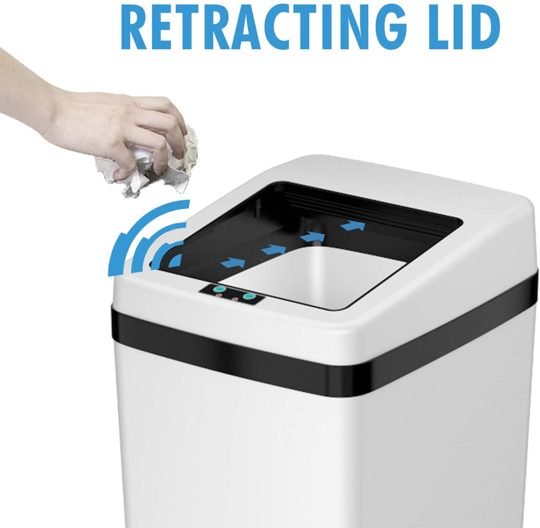 This stylishly designed can is unlike its counterparts. It comes with a sliding lid rather than a pop-open lid. It comes in matte white, matte black, stainless steel colors. Due to its rectangular shape, it helps to save space. It is easy to clean due to its smudge/fingerprint-proof features. This product is powered by  4 D batteries or an optional AC adapter. However, these do not come with the product. The infrared sensor detects movement within a 6-inch range of the sensor eye, and it neutralizes the atmosphere with its Absorbx odor control filter. It has a one-year warranty.
Features
Dimensions: 13″ L × 10.8″ W × 29.8″H
ASIN: B000N5WLAY
Model number: IT14SW
Price: $90
Pros
Wide enough for bulk trash (11.5″ opening)
Perfectly fitted lif which prevents heavy bag falling into the can
Retracting lid saves space, allowing you to place it anywhere convenient
Cons
Quickly develops sensor malfunction when not handled with care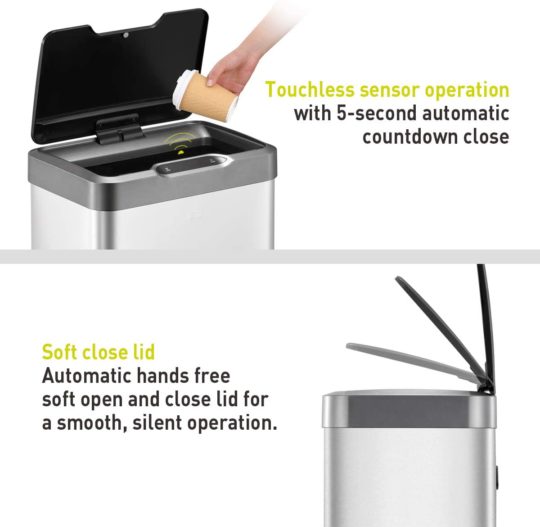 Sometimes we have a bulk of documents we wish to throw away. However, we want to surf through them in case there's an essential document amongst them. Due to the amount of time, this will consume, this product is best suited for the task. It is pretty undesirable to keep waving your hands over a sensor to open your bin. The Eko Mirage trash can stay open through this process and preserves your hygiene as well. It has a touch switch to open and another to close manually. This keeps it open for as long as you want. You also do not need to touch the lid and contract terms. The product requires 6AA alkaline batteries, which are sold separately. It comes with a 3year warranty.
Features
Dimensions: 14.8 × 9.8 ×24.6 inches
Weight:  14.22 pounds
ASIN: B07RYBNJG3
Model number: EK9278TBMT – 50L
Price: $90
Pros
It is durable
Sleek design
Effective odor control
Cons
The design makes it hard to find a trash bag that fits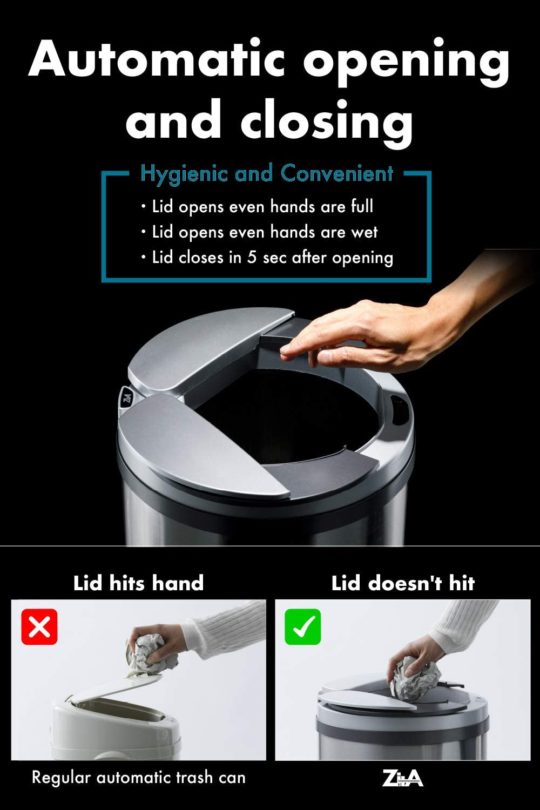 This product fits under the counter. It is lightweight and easy to move out and under the counter. It also comes with a 2year warranty. The product has passed 50,000 durability tests, and its batteries last up to a year. It has an adjustable sensor. The sensor detects movement even when your hands are full or wet. The beauty of this product is its side opening and modern/sleek design. This side opening is wide enough to receive big objects. Also, its kids are replaceable. So in an event where it develops a fault, you can change the lid.
Features
Dimensions: 13.2 × 13.2 × 25.2 inches
Weight: 6.8 pounds
ASIN: 307VP9HFG4
Price: $149
Pros
Easy to clean
Lightweight
Fits under a counter
Cons
The design doesn't allow for easy removal of trash bags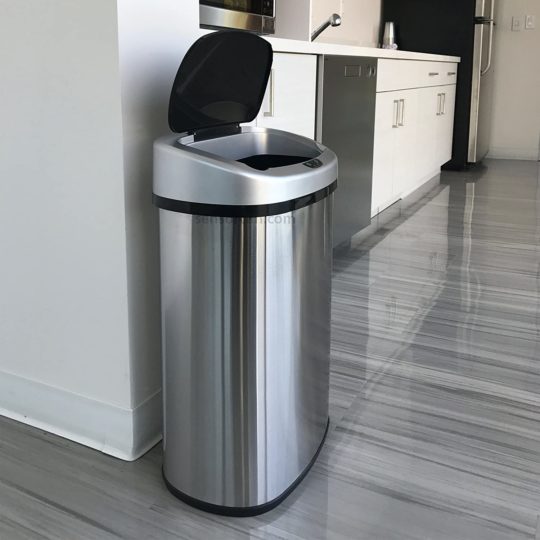 This oval-shaped stainless steel garbage can is battery-free. It comes with an Ac adapter to power it up for use. The product has a 13gallon capacity that can hold a week's worth of trash. It is Smudge and fingerprint-proof and comes with a one-year manufacture warranty, making it a simple, easy-to-use automatic trash can.
Features
Dimensions : 11.5 × 16 × 25 inches
Weight: 10.58 pounds
ASIN: B073PNQDPM
Model number: 0SC135BSAC
Price: $79
Pros
Its adapter saves cost (eager than constantly purchasing batteries)
100% Touchless motion sensor
Smudge and fingerprint-proof
Cons
Buying Guide
Maintenance: When purchasing an automatic garbage can, maintenance should be considered. The best automatic garbage can for the kitchen is usually Smudge and fingerprint-proof. It will be mainly undesirable to have to clean your garbage constantly can surface to look clean. Would Every person love their kitchen looking spick and span, isn't it?
Purpose: The purpose of the can will determine what garbage can is best suited for your needs. If you don't put recyclables together with regular trash, then a dual compartment automatic trash can will be best for you. One compartment will be for recyclables, while the other will be for waste.
Space: How much space can you spare for a garbage can? How big is your kitchen? There are different sizes of automatic trash cans. If you do not have much space, you definitely cannot afford to purchase a 15gallon capacity trash can. A 13 Gallon capacity trash can will do. If you want it to be under the counter, you also need to consider the type of trash that can fit under your counter before purchasing it.
Budget: This is probably the most crucial factor to be considered. Your budget will determine whether you will get a premium choice trash can or something affordable. Various trash cans will provide value for your money. The above list will guide you as to which trash can best fits your budget.
Warranty: One Major concern with electronics is function. Before purchasing any automatic garbage can, check the warranty. This is to protect your interest in an event where you buy a bad product or a product that spoils within a short period of use.
View this post on Instagram
Frequently Asked Questions
What is the most famous trash can size for a kitchen?
The most popular size is 13 gallons which is also the standard size
Are sensor trash cans worth it?
Yes, they help maintain a hygienic environment and lifestyle. They are also pretty convenient and make life easy.
What can you do with old garbage cans?
You could turn it into a planter, a container for recyclables. Alternatively, you can store it till it comes in handy.
Conclusion
The automatic garbage can has helped with maintaining hygienic lifestyles. You keep your home clean, smelling fresh despite having a trash can inside. Your children and pets are protected from germs. It's beautiful. One exciting product that has been unavailable for quite a while is the voice control automatic trash can by Simple Human. Hopefully, it will be restocked soon. This article has highlighted the ten best automatic garbage cans for the kitchen. Each listed product satisfies different needs ranging from design to space, to budget, etc. The best value garbage can is the Ninestars DZT-50-13 automatic Touchless can. My best choice is the SECURA 13 gallon Adjustable sensor Trash Can, while my premium choice is the Simplehuman 58litre rectangular hands-free dual compartment trash can. I hope you found this helpful.