When it comes to baking and cooking, timing is crucial. There is a thin line of few minutes between a delicious meal and a charred disaster. That's why the best kitchen timers are not only easy to operate but also have a loud, audible chime that signals when it's time to flip your meal or remove food from the oven.
The best kitchen timers count down the time and beep a loud, distinct sound to indicate whether your food is ready to be eaten or not. It can be challenging to tell if a food is perfectly cooked or not. As a result, a kitchen timer will beep as a reminder to let you know when your findings are ready. It aids in keeping track of the cooking time. Although ovens and microwaves include timed functions, a kitchen timer has more high-tech capabilities, advanced programming, high precision, and ease of use than these appliances.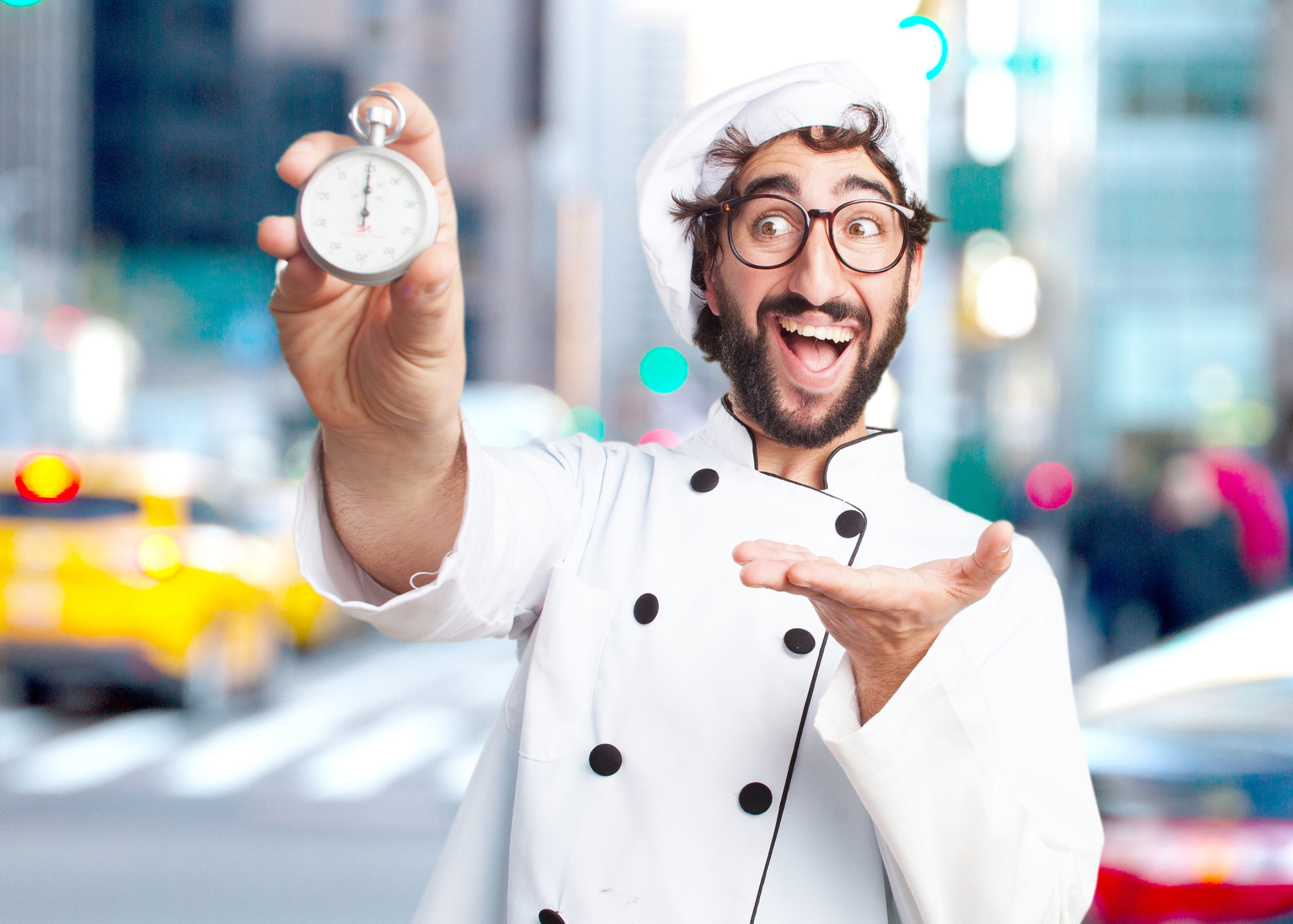 You can cut down your selections by determining whether you want a digital or mechanical timer when looking for one. Digital timers offer large, easy-to-read LCD or LED screens, as well as other functions that may be useful, such as the ability to function as a stopwatch or a clock. Meanwhile, because a simple turn of the dial powers a manual timer, you'll never have to bother about replacing batteries with one. Surprisingly, both mechanical and digital models are relatively inexpensive, but if you want a digital version with more outstanding capabilities, you'll have to pay extra (like a dual timer option).
Product List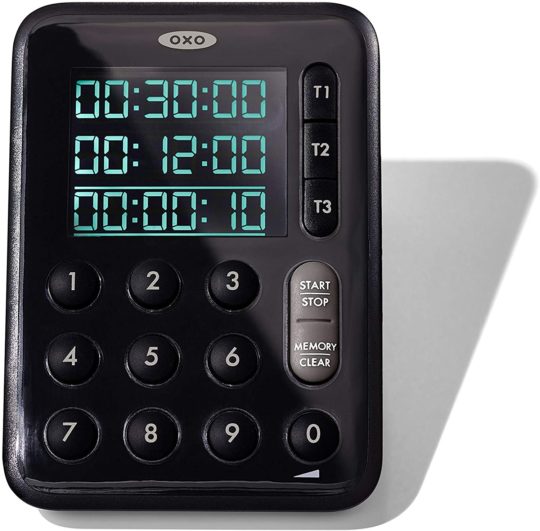 First on our list is the OXO Good Grip Kitchen Timer. This product includes three separate timers, each of which may be controlled independently, thus making it suitable for calculating sub-intervals of up to 100 hours. It's simple to use and maintain in place, thanks to the non-slippery feet. The OXO Kitchen Timer doubles as a clock while the timers aren't in use. It requires two AAA batteries, which are included in the initial order.
Features
LCD Display Screen
100 hours count timer
Non-slip Feet
Soft, easy to press buttons
Pros
Great value for money
Long-lasting battery
It can be used as a clock
Cons
Considerable large design makes it hard to carry about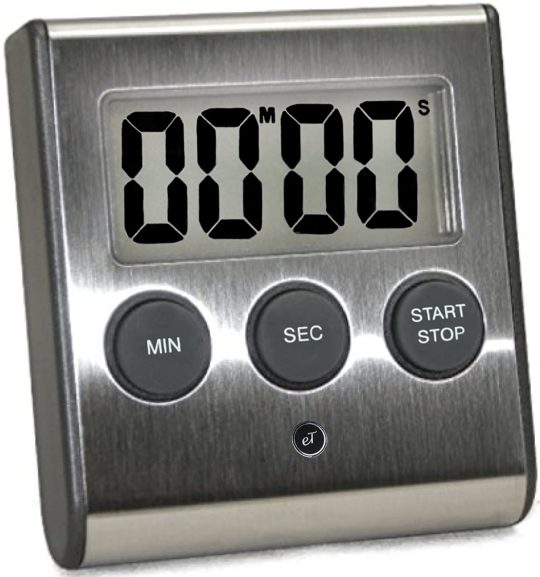 Memory, automatic shut-off, and fast-forward are just a few of the high-tech features included in this kitchen timer. As a result, it is clever enough to keep track of your cooking time rather than you. Furthermore, because it is composed of stainless steel, there is no need to be concerned about its durability. This instrument has a memory that allows you to recall previous modes. As a result, you forget and must start over.
Furthermore, it turns off automatically when the timer runs out to save battery power. You can also execute the fast-forward function by pressing the buttons, which include minutes and seconds. You can also reset the timing by pressing both buttons at the same time.
Features
Energy saving
Automatic shut off
Automatic memory feature
Multipurpose
Loud alarm
Lifetime warranty
Pros
Easy to use
Pocket friendly
Soft buttons
Cons
Beeping sound with every button press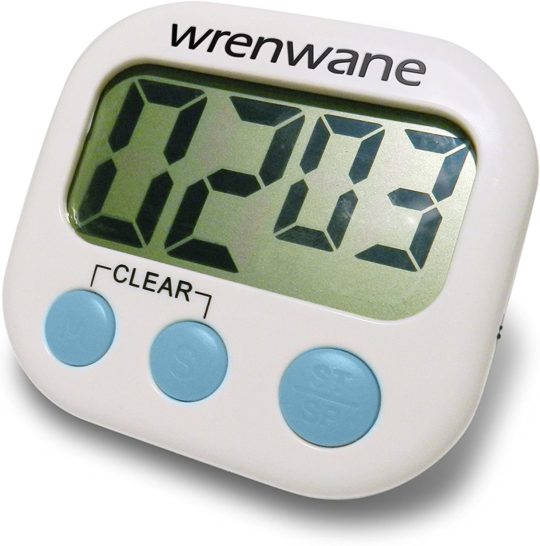 This kitchen timer is the most superb option among the recommended ones because it is high-tech, multifunctional, programmable, and inexpensive. Furthermore, Wrenwane is a well-known brand with a long track record, so you can use its gadget with confidence. This kitchen equipment improves on the no-beep feature by reducing unnecessary noise. As a result, you may expect a silent operation. It also includes enormous digits that are easy to read. Numbers may be seen from a long distance.
Furthermore, the device can be placed in any area. It has a kick-out stand, a magnetic back, and a hook for added convenience. In addition, the timer's memory function allows it to return to the last preset setting. As a result, you don't change your favorite settings frequently. When the timer approaches zero, you'll hear a suitably loud sound that your dinner is ready to eat. In addition, the timer can be set to count up.
Features
Large and clear display
Counts up and down
Loud sound alarm
It comes with a magnetic back
On and Off control switch
Pros
Very easy to use
Pocket-friendly price
Solid battery cover plate
Cons
Not suitable for use with rechargeable batteries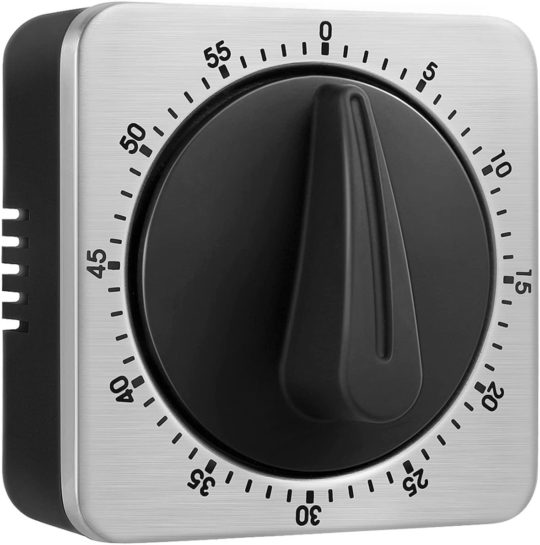 The KeeQii kitchen timer comes with a sleek stainless-steel face and is simple to operate, as it requires no batteries to operate the 60-minute maximum countdown. A magnetic back and a loud 80-decibel alarm are included in the 3-inch by 3-inch item. Just remember to wind it clockwise one full turn and stop at zero before setting it to the minute mark you want it to ring before each use.
Features
Loud alarm volume
Stainless steel design
Lifetime warranty
Long-lasting sound
Pros
Operation is simple
Nice style and design
Very durable and dust-proof
Cons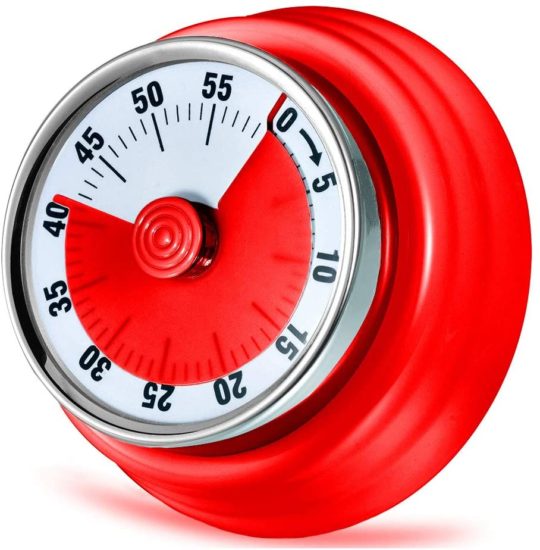 Are you looking for a mechanical timer from the past? This one has a great retro vibe about it. The clockwork nature of this device allows it to operate without batteries, which is ideal for folks who don't always keep spares on hand. It's also magnetic, so it'll stick to your fridge and other kitchen appliances with ease. According to the maker, this timer has a corrosion- and oxidation-resistant metal shell, so no worries about it deteriorating if you keep it in a humid environment. Keep in mind that it can only measure up to 60 minutes at a time, so it might not be suited for recipes that require longer intervals. This LAOPAO mechanical timer is available in two colors: mint green and cherry red.
Features
Made from metal
Mechanical design
Corrosion-resistant
Red indicator area
Pros
Magnetic design
Works without battery
Oxidation resistant
Cons
Not very loud sound compared to others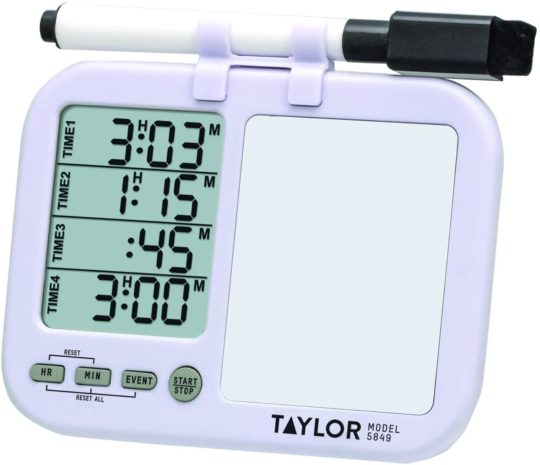 Based on the title, it's easy to guess whatever characteristic distinguishes this kitchen timer from other equipment. You deserve it! A whiteboard is one such tool on which you may jot down cooking recipes and take notes on important details. In addition, this device has four distinct timers that can be used independently. You can use these timers for four different foods at the same time. For easy identification, each timer has its own auditory alarm sound. It has a kick-out stand that you can use on the tabletop or a magnetic back that you can use to install it on your refrigerator. You can also readily see crisp, bold numbers. As a result, you set a quick timer.
Features
It comes with four different timers
Versatile
Built-in whiteboard
Memory feature
Clock function
Pros
Lightweight
Easy to use
Portable
Cons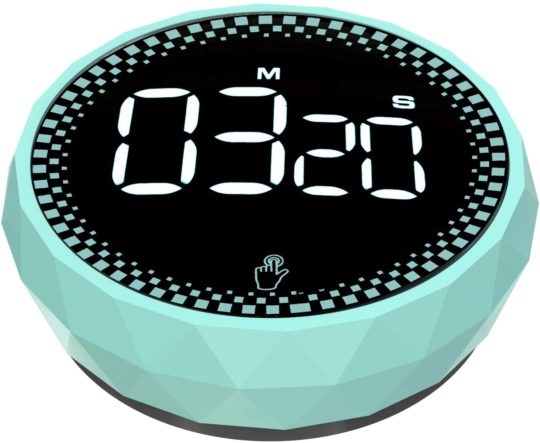 The OVEKI kitchen timer resembles a Nest thermostat in appearance and functionality (change the settings by turning the knob and hitting a button). Unique features are a 3-inch LED screen, a 99-minute countdown, and three sound levels for an alarm ranging from up to 90 decibels. This device also has a magnetic back and will shut off after 10 seconds to conserve battery life.
Features
One key operation
Quiet operation
Large display
Versatile
Pros
Intelligent power saving
Bright text display
Easy to use
Cons
Battery not included in the pack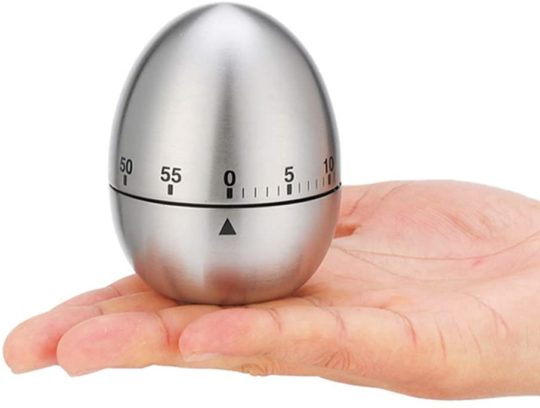 This stainless-steel Egg timer kitchen timer, shaped like an egg (it measures roughly nine by 11 inches), is a modern take on a classic design. It has a 60-minute countdown and an alarm that sounds at 80 decibels when the timer expires. Furthermore, because it is a mechanical timer, no batteries are required. For added peace of mind, this timer comes with a 12-month replacement warranty.
Features
Stainless steel material
Mechanical timer
Lifetime warranty
Pros
Easy to use
Versatile
Easy to maintain
Cons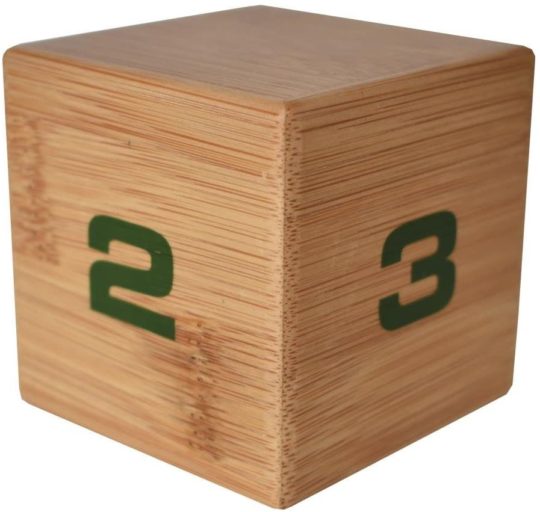 Datexx The Miracle Cube Timer has a stylish design that will brighten up your kitchen. You may choose from a collection of colors, including blue, green, and red, which are also more economical, or go for the more upscale bamboo version, ideal for a modern kitchen. Turning the cube upwards activates the colorful version with preset timing (1, 3, 5, and 7 minutes), followed by an audible alert. The bamboo model has timers set for 1, 2, 3, and 4 minutes. The light will blink quicker as the timer approaches the end of the countdown, acting as a warning indication. The Datexx Miracle Cube, on the other hand, does not provide extra precision, so if you're searching for something more professional, the Datexx Miracle Cube may not be for you.
Features
Adjustable alarm tone
Wood, Plastic, and Metal material
Can be customized
Pros
Excellent for time management
Digital display
Easy to use
Cons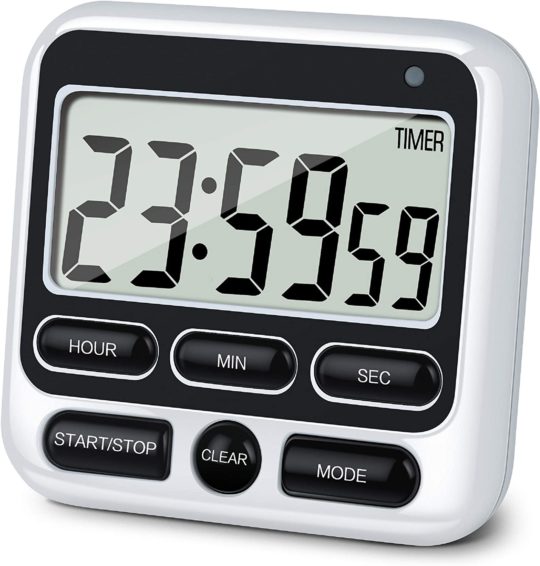 There are two major modes on this kitchen timer count up and down and clock mode. With a single button press, you may change them on the fly. When the countdown is finished, the clock mode will be reset. This gadget emits a loud alert, ensuring that no signal is missed. Furthermore, by holding down any optional timing button, you can conduct a fast-forward function.
Features
LCD screen
Memory program
Magnetic back
User-friendly design
Pros
Multifunction timer
Loud alarm
Easy to use
Cons
Product Guide
Type
Kitchen timers are divided into three categories: electromechanical, digital, and mechanical. A mechanical or electromechanical kitchen timer can set time by turning the dial lines without any functioning buttons or programmed functions. They do, however, usually set a time limit. On the other hand, a digital kitchen timer is the best choice if you want to use complex capabilities and have a lot of flexibility. You may extend the timing period, adjust the alarm volume, track multiple events, and use other high-tech features. Keep in mind that a digital kitchen timer is usually more expensive than a traditional one. As a result, before purchasing it, you should think about the price.
Price
The cost of purchasing a kitchen timer varies with functionality and durability. The digital types are more expensive than their counterparts, the mechanical ones. Also, it is important to note that the more modern features they come with, the higher their price tag is for some kitchen timer brands. Therefore, it is best to decide what you want from a kitchen timer before getting one within your budget.
Time Accuracy
Because you may alter the amount of time to the second, a digital kitchen timer usually achieves more precision than other product types. On the other hand, other tools merely allow you to set the number of hours or minutes that will be displayed.
Time Duration
You should go for a kitchen timer that has the most extended duration feasible, which is usually several hours. This component is an excellent choice if you prefer to cook slowly. Furthermore, instead of repeatedly restarting the timer with a too-short time range, you can cook meals with more flexibility.
Alarm Sound
The volume should be loud and last a reasonable amount of time, usually a few seconds. Remember that if the alarm is too quiet, you won't hear anything, and if it's too loud, you'll be annoyed. An alert that lasts too long is unbearable. However, you are bothered by a sound that lasts for one or two seconds and is too quick. Consider investing in a kitchen timer with a volume-adjustable alarm. As a result, you can customize the sound to your preferences. You can mute or turn off the volume on some gadgets. You also look for instruments with fewer buttons to avoid hearing the same sound every time you press them.
Number of Displays               
If you frequently cook a variety of items simultaneously, a multi-display kitchen timer can help you keep track of each one separately. For each sort of meal, you can set a precise time and a different alarm sound. In general, this timer type is equipped with a large LCD screen that allows you to monitor the timer's status quickly and easily. Color indications might also be helpful in this situation.
Conclusion
That's a wrap on the best kitchen timer you may need to save time and money. I recommend the OXO Good Grips Triple Timer if you're looking for a fantastic timer that can track numerous countdowns at once, is easy to operate, and has superb visibility. I hope with the knowledge garnered from this article, you'll be able to make a wise decision on the suitable kitchen timer for you.