There is a reason why the world's most prestigious restaurants so highly value Tuna. The belly is prized for its rich, fatty flesh, whereas the loins have a silky texture and a savory, clean flavor that's not at all "fishy." Meanwhile, the jewel-like hue of the loin meat is stunning and serves as the foundation for many a visually stunning dish.
Raw tuna loin is frequently used in delicate canapés and starters such as tataki, carpaccio, tartare, and ceviche, to name a few. Meanwhile, the belly is highly sought after, particularly for sashimi. Tuna is the star of Tokyo's world-famous daily tuna auction, where the whole Tuna can sell for exorbitant prices.
Tuna Nutrition Facts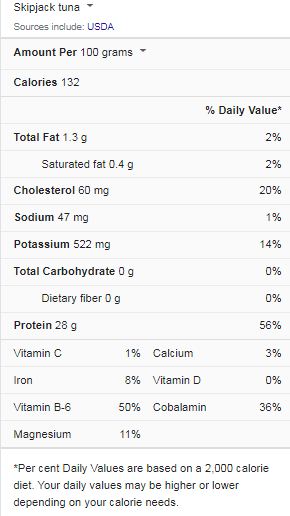 Tuna Steak Cooking Guide
The first step in your comprehensive guide to cooking tuna fish is to add your favorite flavor enhancers.
Check for scales before cooking tuna steaks. Rinse with cool water if any are present. Using paper towels, pat dry. To determine how long to cook tuna steak, use a ruler to measure the thickness of the fish.
Fresh tuna steaks benefit from a good marinade recipe, which flavors this relatively mild fish while also keeping it moist during cooking. It only requires a short marinating time, ranging from 15 minutes to 4 hours, in the refrigerator. Tuna goes particularly well with Asian-inspired flavors.
Brush the fish with melted butter or extra virgin olive oil and season with salt and pepper to taste instead of marinating. Brush tuna with olive oil and lemon juice, then season with fresh herbs (such as rosemary or tarragon), salt, and ground black pepper.
Choosing the Proper Tuna Steak
Because tuna steak is best served rare on the inside, it is critical to use fresh Tuna. It does not have to be "sashimi-grade," which is the quality required when serving the Tuna completely raw, such as with Poke Bowls, Ceviche, Tartare, or as sashimi and sushi. It must, however, be very fresh. And it's dead simple to tell – just smell and touch it:
How Long to Cook Tuna Steak?
When learning how to cook fresh Tuna, don't cook your tuna steaks until no pink remains in the center. While the center is still pink, remove them from the heat to keep them moist and delicious. The time taken to prepare a nutritious meal of tuna steak varies depending on the cooking method, but it usually takes 4 to 10 minutes.
Grilling Tuna Steaks
Grease or have the unheated grill rack sprayed with a non-stick cooking spray if not marinated, have the tuna steaks brushed with melted butter or olive oil, and season with salt and pepper with salt and pepper to taste.
Place the tuna steaks directly on the greased grill rack over medium heat for direct grilling on a gas or charcoal grill. Grill, covered, 4 to 6 minutes per 12-inch thickness, or until fish begins to flake, but it is still pink in the center, having been turned once halfway through cooking
Preheat the grill for indirect grilling, turn the heat down to medium, and grill the Tuna over a drip pan on a grill rack. Close the grill lid. Grill the fish for 7 to 9 minutes per 12-inch thickness, or until it begins to flake when tested with a fork, but it remains pink in the center, turning once halfway through.
Baking Tuna Steaks
Preheat the oven to 450 degrees Fahrenheit. Place tuna steaks side by side in a single layer on a greased baking sheet or sheet pan. Brush the tuna steaks with olive oil or melted butter and season to taste if they haven't been marinated.
Bake for 4 to 6 minutes per 12-inch thickness of fish, or until fish begins to flake but is still pink at the center when tested with a fork.
Print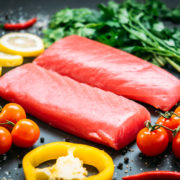 Cooking Tuna Steak in a Skillet
---
2 teaspoon

of extra virgin oil

1/4 teaspoon

of salt

1/8 teaspoon

of black pepper

180

–

200

g of Tuna
---
Instructions
Choose a heavy skillet that is large enough to hold the number of tuna steaks you are cooking. Add 1 tablespoon of oil and 1 tablespoon of butter in a skillet. Melt the butter in a skillet over medium-high heat.
Place the tuna steaks on top. When the steaks are added, they should sizzle. Cook, uncovered for about 4 to 6 minutes per 12-inch thickness, or until fish begins to flake when checked with a fork but remains pink in the center, turning once during cooking. Adjust the heat as required if the skillet gets too hot.