Tuna Casserole Recipe

One of my favorite dishes to prepare during Lent is Tuna Casserole. Tuna casserole is even better when you mix cooked egg noodles into it. This recipe gets a lot of its flavor from cream of chicken soup, celery, and onion. The ingredients are mixed in a bowl and then placed in a baking dish and topped with cheese and crushed potato chips. I love adding potato chips because it adds a nice crunch to the dish. I recommend putting them on just before taking it out of the oven so that they are still crispy. Enjoy.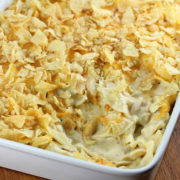 Tuna Casserole
Ingredients:
1 can cream of chicken soup
½ cup mayonnaise
¼ cup milk
½ cup diced yellow onion
½ cup diced celery
6 ounces albacore tuna (drained)
6 ounces cooked egg noodles
2 cups shredded cheddar cheese (divided)
Salt and pepper
1 ½ cups crushed plain potato chips
Directions:
Preheat the oven to 375 degrees F.
In a large bowl combine cream of chicken soup, mayonnaise, and milk. Add in celery and diced onion. Fold in the tuna, cooked egg noodles and ¼ cup of shredded cheddar cheese. Season with salt and pepper to taste.
Place into a 9x13 inch baking dish. Place into the oven and bake for 40 minutes. After about 30 minutes remove from the oven and top with the remaining shredded cheddar cheese and crushed chips. Return to the oven and finish baking until the cheese has melted.