Steam cooking has grown in popularity in recent years as people have become more aware of their health and what they eat. Is it, however, worthwhile to invest in a steam oven? Many people believe that the only oven options are regular, convection, and microwave. However, several of the most well-known oven manufacturers are now producing steam ovens, and these products are quickly becoming a popular alternative. This post will define a steam oven and discuss some advantages of utilizing one in your kitchen.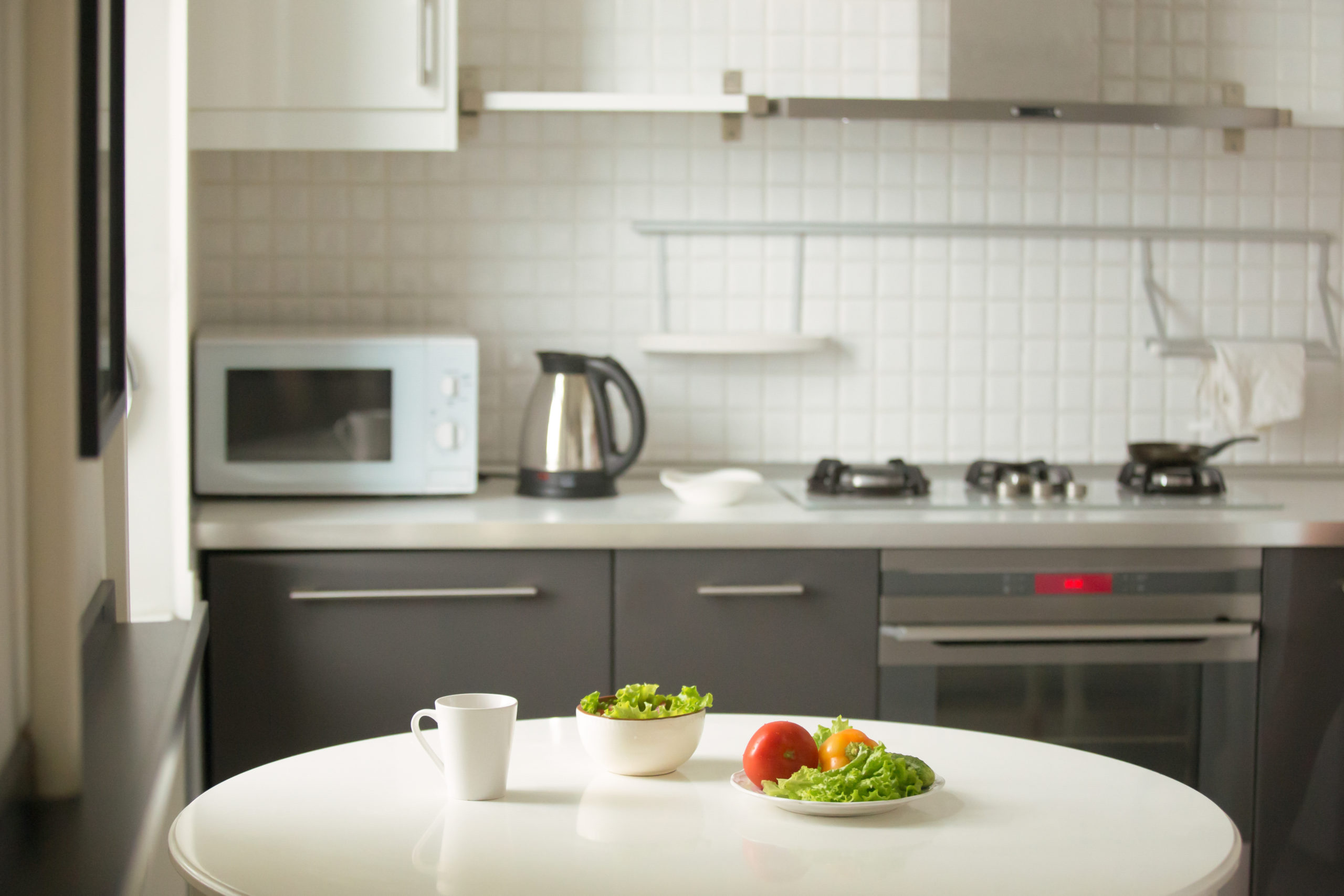 Let's start with how a steam oven works. A reservoir houses the water needed in the cooking process in steam ovens. The oven heats the water, converting it to steam. Steam rises and passes over the food, warming it. A valve at the top of the oven gradually lets air out to reduce the pressure that builds up as the water vaporizes to steam. Steam ovens can reach incredibly high temperatures and cook food quickly. Secondly, why would you want to cook with steam in the first place! Steaming food is a significantly healthier preparation technique, retaining up to 25% more vitamin content than conventionally cooked foods. But don't you just boil vegetables with steam? Nope. True, steam cooking vegetables is a terrific way to keep them crunchy and flavorful, but did you know that you can also use steam to cook bread, cakes, fish, and meat? It's also great for defrosting foods because it avoids hot areas, and it's great for reheating since it keeps the food wet, so it tastes like it was just cooked!
Many individuals are becoming more health-conscious, and they are looking for a healthier way to cook their food. Health experts are continuously providing us with new knowledge on the best methods to prepare our food. However, in many circumstances, these cooking techniques might leave our food tasteless and bland. One of the best features of a steam oven is that it cooks food while retaining nutrients without sacrificing flavor. Steaming food is considered one of the healthiest cooking methods, but it can be challenging to execute without effort and specific pans or appliances. Many individuals add a lot of fat to their meals when they cook, such as butter, oils, and dressings. Most of the time, this is done to keep the meal moist and improve the overall flavor. This is because traditional cooking methods frequently dry out the food while it cooks, ruining the natural flavors
When you use a steam oven for cooking, the food is moistened, thoroughly cooked within a moist environment, preventing it from drying out. This decreases dependency on additional fats and, as a result, naturally lowers the intake of harmful cholesterol and calories. So, the food is healthier, you feel better, and it tastes better. Unfortunately, a steam oven cannot be used to give chickens a golden-brown appearance. If you genuinely want the "flame-grilled" look, you could finish it with some steam-cooked chicken on the grill for a couple of minutes. Without a doubt having a steam oven could be the best decision for your meals and health. Some of the best steam ovens available on the market have been reviewed by me; perhaps you decide to purchase one.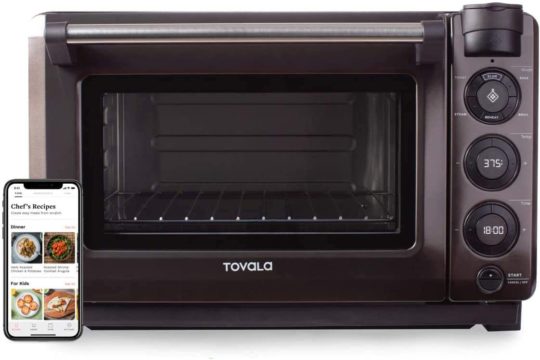 Our first choice for a steam oven is one with steam, convection, baking, and broiling capabilities. It comes with pre-packaged foods that contain a bar code that you can scan to load the ideal cooking presets. However, you can also prepare your food in the traditional manner, thanks to the Tovala Generation 2 Smart Steam Oven. That is precisely what this digital smart oven is. It can wirelessly load several presets from the cloud, allowing it to prepare a delicious dinner in minutes! This is ideal for individuals who are exhausted following a long day at work and do not want to face the trouble of cooking but still want a fresh, nutritious supper.
Features
Five cooking modes
Smartphone control
Scan and cook groceries
Nine kitchen accessories included
Pros
Unique preset function
The steam function allows for healthy meal preparation
Easy to clean and maintain
Cons
Small internal storage space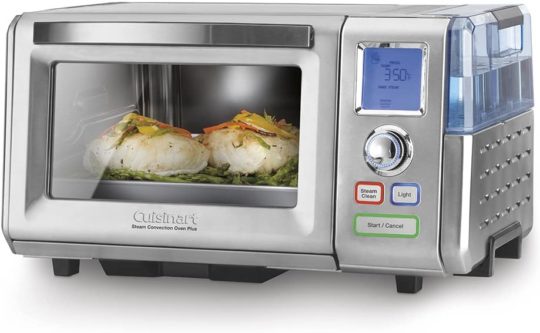 Now we move on to a steamer that many reviews have characterized as a highly consistent performer, with a steam machine that cooks rice, donuts, and slices of fish with the same level of efficiency. The adaptability of this small oven undoubtedly distinguishes it from the competitors (yes, normal ranges are included in that list). Simply remove the cooking reservoir, unscrew the cap, and fill with ordinary tap water to get the Cuisinart machine ready to cook with steam in minutes. It includes four different steam modes that may be configured via a digital interface. You have the option of steam baking, steam broiling, standard steam, or super steam, which is ideal for cooking rice.
Features
Stainless steel design
Steam clean technology
Versatile
Specialized bread proofing technology
Pros
Can cook multiple meals at a time
Compact size
Easy to use
Cons
Some users have complained about its time precision being flawed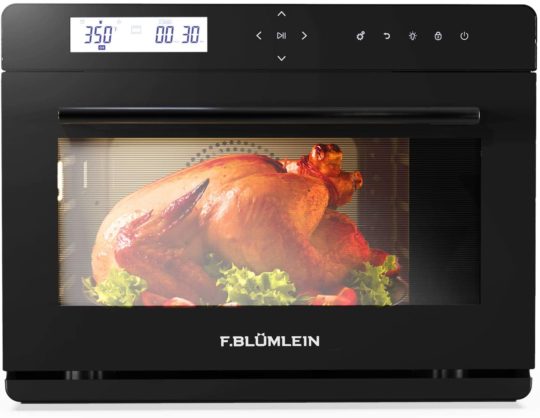 Okay, our third product is an incredibly dependable and adaptable countertop oven that can do a wide range of cooking chores such as steaming, roasting, and even fermentation. The F.Blumlein Steam Convection Oven is a popular pick on Amazon and has a high rating. The size and the sheer number of options available in this oven are the first things that people notice. This sleek black countertop stove is ideal for families trying to eat healthier. You can steam up to 5 steaks, 9 slices of bread, or an 18-pound turkey for a fast snack or as a fit centerpiece for a three-course meal. This oven can be set to steam, high-temperature steam, grill, convection oven, or a combination of those, as mentioned earlier. Yogurt can even be fermented in the F.Blumlein! You may even set it to sterilize if you want to eradicate any unwanted microorganisms from your meal before adequately cooking it. It also has a preheat and defrost function. The heat is circulated much faster than in other ovens, resulting in shorter cooking periods.
Features
Family-sized
Multiple functions
Front-cooling exhaust
Faster cook time
Pros
User friendly
Compact unit
It comes with a triple plated glass cover
Cons
Slightly on the high side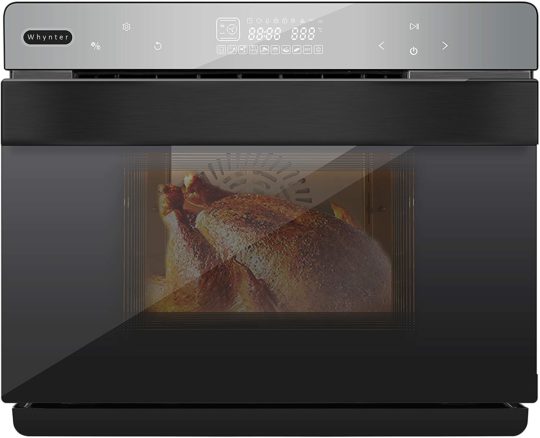 The Whynter Multi-function oven is a powerful steam oven that will effortlessly cook tender meat and steam vegetables to perfection; if you want to feed your family healthy meals, you've come to the correct place. Despite not being the most popular, this oven was an easy choice for our top 10 reviews. But we believe it deserves a lot more attention. Even though they are rather uncommon, there are a plethora of positive evaluations available online. When we tested this Superior Line, we were blown away by how innovative it is. What services does it provide? It includes a Pizza Function, Rapid Preheating, Slow Cook Feature, Meat Probe, Fan Grilling, Dehydration Setting, Yoghurt Setting, MultiFlow 360, and other features, making it one of the most adaptable ovens you've ever heard about. It also cleans itself with the Aqua Clean mode, preheats quickly, and ensures heat circulates evenly throughout the cavity, heating all meals evenly.
You'll find it heartwarming to know that it comes with a one-year manufacturer's guarantee, and the touch screen controls make it incredibly simple to maintain clean on the exterior.
Features
Extra-large capacity
Multi-function
Dynamic heating
Features kitchen accessories
Pros
Self-cleansing
Child-lock safety feature
Fantastic heat distribution
Cons

If you want to warm up some popcorn or vacuum-packed tuna steaks, this drawer-style cooker will do so in the healthiest way possible. You can place this beneath your conventional oven to provide a low-cost alternative to your standard unit. This one simplifies cooking with a hidden control panel that opens at a 45-degree angle. Simply place your food in the drawer, close it, and select the cooking temperature and duration to your liking. This will quickly and efficiently steam your food, retaining the water and steam so that the food loses the least amount of nutrients.
Features
Easy touch automatic drawer system
Concealed control panel
Easy to read and operate manual
Self-explanatory digital interface
Pros
Very easy to store
Steamer gives very reliable and fast cooking
Easy to maintain
Cons
Product Guide
When buying a steam oven, an inexperienced cook must consider several factors, including the size of the inner chamber, the temperature range it provides, and the amount of money they are willing to spend. We have tested and reviewed many different ovens, and when deciding on our top ten, we examine a variety of factors. This comprises the number of features, dependability, and overall value for money. We then assess the fundamentals, such as overall reliability, ease of use, overall quality, and so on. After we've completed the primary accomplishments, we may go on to the extras and adjustments. This comprises the number of settings and functionality available. It is usually a good idea to acquire an oven with various heating techniques and cooking capabilities to guarantee that your range is adaptable and capable of preparing different dishes. Even though we share our favorite ovens, you should go through the list to choose one best suited for your needs. We've included a diverse selection that will appeal to many households due to differences in budget, size, and function. Here are some basics to consider while choosing the ideal appliance for you:
Budget
I'll make a quick note regarding the pricing of steam ovens here — they're not cheap appliances, and you usually get what you pay for. If construction quality and cooking performance are crucial to you, don't settle with the lowest option. The money you save today may come back to bother you later in the shape of subpar parts or inefficient cooking/heat distribution. Another factor to consider in terms of cost is installation. A non-plumbed (or tank model) steam oven is a relatively simple electrical installation. At the same time, a plumbed version will have a higher installation cost due to the water and drainage pipes involved.
Maintenance
Let me begin by mentioning that the interior of my steam oven isn't always spotless, but cleaning isn't something you can disregard, or you'll wind up with a stinking device that doesn't operate. Cleaning varies depending on the brand and model, but in general, wiping out the oven after use and occasionally descaling the appliance as you would for a coffee machine. In addition to the foregoing, if your steam oven includes an evaporator dish in the bottom, you'll need to soak up any residual water after each use, so it doesn't smell or get unduly unclean.
Capacity
This denotes the size of the cavity, and if you have a large family, you'll want one with 50 liters or more. The figures below relate to medium-sized and smaller homes.
Cooking Function
If you require a flexible machine, look for one that has a pizza function, a meat probe, and possibly other features. Realistically, this isn't a requirement, but it's always a pleasant addition if you're spending a lot of money.
Feature
Examine features including fan-assisted cooking, grill settings, and heating methods. Be practical – you may not require a plethora of them.
Size
You should think about the oven's actual size and if it will fit comfortably in your kitchen. This information can be found by looking at the dimensions.
Conclusion
Without a doubt, you know now know why you need a steam oven. Steaming food is a fantastic alternative to microwaving, and some of the steam ovens featured here are incredibly small. They can be readily stored in even the smallest of kitchen spaces. If you're determined to cook consistently healthful and nutritious meals, you can even replace your regular kitchen oven with a steam version. Therefore, endeavor to thoroughly do your research using this article to guide your decision. We wish you a delectable steam cooking experience.