Blueberry Muffins Recipe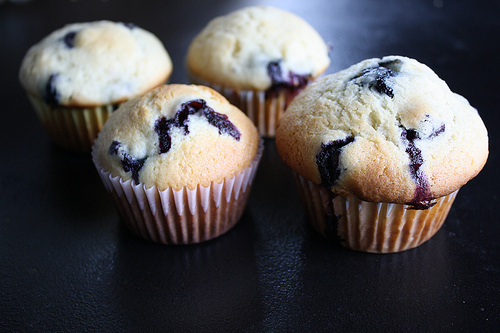 One of my favorite things to get from the bakery is blueberry muffins. Well, now I decided to try making them at home. Yes, believe it or not, this was my first time ever making blueberry muffins. This is a bakery quality recipe for blueberry muffins, you will not be disappointed. The muffins are very moist and delicious. They become so moist from the vegetable oil and sour cream. The batter is pretty thick so there shouldn't really be an issue with those sinking blueberries. This is a very simple recipe and these muffins should come out beautifully even if you are new to baking. The bake time of 20 minutes is pretty accurate but all ovens are different. Make sure to check them with a tooth pick, if it comes out clean, they are done. If you are looking to make bakery quality blueberries muffins, give this recipe a try. Enjoy.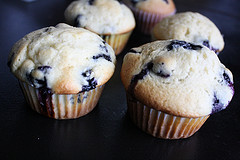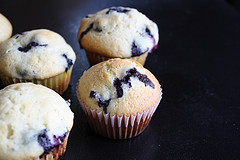 Ingredients:
4 eggs
2 cups white sugar
1 cup vegetable oil
1 teaspoon vanilla extract
4 cups all-purpose flour
1 teaspoon salt
1 teaspoon baking soda
2 cups sour cream
2 cups fresh blueberries
Cooking Instructions: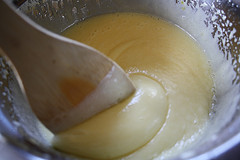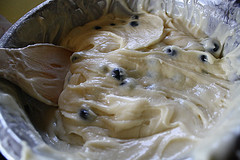 Step 1: Pre-heat the oven to 400 degrees. Grease 24 muffins cups or line with paper muffin liners.
Step 2: In a large bowl beat eggs and add sugar, a little at a time while beating. Continue beating and slowly pour in oil while beating. Beat until well combined. Stir in vanilla extract.
Step 3: In a separate bowl mix together flour, salt and baking soda. With a spatula or spoon stir together flour mixture with the egg mixture alternately with the sour cream. Stir until well combined. Fold in blueberries.
Step 4: Bake in the oven at 400 degrees for 20 minutes.