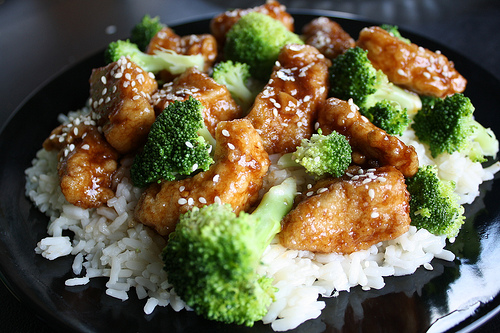 Recently one of my favorite Chinese dishes has been Chicken and broccoli. I know I have not been posting a lot of Asian recipes lately but don't worry, I still have more. Chinese chicken with broccoli is your basic stir fry. Chicken bits and broccoli florets stir-fried with a delicious sauce. The sauce is a basic combination of Asian flavors such as hoisin sauce, oyster sauce, chicken broth, and garlic. Red pepper flakes are added for a little heat and can be adjusted to your taste. If you choose the broccoli can be cooked ahead to save a little time. I like to toss my chicken bits with cornstarch to make them a little crispy but it's totally optional. Normally this dish is not breaded. You could also deep fry the chicken bits and cook the sauce separately. Serve with white rice. Enjoy.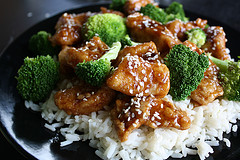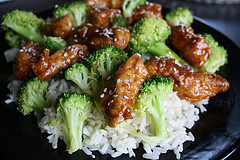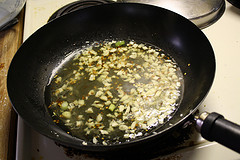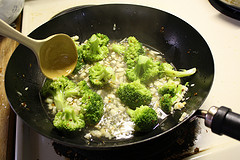 (Makes 2 Servings)
Print
Chinese Chicken and Broccoli Recipe
---
1 1/2

lbs boneless skinless chicken breasts (cut into small chunks)

1 ½ tablespoon

sesame oil

2 tablespoons

garlic (chopped)

¼ teaspoon

dried red pepper flakes (or more to taste)

4 cups

fresh broccoli florets

6 tablespoons

chicken broth (divided)

1 tablespoon

sesame oil
salt and pepper

5

green onions (sliced)

¼ cup

hoisin sauce

3 tablespoons

oyster sauce
Sesame seeds (for garnish, optional)
---
Instructions
Heat a wok (or large skillet) over medium-high heat. Add 1 ½ tablespoon sesame oil.
Add garlic and dried red pepper flakes. Stir fry for 30 seconds. Add broccoli florets and 4 tablespoons chicken broth. Stir fry broccoli for 2 minutes. Remove from pan and set aside.
Add a little more sesame oil to the wok (about 1 tablespoon). Season chicken bits with salt and pepper.
Add to the wok and cook until chicken is fully cooked (about 3-5 minutes).
Add in remaining 2 tablespoons of chicken broth, oyster sauce, and hoisin sauce.
Add broccoli mix well and cook until the mixture has become well heated. Serve with white rice.