Calzones Recipe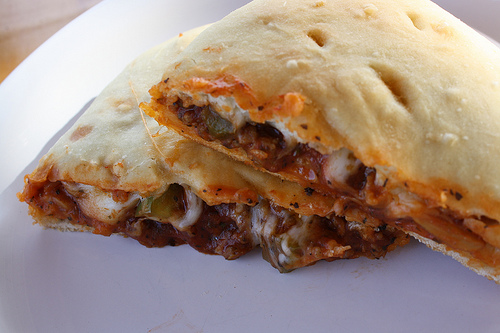 You can find Calzones at a lot of your favorite pizza places and in grocery stores. Now you can make them yourself from home with this simple and easy recipe. If you are not familiar with calzones- calzones are Italian turnovers made with traditionally pizza ingredients. There are a lot of different fillings for calzones and like a pizza you can easily tweak this dish to your tastes. For this recipe you are making your own crust, but if you want to save some time you could get a box mix or a can of pizza crust dough from the grocery store. Serve with garlic bread or bread sticks. Enjoy.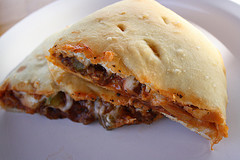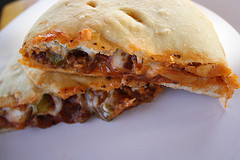 Ingredients:
Dough-
1 package yeast
1 cup water (warm)
1 tablespoon white sugar
2 tablespoons oil
1 teaspoon salt
2 3/4 cups flour
Filling-
1 can sliced mushrooms (drained)
1 green pepper (diced)
2 slices of onion (diced)
1 jar pizza sauce
1 teaspoon Italian seasoning
1 teaspoon oregano
1 teaspoon basil
½ teaspoon garlic salt
1lb Italian sausage (cooked)
1 small package sliced pepperoni
½ cup mozzarella cheese
butter (melted, for brushing)
Cooking Instructions: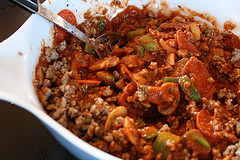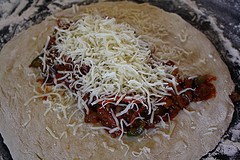 Step 1: To make the dough- dissolve yeast in 1 cup of warm water. In a large bowl mix sugar, oil, salt, and flour. Add water/yeast mixture and mix together until smooth. Knead well and cover and allow to sit for 30 minutes.
Step 2: While dough is resting. In a separate bowl mix mushrooms, green pepper, Italian sausage, onion, pizza sauce, Italian seasoning, oregano, basil, garlic salt, and pepperoni.
Step 3: Split the dough in half and roll out each half on a flour surface into a 10" circle. Place 1-2 cups of sauce in the center of each circle of dough. Top with mozzarella cheese.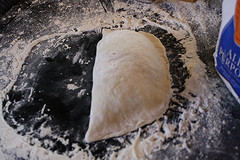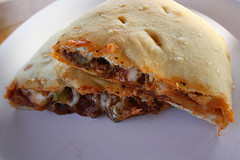 Step 4: Fold over and crimp shut. Place calzones on a greased cookie sheet.
Step 5: Place into the oven and bake for 25 minutes at 375 degrees. After 15 minutes into the baking remove from the oven and brush lightly with melted butter. Return calzones to the oven and allow them to finish cooking.
(Makes 2 Calzones)