It's getting to be that time of the year again, Easter is approaching and that means it's time for an easy carrot cake recipe. There are many recipes around for carrot cake but this one is the best I have come across. Not only does it have carrots but it also has shredded coconut, crushed pineapple, and walnuts in it. Seriously, does that sound good or what? It doesn't even end there; the cream cheese frosting just tops it off nicely.
This cake is moist, rich and highly flavorful. You can make this in a 9×13" baking pan or pour the batter into two round 8-inch pans instead. That'll give you double layer cake as shown. If you want to make a double layer cake just pour the mixture out evenly into 2 round baking pans. Enjoy.
If you're craving carrot cake but want something healthier, try collagen cookies by Fitasamamabear!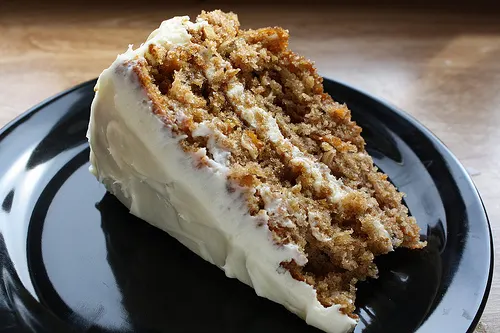 Yield: 8 servings
Carrot Cake Recipe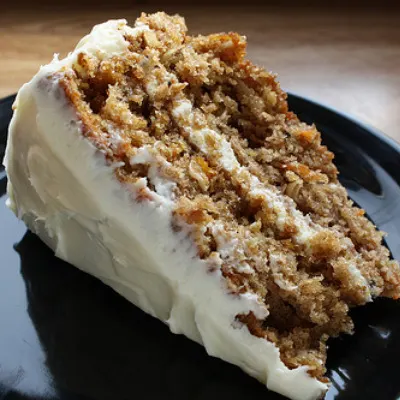 This simple carrot cake combines carrots, flaked coconut, walnuts and pineapple. Topped with cream cheese frosting, it's a fruity, creamy, sweet dessert treat.
Ingredients
2 cups all-purpose flour
2 teaspoons baking soda
1 teaspoon baking powder
1 teaspoon salt
1 1/3 cups white sugar
2 teaspoons ground cinnamon
1 cup of vegetable oil
1 teaspoon vanilla extract
3 eggs
2 cups shredded carrots
1 cup flaked coconut
1 cup walnuts (chopped)
1 (8 ounces) can crushed pineapple (drained)
Frosting
1 (8 ounces) package cream cheese (softened)
¼ cup butter (softened)
2 cups powdered sugar
Instructions
Preheat the oven to 350 degrees. In a large bowl mix flour, baking soda, cinnamon, baking powder, and salt.
Make a well in the center of the flour mixture and add sugar, eggs, oil and vanilla extract. Mix with a spoon until smooth.
Stir in carrots, walnuts, coconut, and pineapple.
Pour the batter into a greased 9x13" baking pan or two prepared, 8-inch round pans. Bake in the oven for 30-40 minutes or until a toothpick comes out clean. Remove from the oven and allow to cool.
While the cake is cooling, make the cream cheese frosting. In a bowl beat the butter and cream cheese until smooth.
Add the powdered sugar, 1 cup at a time and beat until smooth. Spread frosting over the top of the cooled cake.
Nutrition Information:
Yield:
8
Serving Size:
1
Amount Per Serving:
Calories:

848
Total Fat:

48g
Saturated Fat:

11g
Trans Fat:

1g
Unsaturated Fat:

35g
Cholesterol:

89mg
Sodium:

775mg
Carbohydrates:

100g
Fiber:

4g
Sugar:

70g
Protein:

9g
Nutrition information isn't always accurate.
Carrot cake recipe FAQs
What is the best type of carrot to use in a carrot cake?
Carrots that are fresh, firm, and sweet are the best choice for making carrot cake. Look for medium-sized carrots that are bright orange in color and have a smooth skin. Avoid carrots that are too large. They may be woody and tough. Also steer clear of carrots that are limp or discolored.
How do you grate the carrots for a carrot cake?
First peel the carrots and cut off the ends. Then, run them over a box grater with medium-sized holes. Or place them in a food processor with a grating attachment.
Can I use carrots that are already grated?
Yes, you can use bagged, grated carrots. These may not be as fresh and flavorful as freshly grated carrots, however.
How do I make a carrot cake more moist?
This recipe is fairly moist, thanks to the pineapple. But if you want to adjust it, try adding applesauce or sour cream to the batter. You can also try using a higher ratio of oil or butter to flour in the batter, which will make the cake more tender and moist.
Can I make a carrot cake without eggs?
Yes, you can make a carrot cake without eggs by using an egg substitute such as mashed bananas, unsweetened applesauce, flaxseed meal, or egg white powder mixed with water. These ingredients can be used in place of eggs to bind the ingredients together and add moisture to the cake. The texture and consistency of the cake may be slightly different with the substitution, however.
How do you make cream cheese frosting for carrot cake?
To make cream cheese frosting for carrot cake, beat together cream cheese, butter, and powdered sugar until smooth and creamy. The frosting should be thick enough to spread easily but not too stiff. You can also add a teaspoon of vanilla extract and/or splash of milk or cream to thin out the frosting if needed.