Cheesy Taco Pasta Recipe

This cheesy taco pasta combines shells with taco meat and cheese for a simple yet delicious dinner. I prepared this recipe on the stovetop and then placed the taco pasta into a baking dish, topped with additional cheese and crushed Doritos for a nice crunch. You can use your favorite taco seasoning for this recipe. The prepared taco meat is mixed in a pot with salsa and the cooked noodles. Top with fresh cilantro if desired. Enjoy.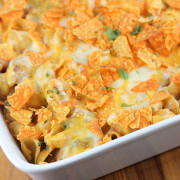 Cheesy Taco Pasta
Ingredients:
1/2lb large pasta shells
1 lb ground beef
1 package taco seasoning
¾ cup water
1 cup jarred salsa
2 cups shredded cheddar cheese
2 cups crushed Doritos
Directions:
Preheat the oven to 350 degrees F. Cook the pasta shells according to the package directions. Drain and set aside.
In a large skillet brown the ground beef while breaking it up into chunks with a spatula. Drain any excess grease. Add the taco seasoning and the water and cook, stirring occasionally until there is no water left.
Combine the cooked taco meat with the pasta shells, salsa and 1 cup of shredded cheese. Mix well.
Pour the mixture into a lightly greased 9x13 inch baking dish. Top with the remaining cheese and crushed Doritos.
Place into the oven and bake for 20-30 minutes or until the cheese has melted and the casserole is bubbly.