Chicken and Biscuit Casserole Recipe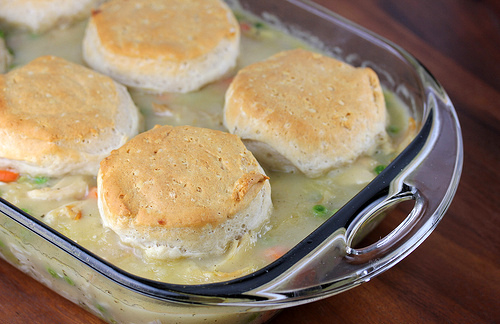 This chicken and biscuit casserole does require a little bit of work to prepare but it is well worth it. Using a rotisserie chicken and refrigerated biscuits does save a lot of time, and most of the work involved is just the prep work from chopping the chicken and vegetables. What is great about this recipe compared to others is that it does not use any condensed soup. Instead it uses chicken broth thickened with flour.  A few different vegetables are used in this dish including onion, celery, carrots, and peas. You could add additional ingredients as well such as sliced mushrooms. This chicken and biscuit casserole makes a great dinner for any night of the week. Enjoy.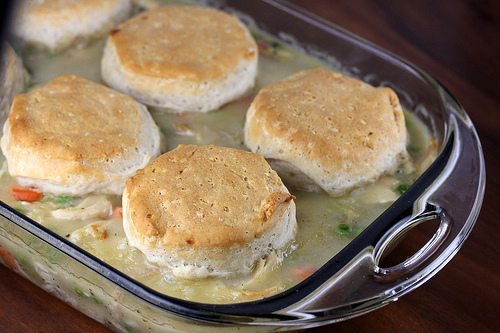 Ingredients:
¼ cup butter
2 garlic cloves (minced)
½ cup onion (chopped)
½ cup celery (chopped)
½ cup baby carrots (chopped)
½ cup all-purpose flour
2 teaspoons white sugar
1 teaspoon salt
1 teaspoon dried basil
½ teaspoon ground black pepper
4 cups chicken broth
1 (10 ounce) can peas (drained)
4 cups diced, cooked chicken meat
1 (16.3 ounce) can refrigerated biscuits
Cooking instructions: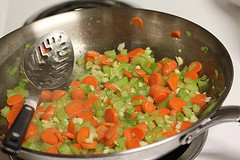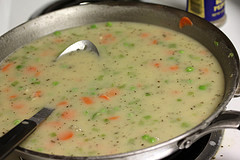 Step 1: Preheat the oven to 350 degrees. Lightly grease a 9×13 inch casserole dish. In a large deep skillet, melt the butter over medium-high heat. Add garlic, onion, celery and carrots and stir-fry in the butter until tender. Mix in flour, sugar, salt, 1 teaspoon of dried basil, and pepper. Stir in chicken broth and bring to a boil. Boil for 1 minute while stirring constantly. Reduce heat and stir in peas and simmer for 5 minutes. Mix in the chopped cooked chicken. Transfer the mixture into the prepared baking dish.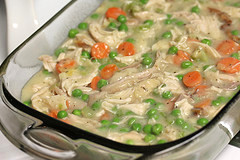 Step 2: Arrange refrigerated biscuits in a single layer over the chicken mixture in the casserole dish.
Step 3: Place into the oven and cook for 30 minutes at 350 degrees until the mixture is bubbling and the biscuits are browned on top and fully cooked.
(Makes 6 Servings)