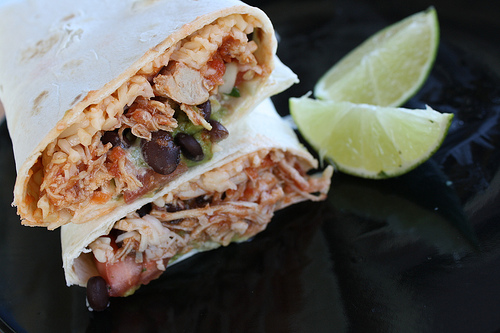 You can forget about Taco Bell because these chicken burritos are the best. Today I have for you a recipe for restaurant quality burritos. Unfortunately, these are not for everyone. Due to the many different ingredients, they can be time-consuming and rather expensive if you don't have a lot of stuff on hand. If these things don't bother you, you are in for a real threat. These burritos use thigh meat instead of chicken breasts and it was really a great change. Some of the ingredients that go into these burritos include- Monterey jack cheese, black beans, Pico de gallo, guacamole, cabbage, and a delicious sour cream/green chili sauce.   If you are in the mood for some amazing burritos give this recipe a try. Enjoy.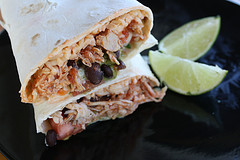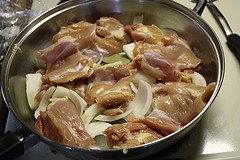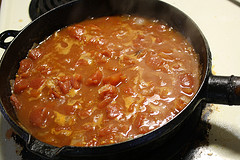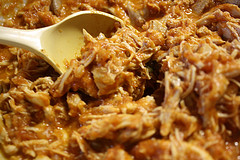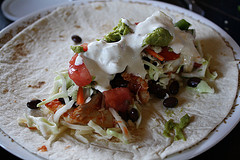 Print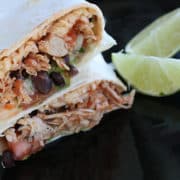 Chicken Burritos Recipe
---
1

lb boneless, skinless chicken thighs

1

medium onion (sliced)

1

small onion (diced)

2

garlic cloves (crushed)

2

bay leaves

2 teaspoons

vegetable oil

¼ teaspoon

dark brown sugar

1 cup

canned diced tomatoes (with their juice)

1

large chipotle (in adobo sauce, reserve adobo sauce)

1 tablespoon

adobo sauce (stemmed)
Salt and pepper (to taste)

½ cup

low-fat sour cream

3 tablespoons

diced canned green chilies (drained)

1 ½ teaspoons

water
four

12

-inch whole wheat tortillas (warmed)

¾ cup

shredded Monterey jack cheese

1

(15 ounces) can black beans (drained, rinsed and patted dry)

1 cup

shredded cabbage

½ cup

Pico De Gallo salsa

½ cup

guacamole
---
Instructions
Place chicken thighs into a deep large saucepan. Add onion, garlic and bay leave. Add just enough water to cover the chicken thighs and bring it to a boil. Reduce heat and simmer.
Cover and simmer for 1 hour or until the chicken pull apart easily with a fork. Remove the chicken thighs from the pan and shred them into bite-sized pieces. Transfer to a bowl and set aside.
In another skillet heat oil.
Add diced onion and brown sugar. Cook over medium-high heat until the onion is golden brown (about 10 minutes). Add the chipotle, 1 tablespoon of the adobo sauce, and canned tomatoes. Simmer over low (to medium) heat until the mixture has somewhat thickened (about 10 minutes).
Pour the mixture in a food processor and blend until smooth. Pour over the shredded chicken and mix well. Season with salt and pepper.
In a blender combine sour cream, green chilies, and water and puree until smooth. Season with salt and pepper.
one at a time layout each tortilla. Sprinkle with cheese, spoon the chicken mixture down the center. Top the chicken with black beans, cabbage, salsa, guacamole, and sour cream sauce. Bring the sides of the tortilla toward the center of the filling. Fold the bottom of the tortillas up over the filling and continue to roll until the burrito closes.