Chicken Enchilada Pasta Recipe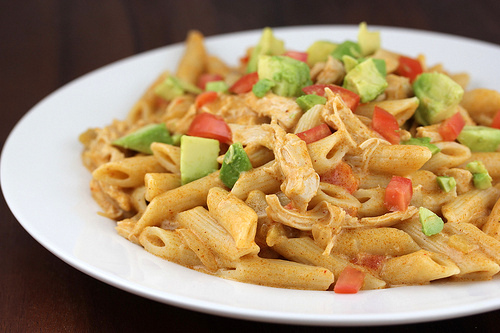 Chicken enchilada pasta is a delicious and slightly spicy dish that is perfect for any night of the week. This recipe consists of ingredients such as shredded chicken, enchilada sauce, cheese, sour cream and various seasonings. If you want to save time, you can use a pre-cooked rotisserie chicken and shred it, or you can use leftover cooked chicken as well. The dish can be topped with a variety of different ingredients such as avocado, green onion, tomato, black olives, and sour cream. Whatever you like to put on your enchiladas or tacos will go great with this pasta dish. There is nothing complicated about this recipe; it is very easy to prepare and makes for an amazing dinner. Enjoy. Adapted from Pearls, Handcuffs, and Happy Hour.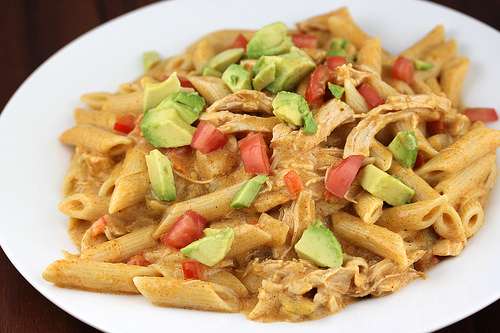 Ingredients:
2 boneless skinless chicken breasts (cooked and shredded)
2 tablespoons olive oil
2 garlic cloves (minced)
1 medium onion (diced)
1 red bell pepper (diced)
1 (4 ounce)  can diced green chilies
½ teaspoon salt
2 teaspoons chili powder
1 teaspoon cumin
2 (10 ounce) cans green chili enchilada sauce
2/3 cups red enchilada sauce
2 cups shredded Colby-jack cheese
1 cup sour cream
1 (16 ounce) package penne pasta
Toppings-
avocado
green onions
tomatoes
sour cream
black olives
Cooking Instructions: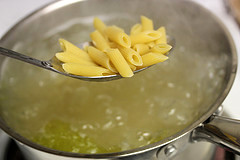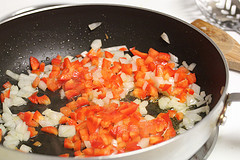 Step 1: Cook penne pasta according to package directions. Meanwhile, heat olive oil to medium heat in a large deep skillet. Add onions and cook for 5 minutes. Add garlic and red pepper and cook for an additional 3 minutes. Add shredded cooked chicken, green chilies, cumin, chili powder, salt, green enchilada sauce, and red enchilada sauce. Bring to a boil, reduce heat and simmer for 8-10 minutes.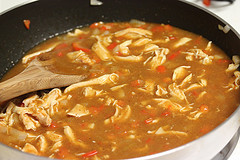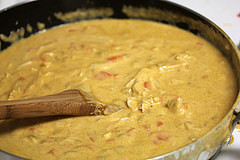 Step 2: Add the Colby-jack cheese and stir until the cheese has melted. Stir in the sour cream over low heat. Stir until the sour cream is well incorporated. Cook on low until heated through.
Step 3: Drain the pasta and add it to a large serving bowl. Pour the sauce over the pasta and mix well. Serve with toppings such as avocado, green onions, tomatoes, black olives, and sour cream.
(Makes 4 Servings)