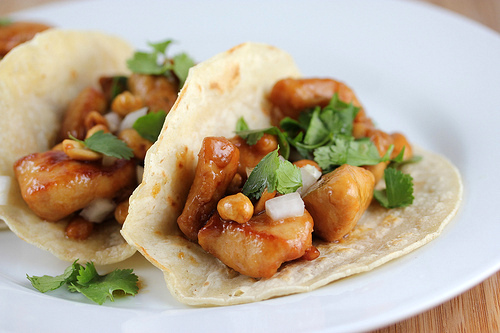 These Kung Pao tacos are a combination of two of my favorite cuisines—Chinese and Mexican.  I first saw these on an episode of Diners, Drive-ins, and Dives and knew I had to make them right away. These are a very popular item on the menu of Don Chow Tacos in California. These tacos combine marinated chicken pieces, Kung Pao sauce, peanuts, onions, cilantro, and corn tortillas. I really found the mixture of Kung Pao and cilantro to be an extremely delicious and unique flavor. You can fry the chicken in the wok with just a little bit of oil while stir-frying or you can add about an inch of oil to the wok and deep fry the chicken pieces if you want them crispy. If you are looking for something different, give this one a try. Enjoy.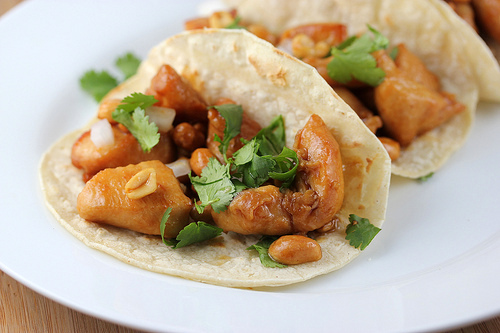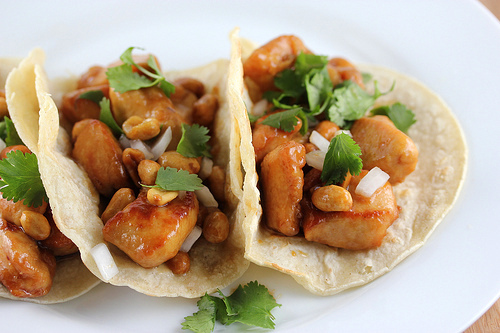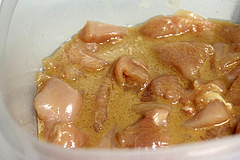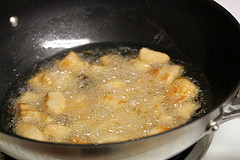 .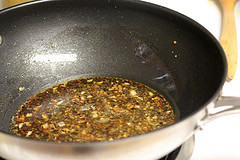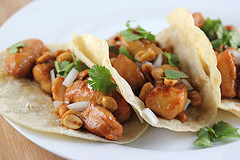 (Makes 4Servings)
Print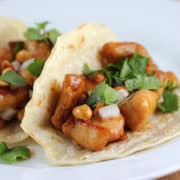 Kung Pao Tacos Recipe
---
Author:

Total Time:

30 minutes
1

lb boneless skinless chicken breasts (cut into 1-inch chunks)

2 tablespoons

white wine

2 tablespoon

soy sauce

1 tablespoon

sesame oil

1 tablespoon

water

3

garlic cloves (minced)

½ teaspoon

powdered ginger

½ teaspoon

crushed red pepper flakes

2 tablespoons

of rice wine vinegar

2 tablespoons

soy sauce

2 teaspoons

sugar

1/3 cup

dry roasted peanuts
oil (for frying)

½ cup

cilantro (chopped)

½ cup

white onion (chopped)
Corn tortillas
---
Instructions
To make the marinade- combine 1 tablespoon white wine, 1 tablespoon soy sauce, and 1 tablespoon of oil. Mix 1 tablespoon cornstarch with 1 tablespoon of cold water and add to the marinade. Mix well. Place chicken pieces into a glass dish or bowl and add the marinade. Toss to coat. Cover the dish and place into the refrigerator for about 30 minutes.
 Heat 2 tablespoons of oil (or more to deep fry) in a wok over medium-high heat. Drain the marinade from the bowl and place the chicken into the wok. Stir-fry the chicken for 5-7 minutes or until no longer pink inside and fully cooked (the internal temperature has reached 165 degrees). Remove chicken the from wok, set aside. Reduce heat to medium
 Add garlic, red pepper flakes, and powdered ginger to the wok and stir fry for 15 seconds.  In a small bowl combine 2 tablespoons rice wine vinegar, 2 tablespoons soy sauce, and 2 teaspoons sugar. Mix well and pour into the wok. Bring to a boil, reduce heat and simmer for 2 minutes. Return chicken to the wok and coat with the sauce. Stir in roasted peanuts. Cook until heated through.
Warm the tortillas, either in a pan on the stove-top or in the microwave. Assemble the tacos by placing some of the chicken and peanuts into each tortilla. Top with chopped cilantro and onion.