Chicken Marsala Pasta Recipe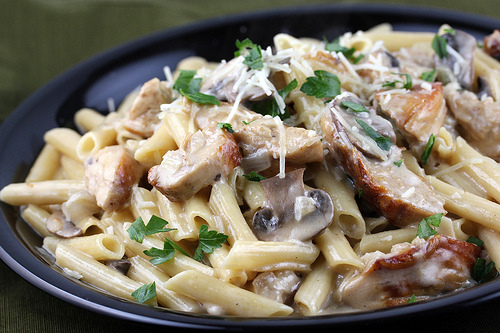 A good chicken and mushroom dish that I always enjoy is chicken Marsala pasta. The combination of cream sauce with pasta, mushrooms and chicken is nothing short of amazing. This is a nice change up from most pasta dishes and the Marsala wine gives the sauce amazing flavor. Marsala wine is fairly common and shouldn't be that hard to find. This dish takes a little work but it is well worth it. The chicken is first cooked in the pan and then sliced into strips. If you do not want to pan fry the chicken, you can bake it or grill it as well. The sauce is a combination of Marsala wine, chicken broth and heavy cream. This is perfect for dinner any night of the week. Enjoy. Adapted from: What's Cookin', Chicago?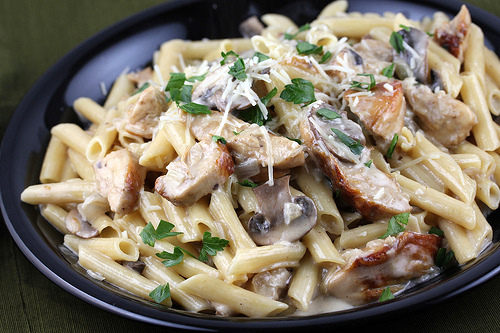 Ingredients:
2 boneless skinless chicken breasts
1 package fresh mushrooms (sliced)
1 onion (diced)
3 garlic cloves (minced)
¾ cup Marsala cooking wine
½ cup chicken broth
½ cup heavy cream
1lb penne pasta
1 cup parmesan cheese
5 tablespoons butter
1 tablespoon olive oil
salt and pepper (to taste)
½ cup fresh Italian parsley (chopped)
Cooking Instructions: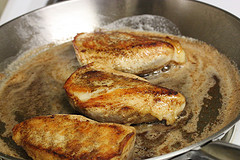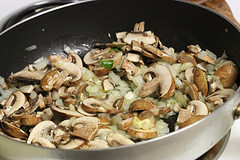 Step 1: Season the chicken breasts on both sides with salt and pepper. Melt 1 tablespoon of the butter and 1 tablespoon of olive oil in a large skillet. Cook chicken, turning once until browned on both sides and fully cooked (the internal temperature has reached 165 degrees). Transfer to a plate and allow the chicken to cool. Once the chicken has cooled slice it into strips.
Step 2: Cook pasta according to package directions. Meanwhile, melt 1 tablespoon of butter in a skillet, add garlic, mushrooms and onions. Cook until the onions are almost tender (about 5 minutes). Add Marsala wine, chicken broth and heavy cream. Bring to a boil. Reduce heat and simmer until the sauce is thickened. Add cooked chicken slices to the pan.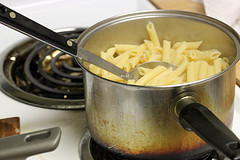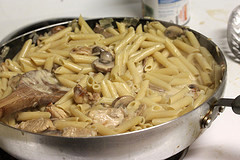 Step 3: When the noodles are done cooking, drain and toss them with 3 tablespoons of butter. Dump noodles into a serving dish. Add the mushroom, chicken, and marsala sauce mixture and ½ cup of parmesan cheese. Season with salt and pepper. Toss until well combined. Serve with parmesan cheese and chopped Italian parsley.
(Makes 4 Servings)