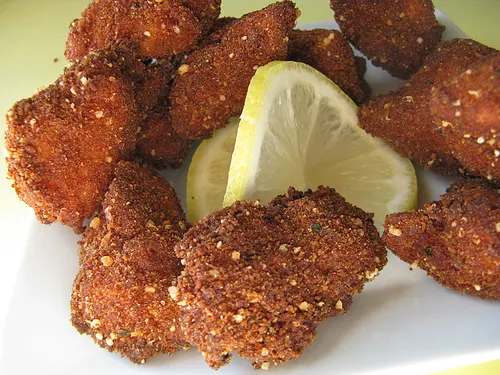 Chicken nuggets make a great snack or even a great addition to a dinner or lunch. This recipe is very kid friendly… your kids are sure to be pleased with these chicken nuggets. The chicken is first rolled in flour, dipped in egg and then rolled in a bread crumb mixture. For the seasonings, you can tweak it to your taste. If you want a little heat, add some cayenne pepper or chili seasoning into the flour mixture. With this recipe, I will give you two options of cooking the chicken nuggets – deep frying or baking in the oven. I deep fried them just because it's faster but for those of you that don't have a deep fryer, the oven works just as good if not better. Serve with ketchup or your favorite dipping sauce. Enjoy.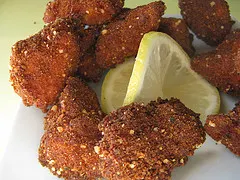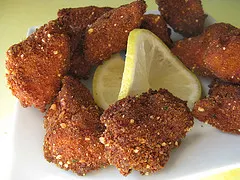 (Makes 4 servings)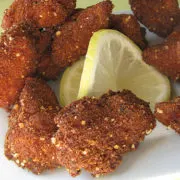 Chicken Nuggets Recipe
---
1

lb boneless skinless chicken breasts (cut into 1" chunks)

¼ cup

all-purpose flour

¼ teaspoon

salt

¼ teaspoon

garlic powder

1/8 teaspoon

pepper

¼ cup

milk

1

egg

½ cup

dry Italian breadcrumbs

1 tablespoon

grated parmesan cheese

1 tablespoon

butter (melted, if baking in the oven)
Oil (if deep frying)
---
Instructions
On a plate combine flour, salt, pepper, and garlic powder. In a small bowl beat egg and milk. On another plate combine bread crumbs and parmesan cheese.
Coat chicken strips first in the flour mixture, then dip in the egg mixture and then roll in the breadcrumb mixture. Repeat until all strips are coated.
If deep frying – Heat deep fryer to 360 degrees and deep fry chicken nuggets in batches for 6 minutes or until golden brown. Drain on paper towels.
If baking in the oven – Heat oven to 400 degrees. Place chicken strips on a baking sheet and drizzle with melted butter. Bake in the oven for 12-15 minutes or until strips are no longer pink inside.