Potato Skins Recipe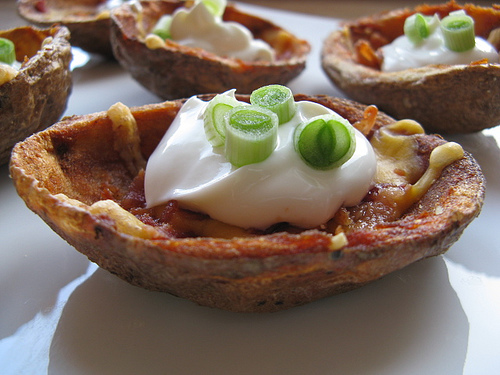 What could possibly be a better snack than potato skins? If you are not familiar with potato skins- potato skins are the skin of a potato deep fried or baked and filled with an assortment of different ingredients. Potato skins make the perfect snack for any party. The cooking process is simple, the potatoes are first baked, cut in half and then the potato is almost all scooped out until just a thin layer of potato and the skin remains. After that the skins are brushed with numerous seasonings and then deep fried or baked until crispy. The skins are then filled with cheese and bacon and topped with sour cream and green onions. I know sounds delicious, right? Well, believe me, it is. To cook the whole potatoes you can either bake them or cook them in the microwave. I personally prefer the microwave because it's a lot faster. To cook the skins you can either deep fry them or bake them. This recipe calls for a combination of deep frying and baking. I find that they come out a little better in the deep fryer but I don't think you will notice much of a difference in the oven. Enjoy.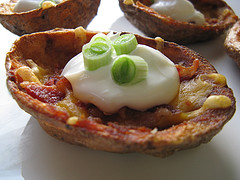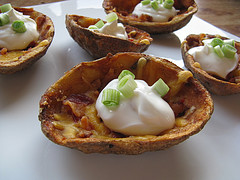 Ingredients:
4 large bake potatoes (baked or microwaved until tender)
3 tablespoons vegetable oil
Oil (for deep frying)
1 tablespoon grated parmesan cheese
½ teaspoon salt
¼ teaspoon garlic powder
¼ teaspoon paprika
1/8 teaspoon pepper
8 slices of bacon (cooked until crispy and crumbled)
2 cups shredded cheddar cheese
½ cup sour cream
4 green onions (sliced)

Cooking Instructions: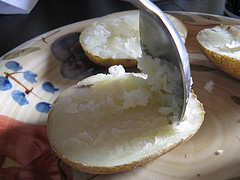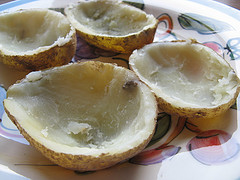 Step 1: Cut potatoes in half lengthwise, scoop out the insides and discard leaving about ¼" of the shell.
Step 2: In a small bowl combine 3 tablespoons oil, salt, garlic powder, paprika, parmesan cheese and pepper. Brush mixture all over potato skins.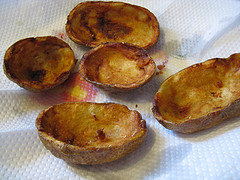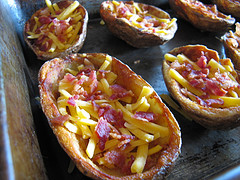 Step 3: Heat deep fryer to 365 degrees and deep fry potato skins for 5 minutes in batches. Drain on paper towels. (* to bake instead of deep fry –  pre-heat oven to 475 degrees. Place skins in a greased baking dish and bake for 8 minutes. Turn over and bake for 8 minutes on that side.)
Step 4: Pre-heat the oven to 375 degrees. Place potato skins in a lightly greased baking dish and fill each skin with cheddar cheese and bacon. Divide evenly between each skin. Bake for 7 minutes or until the cheese has melted. Remove from oven and top with sour cream and green onions.
(Makes 4 servings)