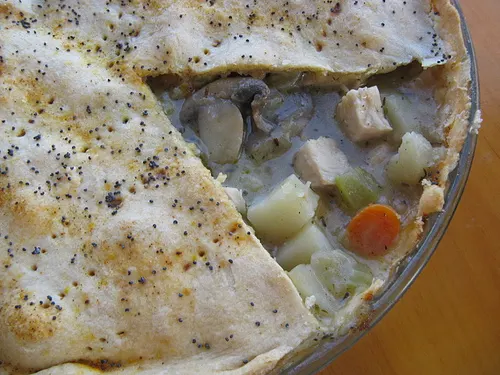 Nothing but some classic comfort food here – Chicken pot pie. This is a recipe that dominates anything you can buy frozen in the store. Unfortunately, this does require a lot of prep work to prepare. There are tons of vegetables that go into this, most of which need to be minced, chopped or sliced. If you want to save time try and get some help or maybe even buy a frozen vegetable mix from the grocery store. In the end, it's so worth it though! Chicken pot pie to a great way to make good use of leftover chicken. If you want to use fresh chicken, to cook it just slowly poach it in water for a while. If you don't have any chicken or would prefer something else, turkey can easily be used in its place. Substituting chicken for turkey could also make a great side dish for Thanksgiving! Serve with buttery biscuits. Enjoy.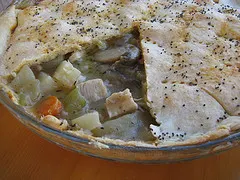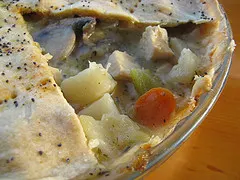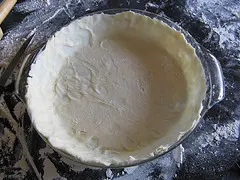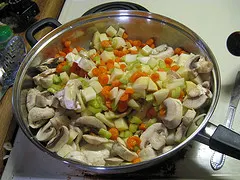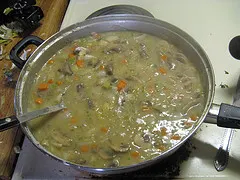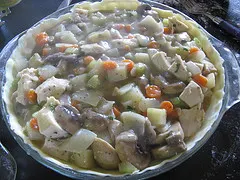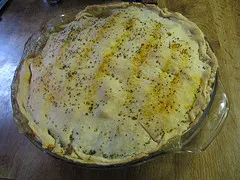 Print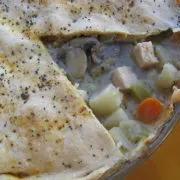 Chicken Pot Pie Recipe
---
2 prepared pie crusts (homemade or store bought)

1/8 teaspoon poppy seed

1 pinch seasoning salt

Filling-

3 tablespoons butter

1 onion (sliced)

½ cup celery (diced)

1 cup carrot (sliced)

1 cup potatoes (diced)

8 ounces fresh mushrooms (sliced)

3 garlic cloves (minced)

1 tablespoon fresh parsley (chopped)

1 teaspoon thyme

1 pinch red pepper flakes

¼ teaspoon ground sage

salt and pepper (to taste)

3 tablespoons flour

2 cups chicken broth


2 cups

cooked chicken (diced)
---
Instructions
Preheat the oven to 425 degrees and press one curst onto the bottom and up the sides of a 9" pie plate.
In a large pan melt butter and add celery, onion, carrots, potatoes, mushrooms, and garlic. Stir fry for 5 minutes.

Add parsley, red pepper flakes, thyme, sage, salt, and pepper to the pan. Mix well. Sprinkle with flour and mix again. Add chicken stock and simmer for 5 minutes or until mixture is thickened. Add chicken bits to the mixture and mix well.

Pour mixture into the prepared pie dish. Top with the second crust and crimp sides to seal. Lightly wet the top and sprinkle with season salt and poppy seeds.

Bake in the oven at 425 degrees and bake for 15 minutes. After 15 minutes reduce heat to 350 degrees and bake for 45 minutes. Remove from oven and let cool for 15 minutes before serving.