Until recently I had never tried homemade Chimichangas. I guess I must have been missing out all this time because these were great. If you are not familiar with the Chimichanga it is basically a burrito that is deep fried. This is a fairly lengthy recipe that requires a bit of work, but in the end, you should find that it's well worth it. If you like Mexican food, these should be a must try for you. If you don't like the idea of deep frying this makes great burrito meat as well. I actually tried one before I deep fried them and it was great. I really enjoyed the nice flavor that the lime juice added to the meat mixture. For the meat, if you can find already cut up beef stew meat that would work well, and save a lot of time.  Enjoy.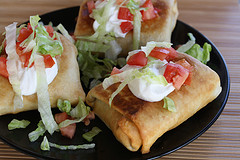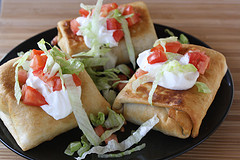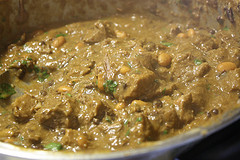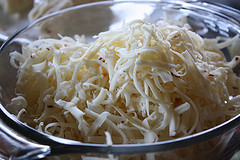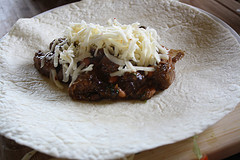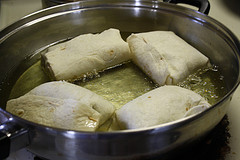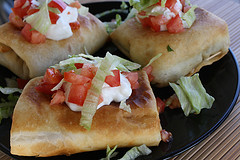 (Makes 5 Servings)
Print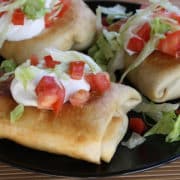 Chimichanga Recipe
---
3

lbs pound boneless beef rump (cut into one-inch cubes)

1 tablespoon

chili powder

1 teaspoon

cayenne pepper

1 teaspoon

garlic powder

1 tablespoon

all-purpose flour

2 tablespoons

canola oil

2

onions (chopped)

3 teaspoons

minced jalapeno pepper

2 tablespoons

garlic (chopped)

2 ¼ cups

beef broth

¼ cup

red wine vinegar

1

(15 ounces) can pinto beans (drained and rinsed)

1

(15 ounces) can black beans (drained and rinsed)

¼ cup

lime juice (about

3

limes)

½ cup

fresh cilantro (chopped)

10

(11 inches) flour tortillas (warmed in the microwave)
Oil (for frying)

2 ½ cups

shredded pepper jack cheese

2 cups

iceberg lettuce (shredded)

1 cup

sour cream

½ cup

tomatoes (diced)
---
Instructions
In a large stockpot over medium-heat heat. Add 2 tablespoons of canola oil. Add beef cubes and brown on all sides.
Add onions and jalapeño pepper and sauté for 4 to 5 minutes.
Add garlic and sauté for 1 additional minute. Mix in chili powder, cayenne, garlic powder, and flour. Cook stirring frequently for 2 to 3 minutes. Add beef broth and red wine vinegar.
Mix well and bring to a boil. Reduce heat to medium-low and simmer for 2 hours.
When the meat is fork-tender, shred the beef with 2 forks. Add pinto and black beans, lime juice, and cilantro. Cook until heated through. Remove from heat.
In a large deep skillet add about 1" of oil. Heat the oil to 325 degrees or until the oil is hot enough to frying. While the oil is heating prepare the chimichangas. Lay out a flour tortilla and fill the bottom half with a ¾ cup of the beef/bean mixture (if the beef mixture has a lot of liquid, scoop it out with a slotted spoon).
Top with about 2 tablespoons of pepper jack cheese. Lift the edge of the tortilla and roll it over the filling to secure it.
Fold in both sides and continue rolling until you reach the opposite end. Place a skewer through the seam side of the burrito to secure it (can also use toothpicks). Repeat with the remaining tortillas.
Lower chimichangas into the hot oil and fry for 2 minutes on each side or until golden brown. Drain on paper towels. Fry in batches of 4. Serve with lettuce, tomato, and sour cream.