Sesame Salad Recipe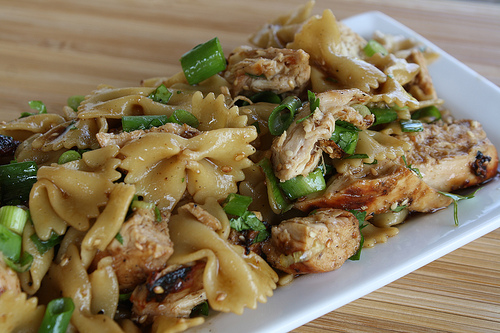 This delicious sesame salad combines sesame salad dressing, grilled chicken and pasta. Of course, the chicken doesn't necessarily have to be grilled; you can use any kind of cooked chicken. It is also a way to use up leftover cooked chicken. For this recipe the dressing is where it's at. The dressing is pretty much your classic sesame salad dressing using ingredients such a sesame oil, rice vinegar, sugar, and soy sauce. This is a very simple recipe that takes little time to prepare. Enjoy.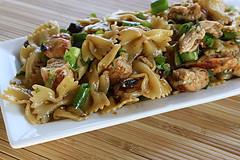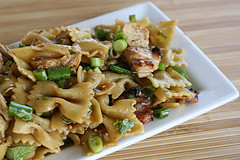 Ingredients:
1 (16 ounce) package bow tie pasta
¼ cup sesame seeds
½ cup vegetable oil
1/3 cup rice vinegar
1/3 cup soy sauce
1 teaspoon sesame oil
3 tablespoons sugar
½ teaspoon ground ginger
¼ teaspoon black pepper
3 cups cooked chicken (shredded or cut into small chunks)
1/3 cup cilantro (chopped)
1/3 cup green onions (sliced)
Cooking Instructions: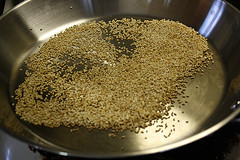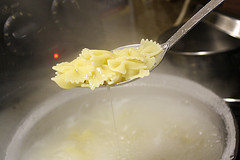 Step 1:  Heat a skillet over medium high heat. Add sesame seeds and cook while stirring until they are lightly browned. Remove from heat and set aside. Bring a large pot of water to a boil and cook according to package direction until Al Dente. Drain pasta and cool. Transfer to a large serving bowl.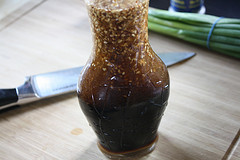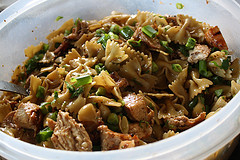 Step 2: In a jar with a tight fitting lid combine vegetable oil, rice vinegar, soy sauce, sesame oil, sugar, ginger, black pepper and sesame seeds. Shake well.
Step 3: Pour the dressing over the noodles. Add chicken and mix well. Add green onions and cilantro and serve.
(Makes 4 Servings)