Chocolate Chip Pancakes Recipe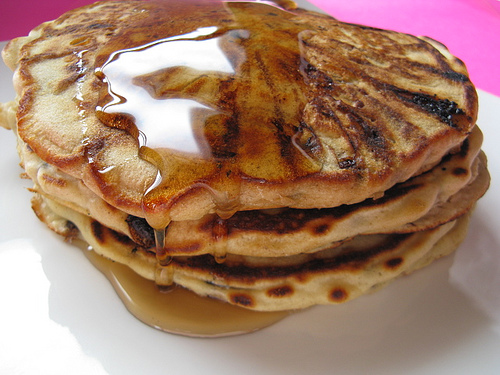 Chocolate chip pancakes are the perfect treat for that special breakfast. There are many ways to make pancakes but this has to be one of the best. For this recipe you can use regular chocolate chips but I used minis and they turned out great. Making pancakes is fairly easy; it's always a good idea to keep the heat well under control so they don't burn on one side. After all, nobody likes a burnt pancake. Make sure to check the bottom of the pan cake frequently to make sure it doesn't become to dark. What's great about this recipe is cinnamon goes into the batter and adds great flavor to the pancakes. Making chocolate chip pancakes should take very little time and be prepared to impress chocolate lovers with this delicious morning treat. This recipe makes about 6 medium pancakes. Enjoy.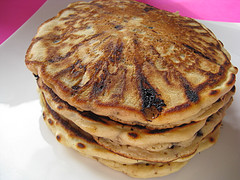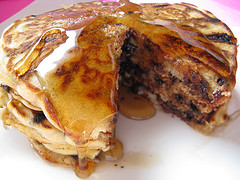 Ingredients:
1 ¼ cups flour
1 tablespoon sugar
¼ teaspoon cinnamon
1 tablespoon baking powder
¼ teaspoon salt
2 eggs
1 cup milk
4 tablespoons melted butter
¾ teaspoon vanilla extract
1 cup chocolate chips
Cooking Instructions: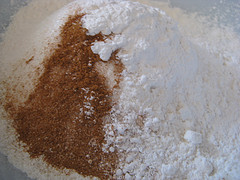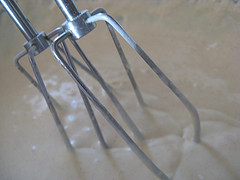 Step 1: Combine flour, sugar, cinnamon, baking powder and salt in a large bowl.
Step 2: In a separate bowl mix together eggs, milk, butter, and vanilla. Beat the wet ingredients with the dry mixture until smooth. Fold in chocolate chips.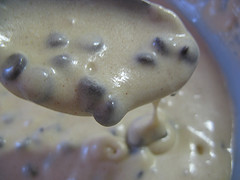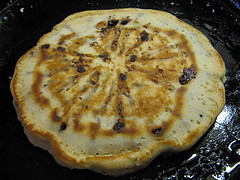 Step 3: Heat pan or griddle. Pour or spoon batter into pan (each pancake should be about ½ cup of batter).
Step 4: Flip the pancake when the top begins to bubble. Fry for 1 minute. Remove from pan and repeat until batter is gone.