Sweet and Sour Fish Recipe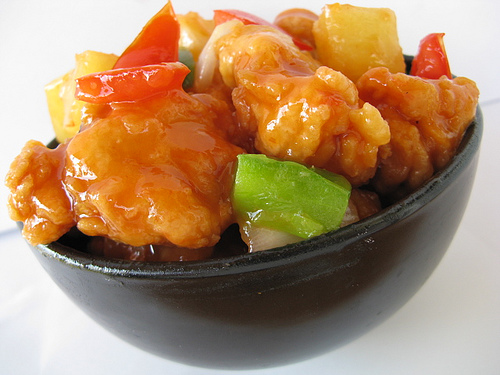 Are you getting tired of the same old sweet and sour chicken or pork? If so you might want to give this recipe for sweet and sour fish a try. Sweet and sour fish is breaded fish in a delicious sweet and sour sauce with an assortment of fruits and vegetables. You can basically use any kind of white fish for this recipe such as tilapia, halibut, bass, cod, ect. It is always good to try and find nice meaty fillets if possible. I would recommend frying the fish in a deep fryer because in my opinion they just come out better than pan frying. However, if you do not have a deep fryer, feel free to give it a try in the wok. The fruits and vegetables going into this dish include pineapple, tomatoes, green peppers and onions. If you are in a rush and would prefer to use store bought sweet and sour sauce that would work as well. Serve on top of white rice. Enjoy.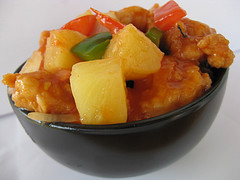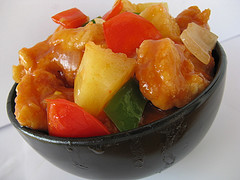 Ingredients:
2lbs tilapia, cod, halibut or any other whitefish (cut into 1" chunks)
1 large green pepper (cut into 1" chunks)
1 large tomato (cut into 1" chunks)
1 large onion (cut into 1" chunks)
1 can pineapple chunks (with juice)
Oil (for deep frying)
Breading-
¼ cup cornstarch
2 cups flour
6 tablespoons vegetable oil
4 teaspoons baking powder
1 teaspoon seasoning salt
1 pinch cayenne pepper
2 cups water
Sweet and Sour Sauce-
½ cup vinegar
1/3 cup sugar
½ teaspoon salt
¼ cup orange juice
¼ cup pineapple juice
¼ cup ketchup
2 tablespoons cornstarch 
Cooking Instructions: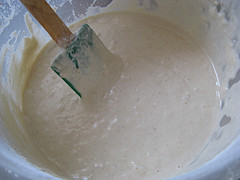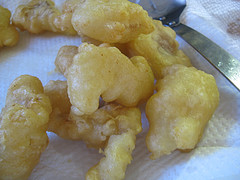 Step 1: Toss fish with cornstarch in a bowl and coat well. In another bowl whisk together flour, 6 tablespoons of oil, baking powder, seasoning salt, and cayenne pepper. A little at a time, add 2 cups of water whisking until the batter has become smooth. Pour batter over the coated fish pieces and stir to coat.  
Step 2: In a deep frying fry fish pieces in batches for 4 minutes or until golden brown. Drain on paper towels and keep warm in the oven.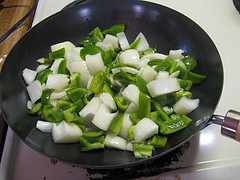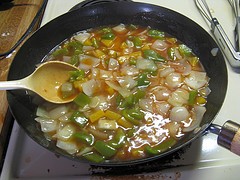 Step 3: In a wok heat a tiny bit of oil. Stir fry green pepper and onions for 3 minutes. Remove from pan and set aside.
Step 4: To make sweet and sour sauce – In the wok mix vinegar, sugar, salt, orange juice, pineapple juice and ketchup. Bring to a boil and simmer for 10 minutes. Mix 2 tablespoons of cornstarch in 1/8 cup of juice, pour into the sauce and stir until sauce has thickened.  Add tomatoes and pineapple chunks to the sauce and heat.
Step 5: In a large serving dish mix fish pieces, sauce and green pepper and onions. Serve with white rice.
(Makes 6 Servings)