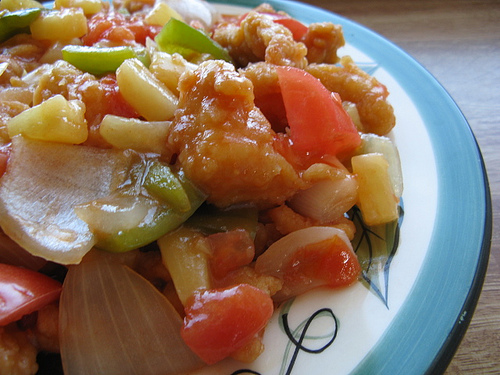 Tonight I was in the mood for Chinese and decided to make some sweet and sour chicken. This recipe is by far the best sweet and sour chicken I have ever tasted, nothing compares. I tried this at multiple buffets and none of them were even close to this good, maybe I should have given them this recipeJ? Sweet and sour chicken is deep-fried breaded white meat chicken, coated or served with sweet and sour sauce. If you don't know anything about the sauce, don't worry because this article includes an amazing recipe for sweet and sour sauce as well! What really makes this recipe stand out from others or the buffets are the fruits and vegetables that go in it. We are tossing a generous amount of pineapple, green peppers, tomatoes, and onions into this dish. If you try this and like it, stay on the lookout for my sweet and sour pork recipe coming soon. Enjoy.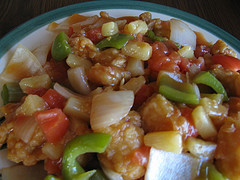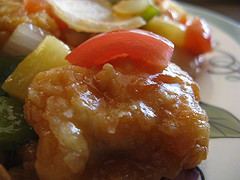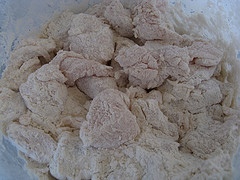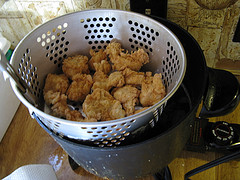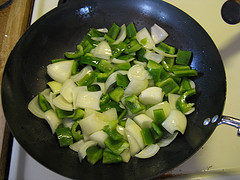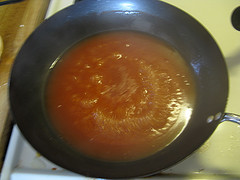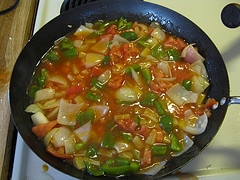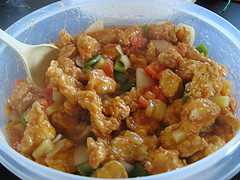 Print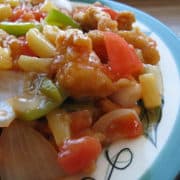 Sweet and Sour Chicken Recipe
---
1

pound of boneless and skinless chicken thighs or breasts, cut into

1

" chunks

1

egg white

1/2 teaspoon

kosher salt (

1/4 teaspoon

table salt)

2 teaspoons

cornstarch

1

10-ounce can pineapple chunks (reserve juice)

1/4 cup

juice from the canned pineapple

1/4 cup

white vinegar

1/4 cup

ketchup

1/2 teaspoon

kosher salt (

1/4 teaspoon

table salt)

2

–

3

tablespoons brown sugar

1 tablespoon

+

1 teaspoon

cooking oil

1

red bell pepper, cut into

1

-inch chunks

1

yellow bell pepper, cut into

1

-inch chunks

1 teaspoon

grated fresh ginger
---
Instructions
Coat chicken with egg white, salt, and cornstarch: In a bowl, combine the chicken with the egg white, salt, and cornstarch. Stir to coat the chicken evenly. Let sit for 15 minutes at room temperature or up to overnight in the refrigerator.
Make the sweet-sour sauce: Whisk together the pineapple juice, vinegar, ketchup, salt, and brown sugar.
Stir-fry chicken: Heat a large frying pan or wok over high heat until a bead of water instantly sizzles and evaporates. Pour in the 1 tablespoon of cooking oil and swirl to coat. It's important that the pan is very hot.
Add the chicken and spread the chicken out in one layer. Let the chicken fry, untouched for 1 minute, until the bottoms are browned.
Flip and fry the other side the same for 1 minute. The chicken should still be pinkish in the middle. Dish out the chicken onto a clean plate, leaving as much oil in the pan as possible.
Stir fry bell pepper and ginger: Turn the heat to medium and add the remaining 1 teaspoon of cooking oil. Let the oil heat up and then add the bell pepper chunks and ginger. Fry for 1 minute.
Add pineapple, sweet-sour sauce, let simmer, add chicken: Add the pineapple chunks and the sweet and sour sauce. Turn the heat to high and when the sauce is simmering, add the chicken pieces back in.
Let simmer for 1-2 minutes, until the chicken is cooked through. Timing depends on how thick you've cut your chicken. The best way to tell if the chicken is done is to take a piece out and cut into it. If it's pink, add another minute to the cooking.
Taste the sauce and add more brown sugar if you'd like.