Chorizo Fries Recipe

If you are looking to take your game day food to the next level, give this chorizo fries a try. These fries are loaded with chorizo, cheese, cilantro, and chipotle crema. A little squeeze of fresh lime juice really tops this recipe off nicely. To save time, store-bought French fries are used and you can also use premade chorizo but if you want to take it a step further you can even make your own! The chipotle crema is a combination of crema, chipotle powder and cumin. Enjoy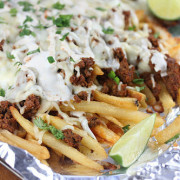 Chorizo Fries
Ingredients:
1 1/2 pounds frozen french fries
1 (9 oz) tube chorizo
1 lb ground beef
1 1/2 cups grated Queso Quesadilla cheese
1 1/2 cups grated Mozzarella cheese
1/2 cup fresh cilantro (chopped)
1/3 cup Crema Mexicana
1/4 teaspoon chipotle powder
1/4 teaspoon ground cumin
Directions:
On a large baking sheet cook the French fries according to package directions.
While the fries are cooking, cook the chorizo and ground beef in a large skillet over medium high heat. Cook while breaking up the meat into chunks with as spatula until fully cooked. Drain off any excess grease.
In a small bowl combine crema, chipotle powder and cumin. Mix well.
Once the French fries are cooked, remove them from the oven. Top the fries on the baking sheet with the chorizo/beef mixture. Top with the grated cheeses. Place back into the oven and bake for 5 minutes or until the cheese has melted. Remove from the oven. Drizzle with crema and sprinkle with chopped cilantro. Serve with lime wedges if desired.