Christmas hampers — also known as gift baskets in the U.S. — are popular presents in Australia. They are frequently given to family, friends, and coworkers. However, selecting the right hamper might be difficult, especially if you want something unique.
Why not make your own hamper if you're seeking something unique? This could be a collection of your favorite goods or items meaningful to both you and the receiver. This is a terrific approach to demonstrate that you put consideration into the present, and it will undoubtedly be appreciated. Whatever type of hamper you select, ensure it is something your Australian loved one will like and value. Here are nine fun ideas to get your creative juices flowing.
Unique ideas to make a great Christmas hamper
1. Massage coupon
Massages are an excellent way to unwind and de-stress. Suppose your giftee is constantly on the move and rarely has time for self-care. In that case, a spa session can be a welcome distraction. It could be an opportunity to allow your loved one to slow down, unwind, and simply enjoy some downtime.
A massage can provide significant health advantages as well. Massages can help with circulation, stress reduction, and even pain relief. Suppose your giftee suffers from back discomfort or migraines. In that case, a massage would be a terrific and personalized gift.
When giving a massage coupon as a present, tailor it to your loved one's needs and interests. Although this can be an expensive gift, it does express love and thoughtfulness. That's why a massage coupon is a nice way to anchor your Christmas hampers for Australia this year.
2. Gin and tonic bath bombs
Australians like to drink. Alcohol is an essential facet of Australian culture and important to most Australians' social lives.
Gin and tonic bath bombs are a fun, unique gift that your Australian friends are sure to appreciate. The best part about bath bombs to an Australian is that they incorporate something they can use with something they love.
Gin and tonic bath bombs are an excellent present for anyone who enjoys unwinding in the tub. They are also an excellent method to express gratitude to a close friend. Bath bombs always make for a perfect complement to any Christmas party, whether you're giving these as a present or simply wish to express your gratitude.
3. Personalized coffee mugs
A personalized coffee mug is an excellent Christmas present to add to Christmas hampers in Australia in 2022. Anything personalized shows your giftee you put extra effort into gifting something truly unique.
Australians are known for their fondness of coffee, so a cup developed exclusively for them should be cherished. Plus, the customizing choices for coffee mugs make it simple to choose one that is ideal for the gift.
There are almost limitless options for customizing, too. You can have the mug personalized with the receiver's name, a unique remark, or a portrait. Mugs with Australian-themed graphics, such as the flag or a nation map, are also an option. Create whatever design you think your giftee will love and want to use daily.
4. Bottle of wine
A champagne bottle is a popular choice for anchoring Christmas hampers. As noted, Australians like their booze. According to a recent survey, Australians drank slightly less than 74 million liters of wines in 2017-18.
Generally, champagne makes a better gift for close friends and family members. If you're buying for a coworker or someone else you don't know well, stick with wine. Wine is less formal and has less of a personalized feel to it.
5. Special Christmas coffee blend
Many individuals prefer to spend time with their loved ones throughout the holiday season. What better way to do it than over a beautiful mug of coffee? A special Christmas coffee blend can make those times even more special.
This coffee is typically a combination of Arabica and Robusta beans that have been perfectly roasted and ground to make a rich, full-flavored coffee. You can also add a mocha cake recipe card with the coffee to complement the gift. The coffee is usually packaged in a festive red and green bag, which makes it a pretty addition to any Christmas hamper for your Australian giftee this year.
6. Amaretto peach preserves
Amaretto peach preserves are a terrific alternative for a distinctive and delicious treat to include in a Christmas hamper for Australia in 2022. Amaretto peach preserves are created from ripe peaches that have been simmered in a sugar and spice syrup before being flavored with amaretto liqueur.
Amaretto peach preserves are a great choice for individuals who love cooking and baking. The jam's rich flavor incorporates nicely into desserts and pastries or as a filler for cupcakes and other confections.
You don't have to add any supplementary liqueur to these pastries because the preserve is already flavored with amaretto. You could put container of the preserves in a hamper with other pureed fruit, such as apricot or raspberry. You can also include a fruit recipe with the amaretto peach preserves to complement the gift. This would be an ideal present for anybody who loves eating preserves on toast or with Parmesan cheese.
7. Christmas ornament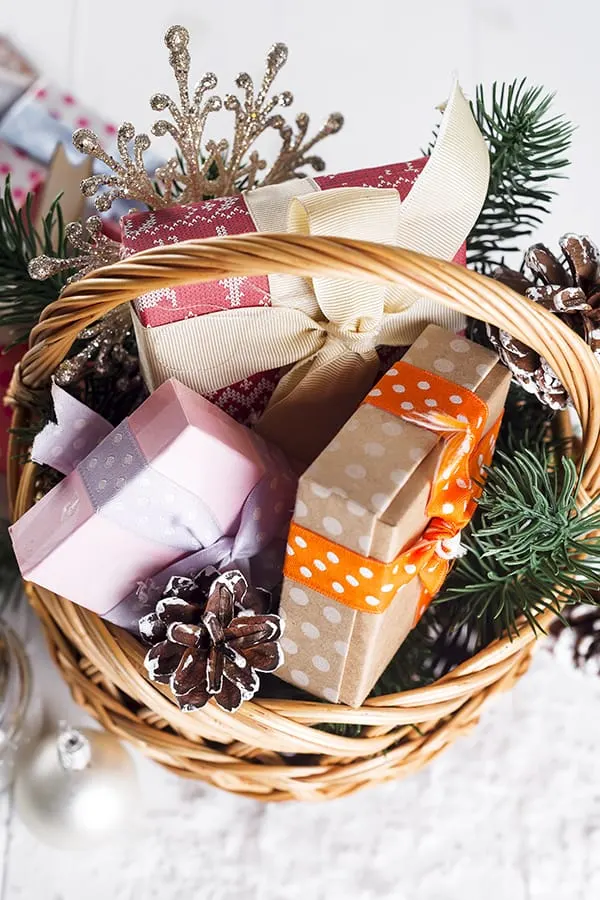 Christmas ornaments are a long-standing custom throughout many cultures worldwide. They are usually strung on branches or displayed on hearths and shelves to represent the holiday season and bring a festive touch to the home.
Because Christmas falls mainly during summertime in Australia, including a Christmas ornament in a gift hamper is a thoughtful way to show you've been thinking of your loved ones at this time of year.
When choosing an ornament, consider the dimensions of the trim that go in the hamper. You don't want a decoration that takes up too much or too little room in your gift basket. Look for a decoration that's about the same size as the hamper.
8. Nut mix
It's a terrific idea to include a nut mix in your Australian Christmas hampers this year. Nuts are a delicious and healthy snack that helps keep people energized and concentrated all day long.
They are filled with protein, omega-3 fatty acids, antioxidants, and nutrients, allowing them to assist individuals in staying satiated for extended periods. Nuts also contain antioxidants that can protect the body from potentially dangerous elements.
Nuts are a delicious and multipurpose treat that can be utilized in a variety of dishes. They can be employed as a garnish for sandwiches, sauces, and stews or sprinkled onto baked products for taste enhancement. Your giftees can also use nuts to make organic granola, nut butter, and chicken or fish sauce.
9. Chocolate hazelnut truffles
Chocolate hazelnut truffles are an excellent addition to your Christmas hampers. These rich and luscious delicacies are ideal for spreading with family and friends and will impress anyone who receives them.
Chocolate hazelnut truffles are made with a caramel and chestnut paste mixture, giving truffles a distinctive flavor and smooth consistency. They are then wrapped in cocoa powder or chopped almonds and adorned with royal icing or dark chocolate ganache.
Chocolate hazelnut truffles are a sumptuous and decadent present that will be loved no matter how you wrap them. Chocolate hazelnut truffles are the perfect accompaniment to your Christmas hamper if you're searching for something that's a little different from the standard Christmas fare.
Custom hampers for your Australian loved ones
Christmas hampers are popular gifts in Australia. With the holidays fast approaching, now is the time to start planning how to build out hampers your friends and family will love. Hopefully, this list of fun Christmas hamper ideas for Australia in 2022 should help you out!