Friendsgiving might be the greatest holiday ever. It has all the best qualities of Thanksgiving — food, drink, conversation — without the stressful family dynamics. At friendsgiving, you're surrounded by the people you like most. It's truly an evening of comfort.
If you're hosting friendsgiving this year, first know this: Unless your friends are all chefs, they don't expect a five-star meal. They expect good food and better company. So you can put together a lovely event without going broke on groceries or spending days in the kitchen.
Read on for straightforward friendsgiving food ideas including recipes for main dishes, side dishes, appetizers, and desserts. Let's kick things off with tips on what your guests should bring.
What your friendsgiving guests should bring
It's entirely appropriate to add a potluck element to your friendsgiving party. Since your friends probably have varying degrees of experience in the kitchen, be forthright about what they should bring. No one wants under-cooked turkey for dinner, after all. Nor do you want a friend to spend time and money on a dish that overlaps with your menu.
So when your friends ask what they can bring to your friendsgiving event, you can say:
Drinks: Wine is expensive (especially if your friends drink like mine do). If you trust your friends' wine picks, ask them to donate a few bottles to the friendsgiving cause. And, if you have friends who ONLY drink old-fashioneds (or some other pricey, specific cocktail), tell them it's BYOB.
Chips and salsa: Chips and salsa are a solid appetizer for any occasion. They're also easy to transport.
Dip and veggies: Everyone loves ranch dip, right? Add some carrot sticks, cucumber spears, and crackers for a crowd-pleasing appetizer.
Slow cooker specialties: You may have a friend who has a specialty slow-cooker dish — fondue, meatballs, whatever. Slow-cooker dishes are fabulous additions to a fall potluck. Just coordinate this early so the dish fits with the rest of your menu.
Cookies: Chocolate chip cookies can stand in as a dessert, especially if you have ice cream on hand.
Butter and gravy: Would you trade a stick of butter or two jars of gravy for a whole meal? I sure would.
Rolls: Rolls are the easiest and, possibly, the cheapest potluck contribution ever.
Your friendsgiving menu
Main chicken or turkey dish
Roasted vegetable
Cranberry sauce
Stuffing
Baked or roasted white potato or sweet potato
Store-bought dinner rolls, butter, and gravy
Cookies, brownies, or pie plus ice cream for dessert
This is a respectable Thanksgiving-inspired meal that'll serve a bunch of your friends. Even better, this is not a labor-intensive meal. You won't need a sous chef beside you. You'll probably be able to socialize some before everyone sits down to eat. And your friends will love that you pulled together a traditional fall feast for their enjoyment.
Friendsgiving dinner ideas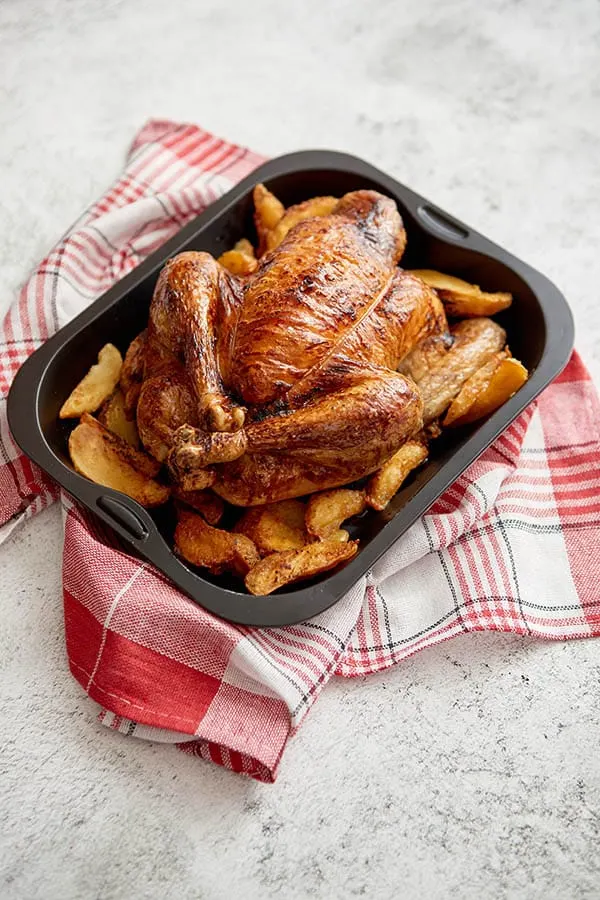 A whole roasted turkey is the default main entree for friendsgiving or Thanksgiving dinner, but it's not your only option. You can also roast turkey pieces, a whole chicken, or chicken pieces. Here are some easy dinner recipes to check out:
Friendsgiving side dishes
Green veggies for friendsgiving
Try roasting your veggies — it's easy and delicious. Brussel sprouts, green beans, broccoli, cauliflower, and zucchini squash are all candidates for roasting.
The roasting process for any of these is simple. Trim and cut your veggies into bite size pieces. Toss with olive oil, season with salt and pepper, and pop them in the oven on a baking sheet. Generally, you can cook them at 400 degrees and check for doneness every 15 minutes. I like to line the baking sheet with parchment paper for easier cleanup.
Here are some pointers by vegetable:
Brussels sprouts. Trim the base and cut each in half, or thirds if they are bigger than a ping-pong ball. I like the texture best when they are cooked with the cut side down on the sheet — but that's not a critical step. Your total roasting time should be about 30 minutes.
Green beans. Trim the ends and cut into evenly sized pieces. Your roasting time will depend on how you like your green beans. They'll be slightly wrinkled and caramelized after about 15 or 20 minutes, but I like them cooked longer — to the point that they're crispy in places. That can take 40 or so.
Broccoli and cauliflower. Both broccoli and cauliflower take 30 to 40 minutes to roast at 400 degrees. Again, your taste preference will determine whether you pull them out of the oven after 30 or wait 10 minutes for that extra crispiness.
Zucchini. Cut ends off your zucchini, half them the short way, then cut each half into two or three wedges. If you have a rack that'll elevate the zucchini above the baking sheet, use that. They'll be less soggy. Depending on the size of your wedges, they should be done in about 15 minutes — less if your wedges are small and more if your wedges are big.
Kick your veggies up a notch
If olive oil, salt, and pepper feels too boring for you and your guests, you can easily upgrade your roasted veggies — with extra seasonings, cheese, Panko, nuts, or bacon:
Add dried seasonings (or fresh-squeezed lemon juice!) at the beginning, before you roast.
Add fresh seasoning at the end, after roasting.
Add cheese or Panko breadcrumbs a few minutes before your vegetables are done. Pull them out of the above, toss with your fav cheese, and pop them back in for a minute or two.
Add roasted nuts or crispy cooked bacon after roasting.
The great cranberry debate
Canned cranberry sauce is the easiest of Friendsgiving dishes. Sadly, it's also one of the most controversial. For whatever reason, people either love or hate canned cranberry. I say buy the canned cranberry as long as you like it. Friends who don't like it can work around it.
If you're feeling ambitious, you can also make your own cranberry sauce. Try Eating on a Dime's recipe — it has only four ingredients. Just know this: You may never go back to canned cranberry after making it yourself.
Friendsgiving must-have: Stuffing
Stuffing can be labor-intensive, but it's also one of the more popular fall flavors. You can make it easier by starting with precut ingredients. For a basic but delicious option, try our own easy stuffing recipe here. Another, more elaborate option is Bobby Flay's Country Bread and Sage Stuffing.
Potatoes
Mashed potatoes are a lovely addition to a Thanksgiving meal, but they add last-minute work to your process. They're also hard to get right, since they can easily turn sticky. A simpler option is baking. All you must do is scrub your potatoes, brush them with olive oil, and put them in the oven at 400 for about an hour. You can do this with russet potatoes or sweet potatoes.
As a budget hack, you can alternatively cut the potatoes in half and cook them the same way, but wrapped in foil. They'll probably cook faster, so check them after 45 minutes.
Store-bought extras
Buy your rolls, butter, and gravy at the store — or have your friends bring these. Rolls and butter ensure everyone feels satiated, and gravy is easier to buy than to make.
Friendsgiving appetizers
You can stick with a simple appetizer menu of chips, salsa, veggies, and dip. Or, you can get fancier with one or two of our top appetizer ideas (which are all vegan).
If those options don't suit your fancy, try one or two of these:
Friendsgiving desserts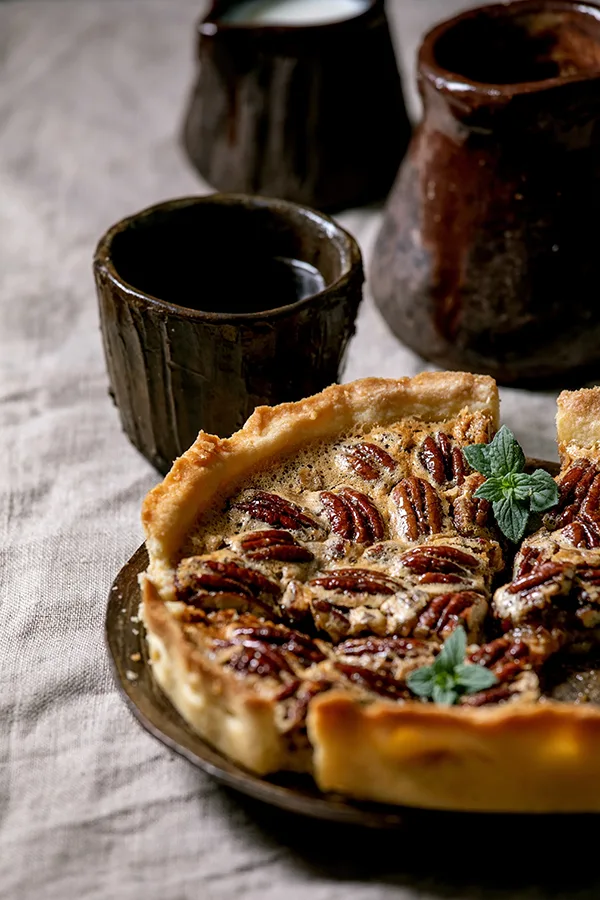 Two easy dessert options are cookies or brownies and ice cream. To go the extra mile, you could treat your pals to a traditional Thanksgiving dessert, such as homemade pecan pie, pumpkin pie, or sweet potato pie. Plan on making your pie the day before. As soon as it's cooled, cover it with plastic wrap and put in the refrigerator.
Extras
We've already covered a big list of friendsgiving food ideas. Even if you stopped reading two paragraphs earlier, your friends are in for a well-rounded, satisfying meal.
Still, if you want to earn the "most amazing host/hostess" title among your friends AND make friendsgiving extra memorable, you could optionally add some after-dinner drink options to your menu. Coffee and warm apple cider are nice choices. Or, play grownup with a digestif, like port wine, armagnac, amaro, or grappa.