Generally, turkeys are mostly cooked as a traditional Thanksgiving or Christmas recipe and technically, there are several methods to prepare a turkey, but the roast turkey recipe still remains the best and in some cases, most traditional. Cooking a whole turkey is actually quite easy once all the prep work is done and to get the best out of your Thanksgiving turkey, you'll need a full safe recipe that guarantees perfect results and taste every single time.
Although, preparing a whole turkey might seem like a big challenge sometimes since it's a major centerpiece to a meal, particularly during the holidays. However, there's no need to panic if you're new to this recipe as the contents of this article would be sure to leave you with handy cooking instructions and hopefully guide you through to get a succulent roast turkey recipe for the holidays.
Turkey Nutrition Facts
Tips for Cooking a Whole Turkey 
The following are some super simple cooking  tips and directions to make a perfectly golden and juicy flavorful holiday turkey:
Choice of turkey –  Whenever you're cooking a whole turkey, if you intend on making it a day or two before thanksgiving, it's important you try getting a fresh turkey over a frozen one as this saves you the stress of having to wait for some days to defrost it in the refrigerator. However, frozen turkeys can still turn out great and super tasty, and they're also less expensive than the fresh ones. There's a wide range of turkeys sold today and it's either you're going for some fresh/frozen turkeys, organic, natural, heritage, self basting/pre-brined or pastured turkeys. Most notably, the best turkey brand over all is the Butterball, which is easily accessible and affordable in the supermarket or when ordering online. Other popular turkey brands include the honeysuckle, pilgrim's pride, Jennie-O, Applegate farms, etc.
Proper seasoning and stuffing –  I think one of the best parts of preparing a whole turkey is the seasoning and stuffing of vegetables inside the turkey's cavity. First and foremost, don't forget to cut out the neck and extra chunks from the turkey's inside, remembering to pat dry before seasoning inside and out. Also, we recommend you add your stuffings from the cut out neck. To really give your turkey a whole burst of flavor and an irresistible delightful taste, you can make use of simple herbs and vegetables like the thyme, rosemary, some lemons, onions, chilli peppers, sage and so on. A brilliant option to help keep your turkey moist and juicy is using some herb butter to rub underneath the skin of your turkey, gently massaging it on all sides. Plus it adds a nice touch of golden brown color to the turkey's outer skin.
Carving a turkey –  This involves removing the wings of the turkey and then the thighs after cooking. You just need to separate the legs and thighs from both sides of your turkey into drumsticks and slice them up. Note that, this process is almost similar to carving an extra large chicken but for this, you would need some cutting utensils. A sharp chef's/kitchen knife would work just fine, so you really don't need to use a carving knife for this, a chopping board and some serving platters would be required too. The major aim of carving is to let your turkey cool off, so it would be easier to serve hot or until whenever it's needed.
You can make some gravy – If you really desire to make some delicious gravy to accompany your turkey but don't know how to get this done or are basically running out of time, no need to worry. Simply pour a cup of water into the roaster's bottom. It will combine with the turkey drippings and absorb the turkey's taste, making it ideal for preparing gravy.
 

View this post on Instagram

 

Cooking Time for a Whole Turkey
Below is a compilation of the standard cooking procedure and time to take note of when preparing a whole turkey:
| | |
| --- | --- |
| Cooking Procedure | Cooking Time |
| Cooking a 10lb turkey in an oven at 325°F | 2.5 to 3 hours and at 20 minutes |
| Cooking 12lb turkey in an oven at 325°F | 3 to 4 hours |
| Cooking 14lb turkey in an oven at 325°F | 3.5 to 4 hours and at 40 minutes |
| Cooking 16lb turkey in an oven at 325°F | 4 to 5 hours and at 20 minutes |
| Cooking 18lb turkey in an oven at 325°F | 4.5 to 6 hours |
| Cooking 20lb turkey in an oven at 325°F | 5 to 6 hours and at 40 minutes |
| Roasting unstuffed turkey in an oven at 325°F | 15 to 20 minutes per pound |
| Roasting stuffed turkey in an oven at 450°F | 15 minutes |
Top 3 Essentials For Cook a Whole Turkey
[amazon box="B07W1WV5FD,B07QW1G8MW,B07VYPXF41″ grid="3″]
Print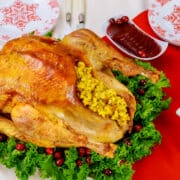 Oven-roasted whole turkey (6 servings) 
---
1

whole turkey (any size) and thaw if frozen

2

to

3

medium-sized onions

3

celery ribs

4

to

5

medium-sized/baby carrots

½ tbsp

of nutmeg

1

to

2

tbsps of sea salt

1

to

2

  tbsps of black/chili peppers

1 tbsp

of ground ginger

1 tbsp

of garlic/onion powder
Unsalted butter (room temperature) or butter herbs

2 tbsp

of vegetable oil
Potatoes (optional)
---
Instructions
Using a properly defrosted turkey is necessary in getting a perfect thanksgiving dish if you're using a frozen turkey. Make sure to get the turkey out of the freezer a day before or hours before use depending on how frozen it stays to defrost in room temperature. Carefully get everything out in the turkey's cavity from cutting off the neck and butt to trimming off extra loose skin.
Then proceed to washing it with some salt and warm water, patting it dry afterwards. Wash and chop the fresh vegetables on a chopping board and put in a clean bowl. In another bowl, add all your dry herbs and spices together and mix thoroughly. Also add some vegetable oil and some of that unsalted butter as the oil keeps your butter from burning by the time it's smeared over the turkey.
Generously season the turkey's cavity with some salt and pepper and stuff in your chopped vegetables into the cavity. Using your hands, loosen the skin from the turkey's breast gently to avoid putting holes in the skin of the turkey. Place the butter mix underneath the turkey's skin and spread it around evenly.
Tie the turkey's legs and fold the wings at the back so it doesn't burn and thoroughly smear the remaining butter mixture over the turkey's surface. Place the remaining vegetables in a roasting pan and season with some salt and pepper. Then place your well seasoned and stuffed turkey on a roasting rack placed on the pan.
 Set your oven at 350°F (180°C) to cook for 1 hour 30 minutes. Halfway into the cooking, smear the turkey's skin with the natural oil the turkey has released in the pan to keep it from drying. Cover with a kitchen foil to help retain the juices and put in the oven for another 2 hours, remembering to remove the foil just under an hour before the timing is up. To know the internal temperature of your turkey, try using a remote digital thermometer that will alert you when the turkey's fully cooked yet juicy.
If you follow all these steps, you'll have a beautiful, perfectly golden deliciously juicy, and flavorful holiday turkey. Just in case you're not satisfied with this recipe, we'll recommend you check out more video recipes.