Thinking of roasting a Butterball turkey breast this Thanksgiving? It's a smart move. Turkey breast can anchor a delicious and robust dinner experience. Plus, it's easy to make and healthy. Read on for an easy overview for preparing a juicy, savory turkey breast that'll wow even the pickiest of dinner guests.
Why roast a Butterball turkey breast?
It's easy.
Cooking a Butterball turkey breast is a great way to enjoy all the flavors of a traditional Thanksgiving turkey with less hassle. Not only is turkey breast easier and faster to prepare than a full turkey, it's also easier to carve and serve — especially if you opt for a boneless cut.
Roasted turkey breast can serve a crowd.
One large Butterball turkey breast can serve up to 10 people. That's a complete main course for a crowd in one pan.
Follow these guidelines for choosing the right size turkey breast for your guest list:
Boneless turkey breast: Plan for 3/4 lb per person. That equates to 7.5 lbs for 10 people.
Bone-in turkey breast: Plan for 1 1/4 lb per person, or 12.5 lbs for 10 people.
Turkey breast welcomes flavors.
You can season a Butterball turkey breast with a wide array of spices and seasonings. Be it rosemary, thyme, poultry seasoning, garlic, sage, or various combination of these. You can also use vegetables and aromatics like onions, parsnips, carrots, butternut squash, and shallots.
Turkey breast is healthy.
Turkey breast is an excellent source of lean protein. One 3-ounce serving of turkey breast contains 26 grams of protein and only 2 grams of fat. Turkey breast is also a good source of niacin, phosphorus, and zinc.
Turkey breast roasting tips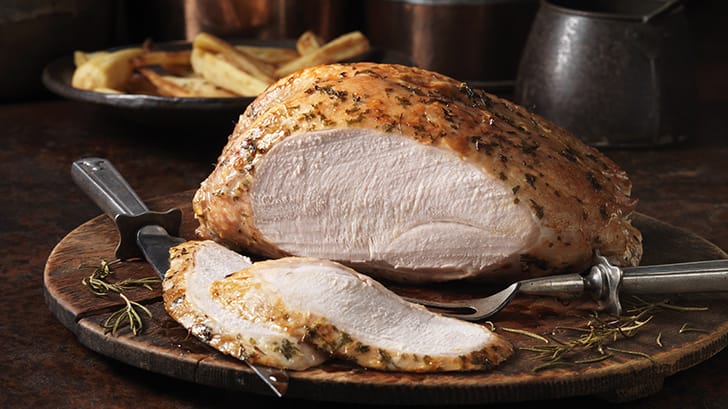 Try brining your turkey. Brining is an optional step, but it makes for a juicier breast. If you want to try a brine, be prepared to start turkey dish the day before you plan to serve it.
Use a meat thermometer. Your turkey should reach an internal temperature of 170 degrees. A meat thermometer is the best way to verify this. Insert it from the front, parallel to the bone, in the thickest part of the breast.
Cook skin side up. If you roast your turkey upside down, the skin won't get that beautiful and delicious crispy texture.
Roasted turkey breast FAQs
Can you roast a turkey breast in the crockpot (or slow cooker)?
Yes, you can cook a turkey breast in the slow cooker or crockpot. Grease the inside of your slow cooker, place the seasoned turkey breast inside with the skin side up. Pour water or chicken broth over the top. Cook the turkey breast on low for 6-8 hours or until the turkey is cooked through.
Can you roast a turkey breast in an air fryer?
Yes, you can roast a turkey breast in an air fryer. The cook time will vary depending on the size of the turkey breast, but it should take between 30 and 40 minutes. Baste the turkey breast with butter or oil before cooking to help it brown evenly.
Can you cook a Butterball turkey breast on the grill?
Yes, you can cook a Butterball turkey breast on the grill. The cooking time will be 1 to 1.5 hours or more, depending on the size of your bird.
How do you roast a turkey breast in an oven bag?
Yes, you can roast a turkey breast in an oven bag. The process is mostly the same, only you put the turkey in the bag, and then the bag in your roasting pan. Follow any instructions on your oven bag.
Do you have to thaw a frozen turkey breast before roasting?
Thawing the turkey will help it cook evenly and prevent it from drying out. You can thaw the turkey in the refrigerator or in cold water. If you're short on time, you can also cook the turkey breast from frozen.
How long does it take a thaw a frozen turkey breast?
A frozen turkey breast can take anywhere from 4 to 12 hours to thaw, depending on its size. If you're short on time, submerge the turkey breast in a cold water bath and let it thaw that way.
Recipe: Roasted Butterball turkey breast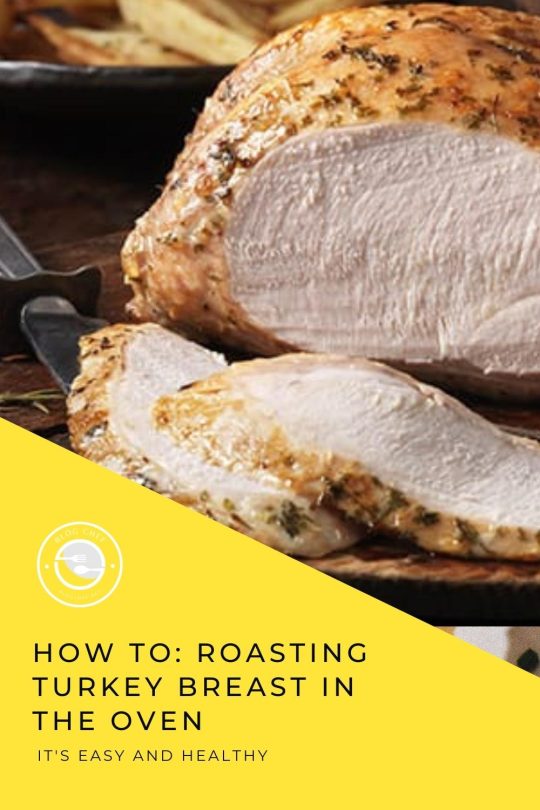 Optional: Brine the turkey overnight
Mix 1 cup of salt and 1 cup of sugar into 1 gallon of water. Stir until dissolved. You can add other seasonings if you'd like.
Pour the brine into a food-safe plastic bag. Put the turkey in the brine. Set the bag inside a large bowl and put the whole thing in your refrigerator for 10 hours or overnight.
Before seasoning your turkey breast, remove it from the brine and pat dry.
Preheat oven
Preheat your oven to 350F for a boneless turkey breast or 400F for a bone-in turkey breast. Position a rack near the bottom of your oven.
Prep turkey breast
Take the Butterball turkey breast out of the bag (or brine) and drain the juices. Pat the skin dry with paper towels. Position the turkey breast on your baking pan with the skin side up.
Season turkey breast
Combine your selected seasonings with softened butter in a bowl. Gently slide your hands under the skin and loosen it carefully. Spread a few tablespoons of the mixture under the skin. Take care not to tear the skin. Once that's done, rub a tablespoon of the mixture over the turkey breast.
Add vegetables
Add your selected vegetables to the remaining butter mixture and toss till they're fully coated. Then, spread the buttered vegetables around the turkey breast.
Bake!
Pop your the tray in the oven and cook that Butterball turkey for 2 hours and 15 minutes. Check the temperature — you want it to be 170F. If it isn't done, check again in 10 minutes. Once the target temperature is reached, set the turkey breast down and let it rest for 15 minutes. You can broil the vegetables for a few minutes while your turkey is resting for extra flavor and texture.
Yield: 10 servings
Oven-Roasted Butterball Turkey Breast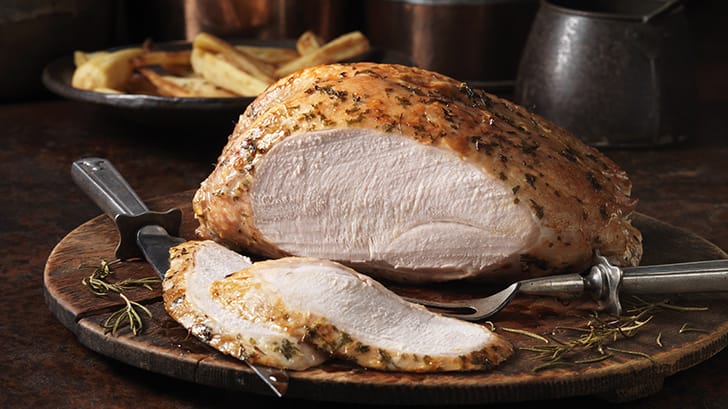 Cook Time
2 hours
30 minutes
Total Time
2 hours
50 minutes
Ingredients
One Butterball boneless turkey breast, 7.5 lbs, thawed
¼ cup softened butter
One pound red potatoes, small and halved
One pound carrots, peeled and sliced
Two cloves garlic, minced
Two medium onions, quartered
Four tablespoons sage, dried and minced
½ teaspoon black pepper
½ teaspoon salt
Instructions
Let the oven heat to 350F. And while you wait, take the turkey breast out of the bag. Drain the breast, dry with paper towels, place it on the baking pan-skin-side-up.
Mix the sage, garlic, pepper, and salt with butter in a bowl. Then, make a pocket under the turkey skin and spread about two tablespoons inside it. Take care, so the skin doesn't tear off. Next, rub a tablespoon of the butter mixture on the turkey breast.
Add the onions, carrots, and potatoes into the remaining butter mixture and toss. Then, arrange the vegetables around the breast in the pan.
Roast in the oven for about two hours and 30 minutes. Check the doneness of the breast with a meat thermometer at its thickest part. You want the internal temperature to reach 170F.
Transfer the turkey breast to a board on the counter, set the oven to broil, and stir the pan juice with the vegetables. Let the baking pan sit about 6 to 8 inches away from the heating element.
Broil the vegetables for about 5 minutes until they're lightly brown. Halfway through the cooking process, stir the vegetables with the pan juice. Once it's ready, serve along with the turkey breast.
For more directions on how to cook Butterball turkey breast, watch this video recipe.
Notes
If you have a bone-in turkey breast, raise the oven temperature to 400F. Cooking time should be about the same, though the recipe probably serves 6 people instead of 10.
Recommended Products
As an Amazon Associate and member of other affiliate programs, I earn from qualifying purchases.
Nutrition Information:
Yield:
10
Serving Size:
1
Amount Per Serving:
Calories:

609
Total Fat:

12g
Saturated Fat:

5g
Trans Fat:

0g
Unsaturated Fat:

5g
Cholesterol:

284mg
Sodium:

512mg
Carbohydrates:

15g
Fiber:

3g
Sugar:

3g
Protein:

104g
Nutrition information isn't always accurate.