It may seem contradictory to say you're cooking a pre-cooked (essentially an already cooked) turkey breast. Still, it's actually a terrific way to serve guests without putting in a lot of time or effort in the kitchen, especially in the event that you're not hosting enough guests to warrant cooking an entire turkey.
If you're not sure how to do it right, we'll teach you how to cook a pre-cooked turkey breast and what to do for the best results. You should also take note of the tips, suggestions, and timing guidelines in this article to guarantee a satisfactory outcome.
Turkey Breast Nutrition Facts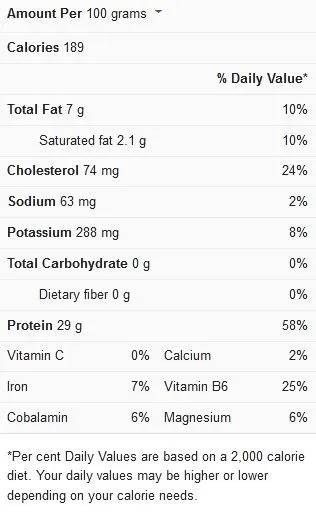 Tips for Cooking a Pre-cooked Turkey Breast
Take note of the tips, suggestions, and recommendations below if you'd like to achieve delicious results when cooking a pre-cooked turkey breast:
Defrost your turkey breasts – Pre-cooked turkeys, whether roasted in the oven or smoked beforehand, are almost certainly frozen. As such, you'll need to allow the meat to thaw in the refrigerator for as long as five days before you can use them. You also have the option of digging right in after it has thawed. It can be sliced for sandwiches, carved and eaten cold, etc. Continue reading if you wish to reheat it and serve it the conventional way.
Appropriate cooking procedure – Follow these easy steps:
Preheat the oven to 375 degrees Fahrenheit.
Place the chilled (make sure it's not at room-temperature) turkey with the breast-side facing down in a roasting pan. This permits the fat from the bird's underbelly to trickle down as it heats up, resulting in a moist, sensitive breast.
Place the turkey in the oven, covered with foil. Decrease the oven's temperature to 275 degrees Fahrenheit.
Heat up your turkey for approximately 5 minutes for every pound you cook.
Therefore a 10-pound turkey would take about 50 minutes to reheat.
Before removing the meat, check the temperature with a meat thermometer. All birds should be cooked and reheated to an appropriate internal temperature of 165°F, according to the USDA.
You can make gravy – If you really had your sights set on a delicious gravy to accompany your turkey but ended up purchasing a pre-cooked kind, no need to worry. Simply pour a cup of water into the roaster's bottom. It will combine with the turkey drippings and absorb the turkey's taste, making it ideal for preparing gravy.
You can't stuff a pre-cooked turkey – People frequently ask if it's possible to stuff a bird that has already been cooked. The answer to this question is no. You may have been able to make a gravy, but stuffing just won't work. Because the bird will not stay in the oven quite as long as raw turkey will, the stuffing will end up not cooked properly. You can, however, make your stuffing on the stovetop or in the oven, which is the more frequently suggested method.
Rest your turkey before you carve – Allow your turkey to rest for 15 to 20 minutes after cooking, just as you would a raw bird. This allows all of the liquids simmering just underneath the turkey's skin to seep into the meat, making the turkey juicier and easier to cut.
View this post on Instagram

Cooking Time for a Pre-cooked Turkey Breast
The following timing guidelines are ideal for cooking pre-cooked turkey breast recipes, so take note of them for desirable results:
| | |
| --- | --- |
| Cooking procedure | Cooking time |
| Cooking a pre-cooked turkey breast in the oven at 375°F. | 15 minutes; 5 minutes per pound |
Print
Oven Roasted Turkey Breast (6 Servings)
---
Honey Orange Sauce (Optional Serving Suggestion)
1 tablespoon

of olive oil

1 teaspoon

of minced garlic

1 teaspoon

of freshly grated ginger

¼ teaspoon

of red pepper flakes

2 tablespoons

of soy sauce

2 tablespoons

of brown sugar

¼ cup

of honey (or maple syrup)

¼ cup

of orange juice

1 teaspoon

of orange zest

⅔ cup

of water

2 tablespoons

of cornstarch
---
Instructions
Preheat the oven to 375°F. Drizzle vegetable or olive oil over the foil-lined bottom of a roasting pan. Set the pan aside after doing this.
Mix the orange juice, orange zest, brown sugar, onion powder, garlic powder, honey, vegetable oil, salt, and pepper in a medium mixing bowl.
Begin by rubbing the turkey breast with the mixture. Then, in the roasting pan, place the turkey and pour the remainder of the sauce mixture on top. Transfer to the oven, foil-wrapped.
In the preheated oven, roast the turkey breasts for 15 minutes. This cooking time is considerably shorter than for raw turkey recipes because the turkey is already cooked, you just need to heat it up. For the final few minutes of cooking, remove the foil to allow the turkey breasts to brown properly. When each turkey breast is done cooking, it should have an internal temperature of 165 degrees Fahrenheit.
After the turkey breast is cooked, slice it up, then serve it with your favorite sides, with Honey Orange Sauce drizzled on top.
To make the Honey Orange sauce
In a small cup, whisk together the water and cornstarch until the cornstarch is completely dissolved. Remove from the equation.
Preheat a medium skillet to medium-high heat. When the pan is hot, pour in the olive oil and leave it to sizzle.
Add the minced garlic, grated ginger, and pepper flakes once the oil has started to sizzle. To avoid scorching the mixture, whisk it together right away.
Toss in the other ingredients, including the cornstarch mixture, into the pan. To blend, stir everything together.
Continue to swirl and simmer until the mixture thickens and begins to lightly boil. Take the pan off the heat and serve the sauce with the turkey.
This recipe delivers deliciously cooked turkey breasts on your plate, and the drizzled sauce makes it more mouthwatering.
If you'd like to try out other recipes, then this video recipe is great to check out.