A turkey breast is one great way to increase the amount of meat you're serving to your guests on Christmas Day. You won't have to buy a large turkey, especially if you dislike waste, because turkey breasts leave zero waste. They also make great sandwich leftovers. In fact, because it's lean, low-fat, and less expensive, it's becoming increasingly popular, not just around Christmas. But throughout the year.
If you're not familiar with cooking turkey breasts, let this article guide you in the process. Take advantage of our tips and recommendations to get great-tasting results with your turkey breast recipes.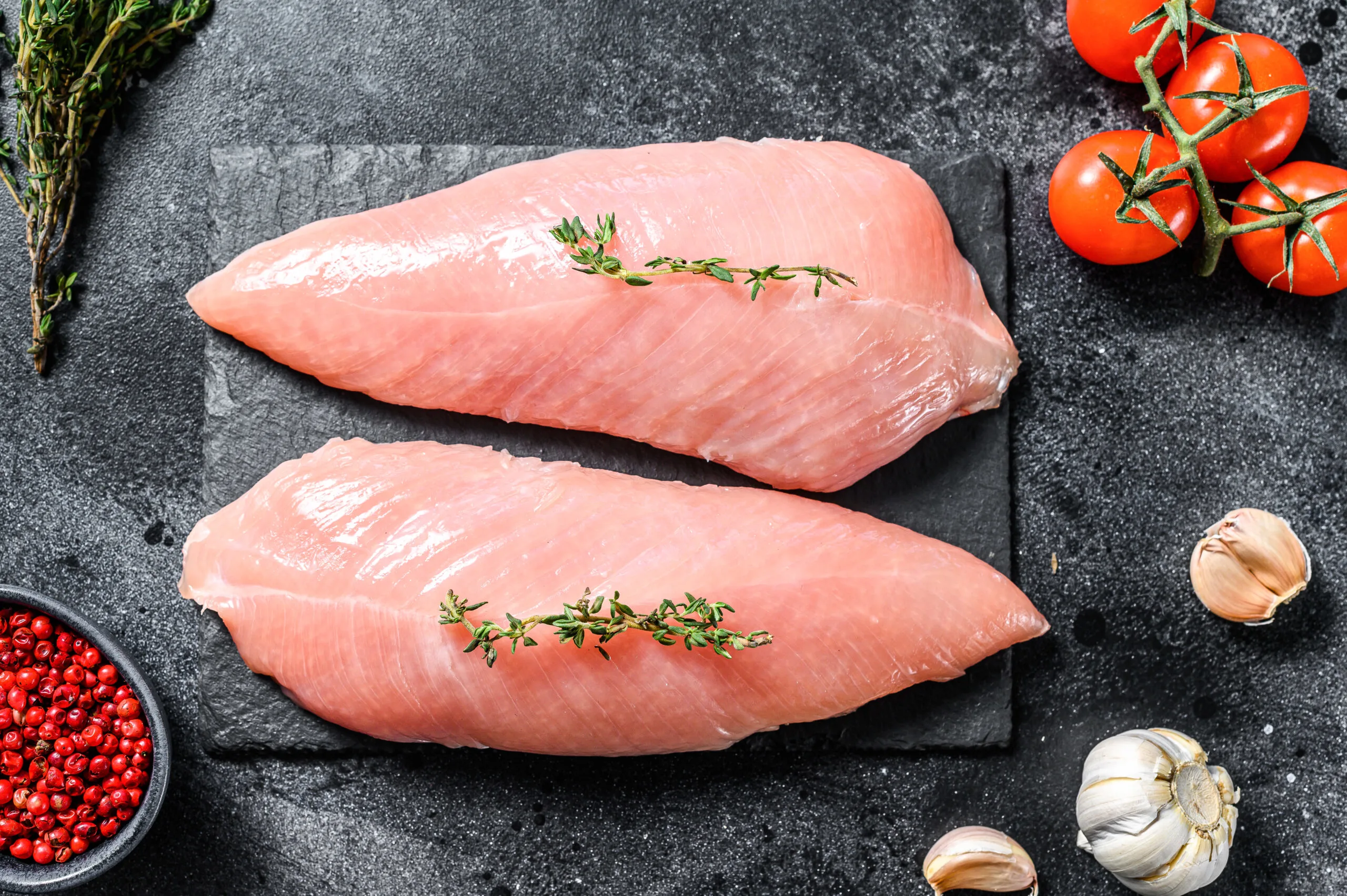 Turkey Breast Nutrition Facts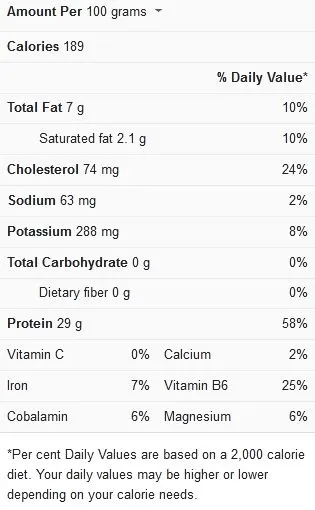 Tips for Cooking Turkey Breast Fillets
Cooking turkey breast filets will be made so much easier and deliver delicious results if you pay attention to these helpful tips:
If you don't find turkey cutlets – If you can't find a specific cut of meat in the grocery store, say turkey breasts, for example, tell the meat department staff. As people become increasingly interested in different turkey cuts, your store shelves will become more varied, and you'll find more options to choose from.
Ideal timing – The same oven temperatures and timings apply to roast turkey breasts to full roast turkeys. So, at 190C/170C fan/gas 5, you'll need to cook it for 40 minutes per kilo + another 20 minutes.
Let the meat get to room temperature – Allow the turkey to come to room temperature before cooking. Bring your turkey breasts to room temperature while the oven is heating up. This guarantees that the meat is cooked evenly.
According to USDA food safety guidelines, Turkey (as well as any poultry and meat) should not be left out of the refrigerator for more than two hours. Bacteria can double in quantity in as little as 20 minutes, so it's advised that you keep the duration at room temperature to a bare minimum.
Make use of a roasting rack – A roasting rack allows air to circulate around the bottom of your turkey breasts in the oven, reducing the chance of soggy skin.
Brining is important – Brining your turkey breasts is a terrific way to get the most flavor out of it. A proper brine will set you up for success, and a dry brine requires a little more thought but not much more effort, and you'll still end up with a very juicy, flavorful turkey with extra crispy skin.
Use a lot of butter – Add a lot of butter on the turkey breasts before they go into the oven and while they're roasting. This stage is crucial for golden skin that is crispy, flavorful, and crunchy.
Cooking Turkey Breast Filets
There are a number of steps to follow when cooking turkey breasts, and they pretty much depend on the method you choose to employ.
Roasting is one of the more popular methods for cooking turkey breasts, and the steps involved in the process have been described below:
Remove the turkey breast from the fridge and set aside for an hour to come to room temperature. Preheat the oven to 190 degrees Celsius/fan 170 degrees Celsius/gas 5. Place the onion and carrot on a rack inside a baking tray, or place the veggies in a wide ovenproof frying pan.
Calculate 40 minutes per kilo plus an additional 20 minutes by weighing the turkey breast.
Season with salt and pepper after rubbing the butter into the skin. Place the turkey breast on a rack or on top of the vegetables. Pour enough water to cover the vegetables, then tent the tray or pan with foil.
Cook for the specified amount of time, removing the foil 20 minutes before the end to brown the skin. Check the fluids with the tip of a knife to determine if they are clear. If you have a thermometer, the temperature should be between 65 and 70 degrees Celsius. Roast for another 10 minutes if the joint isn't fully done.
Allow the turkey to rest for 20 minutes somewhere warm – it will continue to cook and reach a final internal temperature of 70°C or slightly higher. If you omit this step, the juices will all run out when you're carving.
In whatever gravy recipe you choose, use the strained vegetables and liquid from the bottom of the tray, as well as the resting liquids.
This method of cooking turkey breasts ensures great tasting results that you and your guests are sure to enjoy.
View this post on Instagram

Cooking Time for Turkey Breast Fillets
Note that the cooking time for turkey breast filets depends on the quantity you cook and the method you choose to use. The ideal timing for turkey breast recipes is outlined in the table below:
| | |
| --- | --- |
| Cooking procedure | Cooking time |
| Roasting turkey breasts at 190 degrees Celsius/fan 170 degrees Celsius/gas 5. | 40 to 50 minutes |
| Pan-searing turkey breasts | 6 minutes |
Print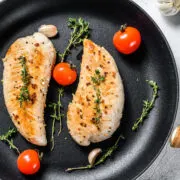 Pan-Seared Turkey Breast With Herbs and Lemon (2 Servings)
---
8

to

10

ounces of turkey breast, cut thinly into

4

slices
Sea salt, for added taste
Freshly ground pepper, for added taste

1 tablespoon

of neutral oil, vegetable, or canola oil are good options

1 tablespoon

of chopped mixed fresh herbs, such as sage, rosemary, and thyme (you may also use

2

pinches of dried herbes de Provence)

1 cup

of chicken broth

4 cups

of spinach (you may also use baby kale leaves)

1

lemon, cut into wedges
---
Instructions
Assemble the necessary ingredients.
Over medium-high heat, heat a cast-iron pan or a heavy skillet.
Using sea salt and a few grinds of pepper, season the turkey cutlets.
Pour the oil into the skillet and swirl it around to coat the entire bottom. Sear the cutlets in a single layer for about 2 minutes, or until golden.
Sprinkle the chopped herbs over the cutlets and turn them over. Cook for an additional 2 minutes, or until golden brown.
Put them on two plates and keep them heated.
Add the greens to the pan with the chicken broth. Steam the greens inside the broth for 2 minutes, swirling frequently, until they become wilted.
With tongs or a slotted spoon, remove the greens and divide between the two dishes, topping with the turkey cutlets if preferred.
Cook the broth until it has been reduced by half. Pour the sauce over the cutlets with a squeeze of lemon.
Additional lemon wedges can be served on the side.
This recipe for cooking turkey breasts can be adapted to your preferences and can be made within an entire duration of 10 minutes, including a prep time of 4 minutes and a cook time of 6 minutes. If you'd like more ways to include turkey breasts in your recipes, then check out this video recipe.