Turkey breast tenderloin is a tender and flavorful meat part that can be served on almost all occasions, from birthday parties to thanksgiving or just for an evening dinner with family. The tenderloin is gotten by cutting from between the turkey breast, which has a more tender cut. Unlike chicken breast, it's always skinless and boneless.
Turkey is naturally low in fat while providing immunity-boosting nutrients such as iron, zinc, and potassium. It takes in the flavor of whatever seasonings or marinades it is cooked with, so you can be sure to add or reduce the seasonings to fit your tastes. You can even use new spices to find with your flavor combination.
It is an easy meal to cook and only requires a few ingredients and less than 10 minutes to prepare.
Turkey Breast Tenderloins Nutrition Facts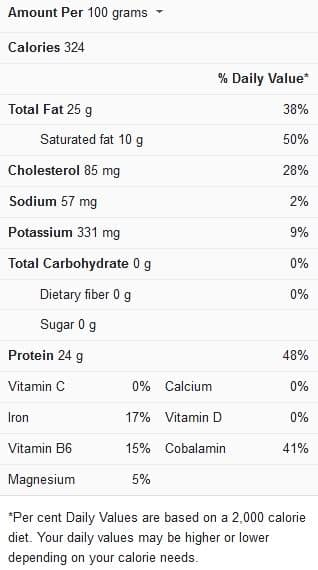 Simple Method to Cook Turkey Breast Tenderloins
Whisk together the Marinade: Get a large bowl, and whisk together the vinegar, brown sugar. If you do not have brown sugar, then white sugar and molasses mixed works, mustard, garlic, seasonings of your choice, and two tablespoons of the olive oil until they are evenly combined.
Coat the Turkey Tenderloins: Place your turkey tenderloins in the bowl of marinade you just whisked and toss to coat. Cover and keep refrigerated for 30 minutes (or up to overnight) to allow the flavors to infuse.
Preheat the Oven: After going through the first two methods mentioned and being ready to cook the tenderloins, preheat your oven to 400°F.
Sear the Tenderloins: Heat the remaining tablespoon of oil in a cast-iron skillet (or any other oven-safe skillet) over medium to high heat. Once it is hot, place the tenderloins in the pan and sear for 2-3 minutes per side. To prevent overcrowding of your oven, you may need to prepare in batches.
Bake: You can now take the pan with the turkey to the oven and cook for 20-40 minutes, or until a thermometer inserted into the thickest part of the tenderloin reads 165°F.
Let Rest, Slice, and Serve: Remove the turkey tenderloin from the oven and let it rest for 10 minutes. Slice, serve, and enjoy your meal!.
Tips
You can refrigerate your turkey breast tenderloin within two hours and store it in the refrigerator for up to 3 days.
How to Keep Turkey Tenderloin Moist
When making your turkey breast tenderloins, there are two things that you should always do to ensure the moistest and juiciest meat possible. Take a look.
Let your Tenderloins Sit in a Marinade for at least 30 minutes: This can be longer if you have the time, and it guarantees a great flavor while going a long way in making sure the meat stays moist and tender.
Sear the Tenderloins in a Skillet: This is the second thing to making your tenderloin moist. So, search them in a skillet before sticking them into the oven to bake. Searing the meat not only caramelizes the marinade but also locks in a whole lot of moisture!
How to Know When your Turkey Breast Tenderloin is done
You can check if your turkey tenderloin is done by using a meat thermometer, which is the best way to guarantee a safely-cooked tenderloin while maintaining a moist and juicy turkey tenderloin! You'll know the tenderloins are ready to leave the oven when the temperature at the thickest part of the turkey reads 165°F, and this is the recommended temperature to get your tenderloin cooked. If you don't have one on hand, you'll know that the turkey is done when you cut into it, and the juices run a bit oily but mostly clear.
View this post on Instagram

Alternative Turkey Tenderloin Flavors
This is a more herb-filled tenderloin recipe but would work for your special occasions as well. Take a look at the ingredients.
Balsamic Rosemary: This marinade has equal parts, both sweet and tangy, and is loaded with fresh rosemary flavor.
Maple Dijon: This marinade flavor can easily pass for a universal crowd-pleaser.
Sesame Ginger: It is super delicious and gives you a great reason to cook up turkey tenderloins all through the year!
More Tips on Cooking Turkey Tenderloins
Some recipes call for you to cover your turkey tenderloin while baking, while others do not require that. Whichever you choose is fine.
If your turkey tenderloin begins to brown too much on the top, you can cover it with tin foil until it reaches a 165ºF internal temperature.
Turkey tenderloin is a very lean cut of meat, which can dry out quickly.
If you cook your tenderloins for too long, you risk overcooking your meat, which will leave it with a dry, stringy texture. And I am sure you do not want that.
Letting your tenderloin rest after removing from the oven, let the juices rest and absorb back into the meat, keeping it more flavorful.
To reheat, microwave your turkey tenderloin on a microwave-safe plate; microwave on high for 60-90 seconds.
You can also use an oven, and preheat the oven to 350ºF. Then, spray a baking dish with cooking spray.
Print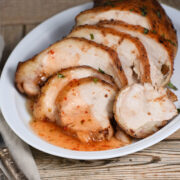 Easy Turkey Tenderloin Recipe
---
One tablespoon

olive oil, plus more for coating

one cup

carrots, julienne sliced (1/4-inch)

1/2 cup

yellow onion, thinly sliced

1/2 cup

sweet red pepper

1

pound turkey tenderloin
Salt and pepper, to taste

1/2 cup

white wine

1/2 cup

chicken broth

1/2 teaspoon

garlic powder

1/4 teaspoon

dried rosemary, crushed
---
Instructions
Preheat your oven to about 400 degrees F.
Coat a large baking dish with olive oil.
Place the potatoes and vegetables at the bottom of the dish and drizzle with olive oil, tossing it to the coat.
Sprinkle the meat with salt and pepper or any other spices to taste, then place carefully in the baking pan or dish.
Make a mixture of wine, broth, and seasonings in a separate bowl, then pour over tenderloin.
Cover dish with a foil and roast for about 30-40 minutes until turkey reaches 160 degrees F in the thickest part.
Turn the broiler on high for 3-6 minutes until browned to your liking.
Also, take a peek at this video recipe for more ideas.