When you talk about the best roasts in the world, many minds will drift to beef tenderloin. This huge chunk of meat is derived from the cow'sloin region, beneath the backbone and between the sirloin and rib. And its most outstanding property is the tenderness of the tissues, as this region isn't prone to any work. Have you ever wondered why filet mignon steaks are so pricey? Well, that's because they're beef tenderloin roast cut into slices! It's also why such steaks are super tender, as their parent cut is considered one of the softest and priciest around.
Beef Tenderloin Nutrition Facts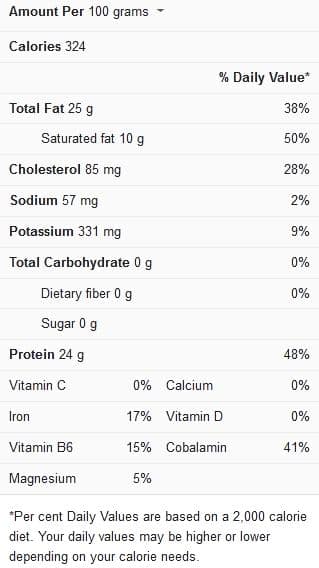 Preparing Beef Tenderloin Roast
Making beef tenderloin roast isn't as difficult as you might have feared. But because it's a rather expensive cut of meat, you'd want your money's worth when you cook it. And since there are many ways to prepare the beef cut, it helps to understand what each technique requires. Below, you'll find the three most famous methods for preparing this classic American roast; the oven, the grill, and the slow cooker.
In the Oven
The oven is perhaps the most commonly used for beef tenderloin roast. And it's no surprise since it's the staple kitchen equipment in almost every household. Using this technique, you can cook the roast thus;
Heat the oven to 435F and while it heats, season the roast with pepper and salt. Then, brown all its sides in a skillet to a crisp surface. Next, brush it all over with a mixture of seasoned butter (you can create this yourself) and roast in the oven till the desired doneness is reached. You can cook the roast in the oven using this chart below;
Rare: 120F to 125F
Medium-Rare: 130F to 135F
Medium: 140F to 145F
Well Done: 150F
These temperatures indicate that the beef tenderloin roast is taken out 10F lower than the proper cooking time. Afterward, it's tented in foil for 10 minutes, during which the carryover heat will cook it to an extra 10 degrees.
 

View this post on Instagram

 

On the Grill
Set a grill to two heat zones and oil the rack, and as it heats, combine the seasoning and spices, and rub it all over the roast. Then, place the tenderloin on the rack, cover, and sear both sides on direct heat for five minutes each. Next, move the beef roast to the indirect heat zone and cook until it reaches the preferred doneness temperature. Then, rest for 10 minutes before carving.
In a Slow Cooker
Season the beef tenderloin roast with pepper and salt, then brown on all sides in a skillet. Then, move the roast into the crockpot and pour any pan drippings from the browning. Add your selected seasonings and broth, then close the lid and cook on LOW for two to four hours. Check for an internal temperature of 135F around 30 minutes before the end of cooking time. Once it's reached, rest the beef tenderloin roast for 10 minutes in a foil tent before carving.
Tips for the Best Beef Tenderloin Roast
While these cooking methods offer delicious results, it also helps to follow certain rules for beef tenderloin roasts. And these tips help you prevent ruining the recipe or overcooking such an expensive cut of meat.
 

View this post on Instagram

 
Trim the Silver Skin: Beef tenderloin comes with silver skin, white tissue on the surface, and this membrane must be cut off. So, ask the butcher to do it for you before you buy, or remove it yourself with a flexible knife when you get home. If you cook the roast with this membrane attached, it'll leave an off taste on it.
Tie the Beef Tenderloin: Most times, beef tenderloin roasts come with odd shapes, where some areas are thicker than others. And if cooked as such, the doneness won't be even. So, tie the meat with kitchen twine to make the shape even. And if you don't know how to, ask the butcher to do it for you.
Season Generously: Salt and pepper must feature base seasonings for every beef tenderloin roast recipe. Afterward, you can include items like garlic powder, onion powder, thyme, rosemary, and other herbs and spices in the mix. But note that there's such a thing as over-seasoning, so be moderate when mixing your spice.
Use a Meat Thermometer: The best way to get accurate doneness temperature is to use a meat thermometer, and you can select two options for this purpose. The first type features a probe you stick into the meat before tossing it in the oven or grill. A receiver on the countertop will then display the internal doneness as it cooks so that you can monitor the progress. But if you don't have this type, check the meat with a manual probe thermometer about halfway through the cooking process to be certain.
Print
Beef Tenderloin Roast (6 Servings)
---
Three pounds beef tenderloin roast, silverskin off, tied
Four cloves garlic, minced
Three sprigs thyme

Three tablespoons

unsalted butter, melted

Two tablespoons

balsamic vinegar

One tablespoon

olive oil

One teaspoon

Dijon mustard

One teaspoon

pepper

One teaspoon

salt
---
Instructions
Heat the oven to 425F, and as it prepares, season the beef tenderloin roast with salt and pepper. Next, brown the tenderloin in hot oil on a skillet on all sides.
Mix the butter with mustard, garlic, thyme, and vinegar, then brush the mixture all over the roast. Place it in a pan and roast until the preferred temperature is reached (see chart above). Ensure to use a thermometer for this purpose.
Take the roast out and tent it with foil for 10 minutes, so the internal heat cooks it to the final temperature, then carve and slice for serving.
Also, here's a video to help you further.