Mexican cuisine is tasty, no doubt about it. And whenever we have a helping of fajitas, we probably wonder what it took to create such a sensational blend of flavors. Fajitas are traditionally skirted steak marinated and grilled with bell peppers and onions. But it can also be prepared with other types of beef or even poultry.
But the basic fajitas recipe eludes most people. And the irony is it isn't as difficult as they fear. Once the procedures are followed, you can make fajitas anytime. And you can even accomplish it using various cooking methods.
Fajita Meat Nutrition Facts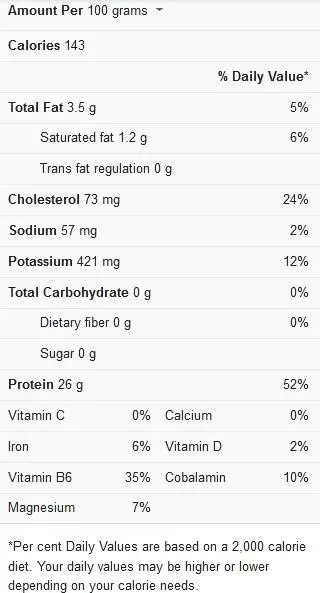 Tips to Cooking Amazing Fajita Meat
Regardless of the type of meat used, fajitas can always come out exceptional. But a few tips must stay in mind when making the recipe to create delicious results every time.
Use Skirt Steak- Though the recipe has gotten flexible enough to include all types of beef and poultry, skirt steak remains the best for a traditional flavor. Plus, the taste means you won't need much work on the marinade, as it's enough to deliver authenticity.
Use a Spicy Marinade- The classic fajita meat is marinated in a rich combo of herbs, spices, and fresh ingredients. So consider elements like jalapeños, cilantro, garlic, cumin, lime juice, and olive oil. Notice how most of these ingredients are synonymous with Tex-Mex cuisines.
Cook Meat First- Whether you're using beef, chicken, fish, or pork as your fajita meat, it must be cooked first. And when it's done, the vegetables can follow.
Stovetop Fajita Meat
Combine the selected ingredients for the marinade and coat the steak with it. Then, let it sit in the fridge for hours or overnight if preferred. Remove the steak from the fridge when it's time, and swipe the leftover marinade off the meat. Then, dash a bit of salt on it. Place a cast-iron skillet over high heat for two minutes. Then, add some oil and cook it for another minute. Brown, the meat for two to three minutes per side, then remove and tent for five minutes. From this stage, you can proceed to the vegetables.
View this post on Instagram

Oven Fajita Meat
Oven-cooked fajita meat is much easier than the stovetop method. The first move is to cut the steak onto strips and toss it in a large bowl. Then, add the vegetable, spices, and seasoning, and mix to coat evenly. Next, spread the meat mixture on a greased baking sheet and cook in a 400F oven for 20 minutes.
Grilled Fajita Meat
Set the oven to 375F cooking temperature. Then, generously season the skirt steak with your chosen seasoning. You can wait for an hour or overnight after seasoning, so the meat marinates. And it's best advised to do so before you're ready to cook. Grill the fajita meat for six to eight minutes on each side until the desired doneness is attained. Then, cut into strips and proceed to cook the vegetables and other additions.
Slow Cooker Fajita Meat
Combine the seasonings, spices, aromatics, and fajita steak in the crockpot. Every ingredient for cooking the recipe goes in at this point, including lime juice. Cover the pot and cook the fajita meat on LOW for eight hours or HIGH for four hours. Once it's done, take the meat out and cut it into thin strips. Then, return it to the pot, stir with the other ingredients and use for your fajitas.
View this post on Instagram

Instant Pot Fajita Meat
Cut the skirt steak in slices and set aside. Next, cook some oil in the instant pot using the 'Sauté' setting. Then cook the garlic and bell peppers first for two minutes, followed by the jalapeños, meat, and other spices. And when the beef turns brown, add some beef broth, place the lid and cook on HIGH for eight minutes. Once fully cooked, manually release the pressure and open the lid. Then, stir the mixture and use it for your fajitas.
Remember that beef needs to cook to an internal temperature of 160F. So, check for this doneness with a meat thermometer.
Print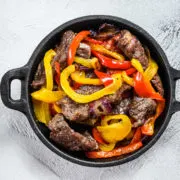 Stovetop Beef Fajitas Steak (4 Servings)
---
Fajitas
One pound skirt steak
Three bell peppers, red, yellow, and green
One yellow onion, large and sliced from pole to pole

One tablespoon

vegetable oil
Salt
Marinade
Juice of

one

lime
Quarter cup fresh cilantro, chopped with stems present

Two tablespoons

olive oil, extra-virgin
Two garlic cloves, minced
Half teaspoon ground cumin
Half jalapeños pepper, seeds, and ribs removed, chopped
---
Instructions
Blend the marinade ingredients and coat all over the steak. Then, leave to sit for one hour or more. Afterward, wipe the meat of the leftover marinade, and sprinkle with salt.
Place a cast-iron pan over high heat for two minutes. Then, add the olive oil and cook it for a minute. Gently place the steak and cook both sides for three minutes till it reaches medium-rare. Then remove it and tent it for five minutes.
Saute the onions and bell peppers in a bit more oil undisturbed for a minute. Then, stir at every minute and a half till the vegetables cook for six minutes.
Cut the cooked skirt steak in thin slices at an angle and serve with the vegetables and other side dishes.
Also, watch this video for more recipe ideas.