Beef tenderloin is renowned for being one of the superior cuts on the market. But not everyone knows the best ways to bring the quality flavor out of this expensive cut. Here, we'll touch on the basics of preparing beef tenderloin and talk about one of the most fantastic ways to cook it- on the grill. We'll give you the proper way to prepare, season, and cook the meat to perfection, ensuring splendid results with every try.
Beef Tenderloin Nutrition Facts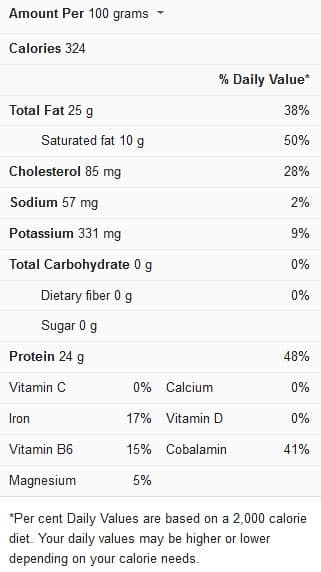 Why Grill Beef Tenderloin?
Grilled beef tenderloin offers tons of perks for different purposes. But on a general note, it gives the following advantages;
Quick- Some of the best beef tenderloin recipes are prepared quickly on the grill. The combination of fat trimming, seasoning, and cooking takes as little as 30 minutes to complete.
Tasty- The blend of fatty richness and a complex spice rub infusion renders an exquisite taste. Plus, the smokiness of a grill influences the flavor, giving you a rich summer experience with every bite.
Versatile- Grilled beef tenderloin offers tenderness and flavor that works with almost anything. So, pair it with vegetables, mashed potatoes, pasta, rice, stews, soups, sauces, and gratin.
Economical- Are you looking for a special recipe to wow a large crowd? Then, this grilled beef tenderloin is your best choice. A 3-pounder provides enough food for as many as six people. And if your guests aren't heavy eaters, then the number doubles!
Picking the Beef Tenderloin
When selecting beef tenderloin from your local butcher, keep in mind how many you plan to feed. As such, calculate how many servings you plan to offer at your dinner table. Also, consider the cuts with little fat, as these provide the right amount of tenderness and juiciness after grilling.
 

View this post on Instagram

 

Preparing the Beef Tenderloin
If your roast has been sitting in the fridge beforehand, bring it out and let it sit at room temperature. Then, dab any excess moisture with paper towels and trim the excess fat. If you're lucky, this fat layer would've been adjusted at the butcher store. So it's why we advise that you tell the seller you're buying it for grilling.
Adding the Seasoning Rub
You can use a special spice rub mix combining black pepper with salt, thyme, garlic powder, onion powder, cumin, rosemary, and red pepper flakes. You can also tweak the flavor with a dash of brown sugar or glaze it with honey and molasses. A spritz of lemon or lime juice adds a touch of umami to the meat. And you can push up the spiciness with ancho powder, gram masala, or chili flakes.
Once you've prepared your spice rub, apply it generously over the meat. Then, let it remain at room temperature for about an hour and a half. If you have extra time, leave the meat to reach a total of two hours. The longer it stands, the deeper the flavor will penetrate the tissues.
Preparing the Grill
This beef tenderloin recipe performs best on a grill at 500F. And the tenderloin will develop a few char marks due to the high temperature, but this factor only adds to its appeal. You can prepare this recipe on any grill, including indoor and outdoor. And if you're using a charcoal grill, expect a rich dose of smokiness in the meat's flavor.
 

View this post on Instagram

 

Grilling the Beef Tenderloin
Once the tenderloin has been seasoned to preference, place it on the heated grill and close the lid. The meat should cook untouched for about five minutes, after which you open the lid and turn it over. Then, cook it for another five minutes and turn it to its smaller sides. These parts will be allowed to cook for an extra three minutes each.
Check for Doneness
Grilled beef tenderloin reaches medium-rare at 110F, so ensure to monitor this temperature with a meat thermometer. If it doesn't reach this doneness at the final cooking time, return the beef tenderloin to the grill, cook again, and check every minute. When the meat reaches the doneness temperature, move it to a serving platter and tent loosely for 15 minutes.
Print
Grilled Beef Tenderloin (4 Servings)
---
Two pounds beef tenderloin, room temperature

¼ cup

brown sugar, packed

One tablespoon

olive oil, extra-virgin

One teaspoon

ancho chili powder

One teaspoon

kosher salt

½ teaspoon

chili flakes
---
Instructions
Turn the spices and seasonings in a bowl. Then, dry the beef tenderloin with paper towels to remove moisture. Rub the spice mix generously on the meat surface and set it aside to sit for about an hour or two.
Set the grill to reach 500F, and when it does, place the beef tenderloin on the rack. Then, cover the lid and cook untouched for five minutes. Then, open the lid, flip the tenderloin, cover it again and cook for five minutes. Turn the meat to its smaller sides and repeat the process for three minutes on each side.
Once the beef tenderloin hits 110F, take it off the heat and tent it loosely on a serving platter for 15 minutes. Then, slice into ½ inch pieces and serve as desired.
See this video recipe for more.