So, you've discovered your undying love for Mexican cuisine. And now, you want to utilize your kitchen to make these tasty treats at a whim. Mexican dishes and snacks are incredibly flavorful, and tacos are no exception. But you may find yourself at obstacles, like not knowing how ground beef is made to taste that great.
Making ground beef for tacos is pretty easy if you know what you're doing.  And you can use various methods to achieve the same exquisite results. And each style of preparing this tasty filling has its perks, so you'll be able to decide which one best suits you.
Ground Beef for Tacos- What You'll Need
Ground beef is such a versatile ingredient; it's featured in a wide range of dishes. You'll find it in burgers, sandwiches, casseroles, pasta, pies, chili, sauces, and of course, Mexican cuisine. And except for grilling recipes, like burgers and sandwiches, it's primarily prepared the same way.
If you're making ground beef to fill your tacos, you'll need;
Ground beef (duh!)
Water
Saucepan
Strainer
Wooden spoon
Once you have these, the next step is to decide whether to boil or fry the ground beef for your taco recipe.
Boiling Vs. Frying
You can choose to either boil or fry your ground beef for tacos, and both have their perks. Frying the ground beef is faster and gives it a crispy taste. But the oil or butter used for frying add an extra dose of calorie and fat to the ground beef. And if you're cautious about these factors, you may not want to use this method at all.
Boiling, however, takes longer to prepare the ground beef. But it's relatively easy to do, and the meat becomes leaner as the water drains out most of the fat. Plus, the boiling process softens the ground beef well enough so you can easily break it into crumbs- you want this texture if you're making tacos.
Cooking Ground Beef for Tacos
In this recipe, we'll be favoring cooking the ground beef over frying. And the process is pretty straightforward and though not as fast as frying, doesn't take much time. So, to cook ground beef for tacos;
Put the ground beef in a pot and fill it with water, so it covers the meat.
Break the meat into crumbs with a wooden spoon.
Boil the water, and make sure to stir occasionally, so the beef doesn't stick together again.
Once it's boiled, drop the heat and simmer the beef till it thoroughly cooks.
Drain the beef with a strainer and season it to taste.
The cooking period takes about 15 minutes, at which you'll notice the beef to have turned brown. Also, note that ground beef is cooked to doneness at a temperature of 160°F. You can check for this by using a probe thermometer.
Now that you've gotten a complete understanding of how to make ground beef for tacos, you can get your hands busy with this delicious taco ground beef recipe;
Print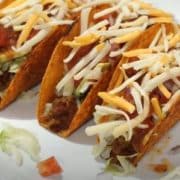 Taco Ground Beef (4 Servings)
---
One pound lean ground beef
Water

One oz

. Taco seasoning
---
Instructions
In a pot, put the ground beef and add enough water to cover the meat. Break the beef into crumbs with a wooden spoon and set the pot on the stove to boil. Occasionally stir, so it doesn't clump.
Lower the heat when the water boils to simmer the meat. Leave it to cook thoroughly; you should look out for a brown color. You can also check the doneness temperature with a meat thermometer- 160°F.
Bring the pot down and set a strainer over a bowl. Pour the beef through the filter and leave it to drain. If you wish, rinse the meat to remove any extra fat.
Return the strained beef to the pot and stir to loosen. Then, add the taco seasoning and stir till it thoroughly mixes.
Serve in a bowl for everyone to make their tacos as they please.