So, you've had a taste of oven-cooked country-style ribs and can't get enough of it. But you're discouraged by the ample cooking time since country-style is a slow-cooked recipe that can take more than 3 hours to prepare. Well, what if I tell you there's a recipe that cuts down an entire hour from your cooking time so that you can enjoy this delicious dish? And this recipe is so convenient; even first-timers can jump on it. Exciting, right? Then, keep scrolling to find out more.
What Exactly Are Country-style Ribs?
Before we jump into the recipe, it's imperative to distinguish between a country-style rib and regular spare ribs. While both ribs are gotten from pork, country-style ribs are derived from the same shoulder area as pork shoulder roast. As such, they aren't ribs at all, unlike spareribs that are taken from the rib section. This difference is also noticeable in their bones, as country-style ribs have shorter bones than spare ribs. Also, country-style ribs are thicker and softer when cooked since they carry more fat.
Tips on Cooking Country-style Ribs Fast
Browning
After you season the country-style ribs, you'll need to brown them in canola oil. Add flour to the ribs and brown them in medium or medium-high heat until golden. A cast-iron skillet over a stove works well for this, but you can also use a Dutch oven. Also, be careful not to overload the pan, but do this in batches so the ribs can brown evenly.
Add Onions
A decent spread of onions over the brown ribs adds depth to both the aroma and flavor of these country-style ribs. Ensure to slice them in thick half-moons and spread them over the ribs so they slightly cover them.
Add Homemade BBQ Sauce
To make the BBQ sauce, combine ketchup, sugar, vinegar, soy sauce, and Worcestershire sauce in a bowl. Add some pepper, garlic, and chili powder to the mix. Then, put in some Marsala or any other sweet wine like dry sherry or Madiera. Be sure to whisk the mixture very thoroughly, so the ingredients mix well, and if it seems too thick, thin it lightly with water. And if you can't consume alcohol, swap the sweet wine with hard apple cider vinegar.
Braise
Once the BBQ sauce is ready, you can pour it over the ribs and onions and braise in the oven. Ensure to simmer it under low heat, so the flavor infuses gradually into the country-style ribs.
Boneless Vs. Bone-In Country-style Ribs
You can use boneless country-style ribs for this recipe, but the bone-in options are highly recommended if you want more flavor and tenderness. The bones add flavor and thickness to the sauce as it slowly cooks, and this further softens the meat and increases its moisture content.
Print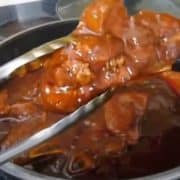 Bone-In BBQ Country-style Pork Ribs (8 servings)
---
5

pounds country-style pork ribs, bone-in

¼ cup

all-purpose flour

Two tablespoons

of canola oil
Black pepper, freshly ground
Two yellow onions, medium, thickly sliced to half-moons
Kosher salt
BBQ Sauce
¾ cup

water

¾ cup

ketchup

½ cup

sugar, granulated

1/3 cup

Marsala wine

Two tablespoons

apple cider vinegar

1 ½ tablespoon

Worcestershire sauce

1 ½ tablespoons

soy sauce

One teaspoon

kosher sauce

¾ teaspoon

chili powder

¾ teaspoon

paprika powder
Two cloves garlic, minced
---
Instructions
Season the pork ribs generously with black pepper and kosher salt, and then toss them lightly in flour. Take a baking sheet and line the inside with a cooling rack. Place the ribs on the baking sheet.
In a cast-iron pan, fry a tablespoon of canola oil at medium or medium-high heat. Brown the ribs in the oil in batches on all sides- this takes about 15 to 20 minutes for each set. If you notice any burned pieces on the pan, wipe them out before you brown the rest of the batches.
Preheat the oven to 325°F and while it heats up, combine the BBQ sauce ingredients in a bowl and whisk thoroughly. Add a little water if you find it too thick.
Put the browned ribs in a Dutch oven, making sure they're snuggled together evenly. Spread the sliced onions over the ribs, whisk the sauce again and pour over the onions and ribs to cover them. Cover the lid tightly.
Set in the oven and bake until the onions are soft and the ribs are soft. This process may take between one and a half to two hours. Halfway through the cooking time, open the lid and spoon the sauce over the ribs.
Once ready, you can serve as you wish. And if you notice any excess fat you don't need, you can skim it off beforehand.