Tired of eating the same dishes at your local barbecue joints? Don't spend money on BBQ restaurants. You can prepare these delicious dishes right at home.
Who doesn't love barbecues? When you walk into a BBQ joint, the smoky aroma hits you immediately. Your mouth waters thinking of that tender cut of meat barbecued to perfection, juices oozing out as you cut into it. Feeling hungry?
Some of us love to barbecue so much that we would eat it every day. However, it is not possible to spend that much money every week. But, that doesn't mean we should be deprived of this aromatic deliciousness. Ever thought of making your barbecue at home?
If you have the right tools, you can make mouth-watering barbecued food right at home. Once you get the hang of it, you will realize that making delicious BBQ is more than possible at home.
Why Make Barbecue At Home?
There are many reasons why you should be barbecuing at home. First, it is super easy and does not require much work. It cuts down the cost of eating at restaurants drastically. The only investment you have to make is buying a dedicated grill.
The difficulty lies in making barbecues and how the flavors will turn out, this depends heavily on your grill. If you want to make the best fragrant barbecue, try buying one of these smoker griller combos.
When you eat at a restaurant, you have very little control over the quality of the ingredients and the meal. When preparing the dish at home, you can control every aspect of the process and create a meal that is specialized to entice your taste buds.
Here are eight mouthwatering barbecue recipes you can make right at home.
Baby Back Ribs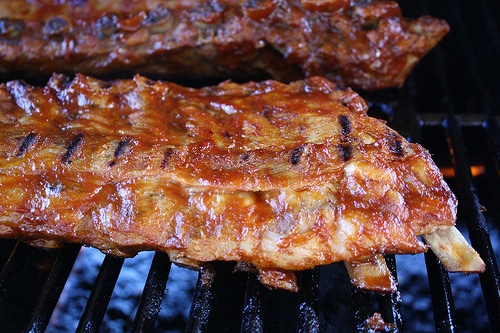 When you are barbecuing pork, it is better to use baby back ribs. When cooked right, the meat will fall off the bone and melt into your mouth.
These ribs are small and easier to eat, the high-fat content makes them more flavorful. You have to be patient while making them as slow cooking is the best way to get the juiciest baby back ribs. You need a little patience for it.
Make your barbecue sauce. If you follow this recipe, you will find that it is not difficult or doesn't require too many complex ingredients.
You need to cook the ribs in two rounds. First, apply the sauce, wrap them in foil and cook it on the grill so that the flavor sips into the core. Afterward, take it out and apply more sauce, put it back on the grill to cook until it's about to char.
Grilled Steak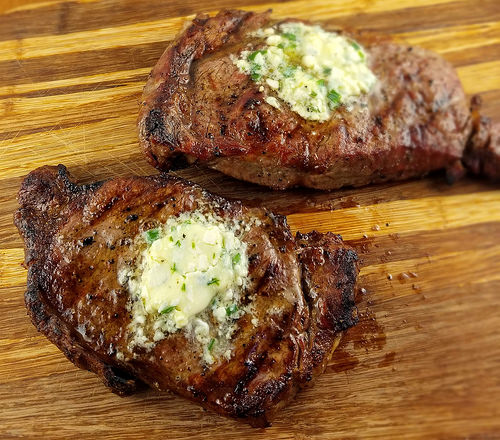 So you are walking down the aisle at the supermarket and you spot some delicious cut of rib eye with the perfect marbling. What do you do about it? You bring it home to make the tastiest grilled steak you have ever had.
We can all agree that grilled steak tastes more delicious and has more flavor than when cooked on a pan or griddle. However, make sure to maintain its juiciness. Nothing is more yuck than dry, over-charred steak.
Grilled steak is simple and does not require many ingredients, just pepper, salt, and your choice of fat. Remember that the fat you choose also affects the flavor, so choose wisely!
Always use a food thermometer when grilling. If you want the right amount of juiciness, go with medium-rare. It is the steak "Goldilocks zone" in terms of doneness, with an internal temperature of 130-135 °F.
Balsamic Grilled Pork Tenderloin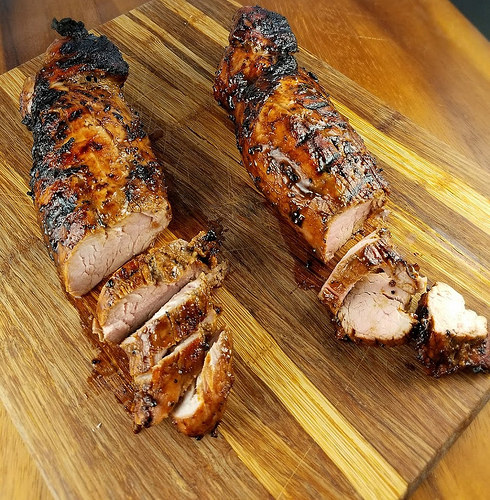 If you are looking for a healthier cut of pork to grill, you can't go wrong with pork tenderloins. However, since there is no fat, you have to pay extra attention when cooking, since this soft cut of meat can go hard and dry if overcooked.
For this recipe, you need a few, simple ingredients to make the marinade. Two key ingredients are balsamic vinegar and Dijon mustard. They give the tenderloin the flavorful sourness that balances the test with honey.
The marination time is also important, you can choose to marinate for any duration of time from two hours to overnight.
You need to be careful during the grilling process as it can char very quickly if you don't keep turning it every five minutes. The cooking time shouldn't take long, so it is better to check the internal temperature after fifteen minutes to see if it has reached 145 °F.
Spicy Chicken Skewers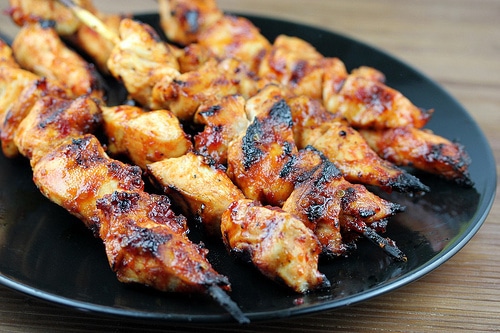 If you can make delectable skewers, you are certainly winning at life. Grilling with skewers is a ton of fun. There are multiple combinations of food you can use on your skewer rods. The recipe that can take your taste buds on an adventurous ride is spicy chicken skewers.
To make it spicy you can use a large quantity of heat, by mixing both hot sauce and hot chili paste. This recipe has an Asian fusion feel to it, as fish sauce, soy sauce, and ginger are used. You can use bamboo skewer sticks instead of a skewer rod.
The spice mixture first works as a marinade and then reduced to a sauce that can be used to baste your skewers while they are on the grill. Basting helps the chicken to stay juicy as breast pieces tend to dry quickly while cooked on high heat.
Grilled Lobster Tails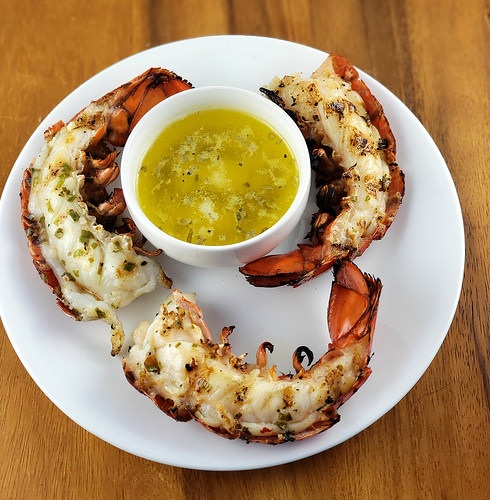 Barbecue and seafood are a lethal combination, and lobster on the grills is high on that list. Making lobster tails on your grill is a must-try if you love seafood. Lobsters are expensive treats, but it will be worth the expense if it tastes perfect.
Grilling lobster tails is simple. Melt your butter and add, garlic, lemon juice, pepper, and chives. You can add hot sauce to add some heat or skip it altogether. Prepare your lobster tails by butterflying them. This is a necessary step as you would want the seasoning to seep into the flesh.
Brush the buttery seasoning on the lobster and put them on the grill. Brush in the seasoning twice more during the process, which should not take more than ten minutes.
Greek Grilled Chicken
If you want grilled food that has a lighter, more refreshing flavor, try greek grilled food. They have a summery, light, and fresh taste that will keep you coming back for more.
Making greek grilled chicken during summer is a must. You will be surprised how the simplest ingredients give this grilled chicken the most succulent flavor.
The marinade has a combination of fresh and dry herbs that make the chicken fragrant. A key ingredient in greek cuisines is red wine vinegar, which is a game-changer in terms of taste.
You must let the chicken marinate for at least two hours so the flavors could enter the flesh. Cook for five minutes on the grill and then flip it, keep it on the grill for five more minutes.
Dijon Pork Chops
Grilled pork chops are a big yes for barbecue lovers. How well the pork chops will taste depends on the marinade. You must marinate the pork chops for at least eight hours.
You start the prep by making the sauce. Combine Dijon mustard, Worcestershire sauce, brown sugar, and apple juice. Mix it well and leaving one-third of the sauce you put the rest in a ziplock bag. Add in the pork chops and coat it well with the sauce.
Once you put the pork chops on the grill, you must use the remaining one-third of the sauce to baste them. Cook each side for at least five minutes then check if the internal temperature has reached 145 °F.
Honey BBQ Chicken Wings
Grilling your chicken wings is a great idea. The fat content of the wings makes it the perfect choice. There are many ways you can follow, to make BBQ chicken wings. This honey BBQ chicken wings recipe is one guilty pleasure you would never want to skip.
The sauce has a few ingredients, including the classic garlic powder, onion powder, salt, pepper, and vinegar. To this, you will add honey and molasses, for that delicious sweetness. Combine these ingredients and also add tomato sauce, hot sauce, and liquid smoke. Bring it to boil in a saucepan.
Put the wings on the grill, apply the sauce at the last minute to avoid burning.
Final Thoughts
When you start making BBQ at home, you open up to the possibility of tasting numerous delicious cuisines. These eight recipes are a mere glimpse of how much you can do when you start barbecuing at home. Try your hand on barbecued food today!