Spicy Chicken Skewers Recipe

Chicken skewers are always a great choice to prepare for dinner using an outdoor grill. These chicken skewers are brushed with a sticky and spicy glaze. The glaze gets a lot of its flavor from Asian ingredients such as fish sauce and hot chili sauce. If you are a fan of spicy foods, chances are you will love these chicken skewers. It is important to soak the wooden skewers are at least one hour in water to prevent them from catching fire. You can see from the pictures that even after soaking the skewers they still got pretty charred. This recipe is great for summer cookouts. Enjoy.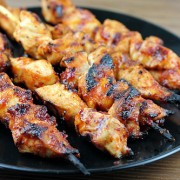 Spicy Chicken Skewers
Ingredients:
½ cup light brown sugar
½ cup rice vinegar
1/3 cup hot chili paste
¼ cup fish sauce
¼ cup Sriracha
2 teaspoons finely grated peeled ginger
1 1/2lbs boneless skinless chicken breasts (cut into 2 inch chunks)
8 bamboo skewers (soaked in water for at least 1 hour)
Directions:
In a large bowl whisk together brown sugar, vinegar, chili paste, fish sauce, sriracha, and ginger. Add the chicken pieces and toss to coat. Thread 4 to 5 of the chicken pieces onto each skewer.
Transfer the marinade to a small saucepan. Bring to a boil and simmer until reduced by ½ (about 1 cup), 7-10 minutes.
Lightly grease the grates of an outdoor grill. Heat the grill to medium-high heat. Add the chicken skewers and cook while turning basting often with the reduced marinade until fully cooked (the internal temperature has reached 165 degrees F.), about 8 to 10 minutes.