Why would you need a substitute for taco seasoning? Because taco seasoning is one of the must-have spices. Seriously — this blend of Mexican spices can produce a quick taco meal, of course, but it also adds delicious flavor to chicken, chili, zucchini, roasted potatoes, and more.
When you're in the mood for a quick burst of chili, garlic, and cumin flavoring, taco seasoning is solution. Unless you're fresh out, of course.
And that's why you're here, in search good substitutes for taco seasoning. Fortunately, there are some fabulous alternatives that can stand in for taco seasoning in a pinch. Read on to learn more about the 6 best substitutes for taco seasoning.
1. Homemade taco seasoning
Far and away, the best alternative to prepared taco seasoning is a homemade spice mix.
What's in taco seasoning?
The best substitute for taco seasoning is a quick homemade version. So, what's in taco seasoning? There are several variations, including the recipe outlined below. The most common ingredients in this spice mix are chili powder, paprika, garlic powder, onion powder, Mexican oregano, cumin, salt, and pepper.
If you have all, or even most, of those ingredients on hand, you don't need to buy packaged taco seasoning. Just scroll down to the recipe card below and mix up a batch yourself.
Note that the key ingredients are chili powder and cumin. If you're missing those, don't try and make homemade taco seasoning. It will fall short. Skip down to see if you have another taco seasoning substitute listed below. (Or order taco seasoning on Amazon with same-day or next-day delivery.)
Taco seasoning recipe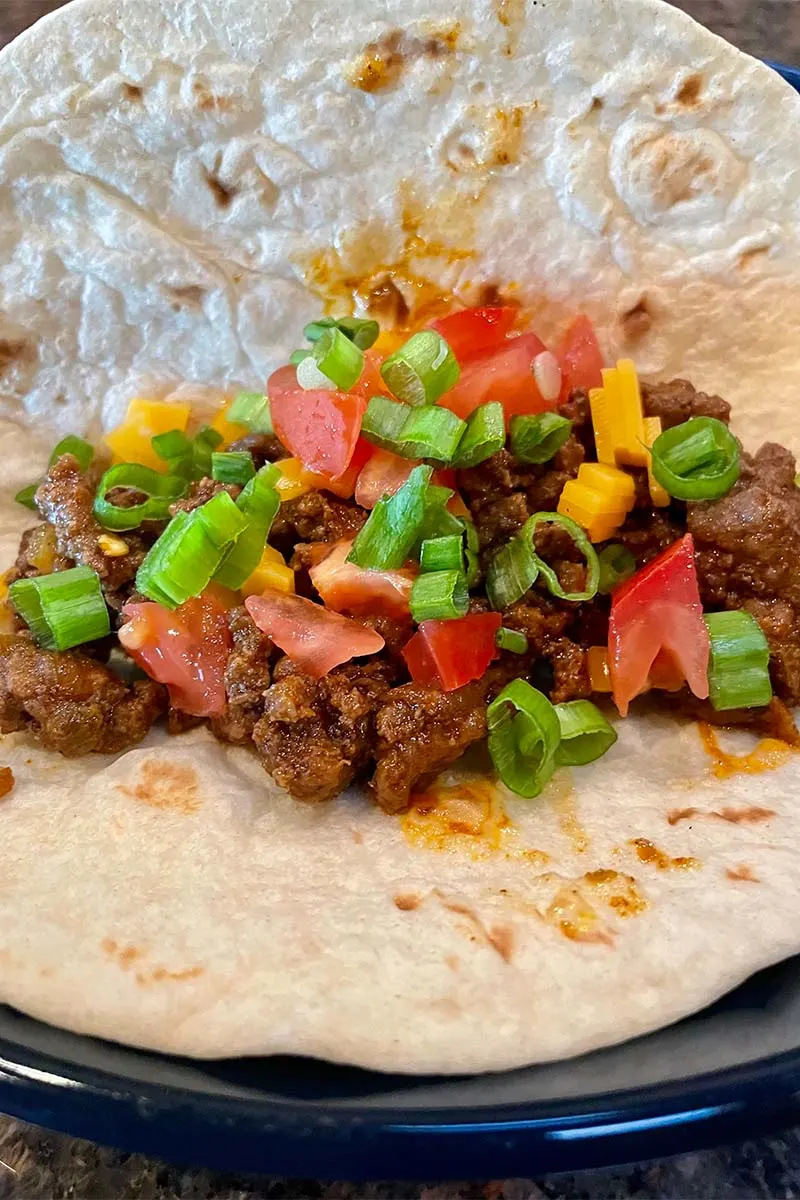 Here's the taco seasoning substitute recipe I use. It's rich in flavor and perfect for a quick taco meal. If you are watching your salt intake, you can use less salt in this mix or eliminate it entirely. If you cut the salt back, I'd also half the black pepper so it's not overwhelming.
Taco Seasoning Recipe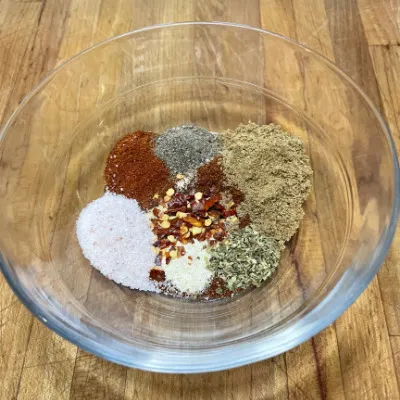 Easy taco seasoning mix made of spices you probably already have on hand!
Ingredients
1 tablespoon chili powder
¼ teaspoon garlic powder
¼ teaspoon onion powder
¼ teaspoon crushed red pepper flakes
¼ teaspoon dried oregano
½ teaspoon paprika
1 ½ teaspoons cumin
1 teaspoon of sea salt
1 teaspoon ground black pepper
Instructions
In a small bowl combine chili powder, garlic powder, onion powder, red pepper flakes, oregano, paprika, cumin, salt, and pepper. Store in an airtight container.
This can be used to season taco meat. Every 3 tablespoons of this mixture should be added to 1lb of taco meat.
Nutrition Information:
Yield:
4
Serving Size:
1
Amount Per Serving:
Calories:

12
Total Fat:

1g
Saturated Fat:

0g
Trans Fat:

0g
Unsaturated Fat:

0g
Cholesterol:

0mg
Sodium:

588mg
Carbohydrates:

2g
Fiber:

1g
Sugar:

0g
Protein:

1g
Nutrition information isn't always accurate.
2. Santa Fe seasoning mix
Lawry's Santa Fe Style Chili, Cumin & Garlic Seasoning, 19 oz – One 19 Ounce Container of Chili Garlic Seasoning for Authentic Southwestern Flavor, Perfect in Nachos, Tacos and More
BOLD SOUTHWEST FLAVOR: Santa Fe style seasoning adds sensational tastes to any menu; combines big, bold flavors to help you impress guests; pre-mixed blends are authentic and consistent for best results
HIGH QUALITY BLEND: Our global sourcing enables unparalleled control, ensuring every product delivers a pure and consistent flavor.; enjoy the hints of red bell pepper, onion and paprika beneath the main trio of flavors in robust Southwestern cuisine
PERFECT FOR CHEFS: Use this 19-ounce container in your back-of-house to customize old recipes, inspire new ones and refill smaller containers; chili garlic spice is familiar enough to meet customer demand and unique enough to complement trends
VERSATILE: Enjoy authentic Southwest flavors in your rice, tacos, stuffed jalapeno peppers, salads, marinades and more; enhance your menu with incredible flavors, textures and aromas when you use Santa Fe seasoning
FEEL GOOD INGREDIENTS: Santa Fe style seasoning is suitable for people with various diets and restrictions; this spice has no added MSG, no artificial flavors, and no colors from artificial sources, so you can accommodate more of your guests
Santa Fe seasoning mix typically includes chili powder, cumin, and garlic — three of the spices that carry the flavor of taco mix.
You can use Santa Fe seasoning as a direct substitute for taco seasoning in a 1:1 ratio. You could also add smaller measurements of oregano and onion powder to Santa Fe seasoning and use that mixture in a 1:1 ratio. Specifically, try ¼ teaspoon each of oregano and onion powder with 2 tablespoons of Santa Fe mix. Taste and add more if needed.
3. Fajita seasoning
Amazon Brand – Happy Belly Fajita Seasoning, 4 Ounces
4-ounces of Happy Belly Fajita Seasoning
Southwestern flavor
Great for burritos, enchiladas, tacos, nachos, tamales and refried beans
Use on savory dishes like chicken, beef, pork, curries, soups, omelets, and BBQ
Kosher certified
Fajita seasoning isn't quite the same as taco seasoning, but it's close. The biggest flavor difference is the citrus component of fajita seasoning that's not in taco seasoning. That citrus note goes nicely with grilled meats, but it may taste different in, say, ground beef tacos. It might come off more surprising than anything else.
Some fajita seasoning may be extra salty, too. Check the label and go conservative with this spice if there's a high sodium content.
Even so, I have used fajita seasoning in lieu of taco seasoning and it can produce a delicious result. Substitute it with a ¾:1 ratio and then add more to taste.
4. Chili powder
McCormick Dark Chili Powder, 7.5 Oz
McCormick Dark Chili Powder always starts with whole, ripe peppers
A robust blend of ripe peppers, garlic, salt and spices
Slightly sweet flavor that is just a little hotter than our regular chili powder
Adds rich earthy flavor and deep color to Southwestern chili and Tex-Mex tacos
Rub Dark Chili Powder on beef, pork or chicken before grilling
Chili powder is usually a main component of taco seasoning, which is why it makes a reasonable substitute on its own. Note that using chili powder by itself will give your tacos the flavor of red enchilada sauce — rich and smoky. You can always add other ingredients to balance that flavor, such as fresh minced garlic and chopped onions.
5. Sriracha hot sauce
Sriracha is a sweet, garlicky, spicy sauce that's popular in Vietnamese cuisine. It's not a direct substitute for taco seasoning because the flavor is so unique. But if you're open to something different, go ahead and use Sriracha to season your taco meat. It goes especially well on chicken and shrimp. Many Sriracha-based marinades combine the chili sauce with honey and lime.
Start with a small amount and add more to taste.
6. Chipotle peppers
Chipotle peppers are spicy and smoky. They're also a main ingredient in many Mexican marinades.
Chipotles make for a tantalizing taco seasoning. As with Sriracha, your chipotle-flavored dish won't taste like Taco Bell — but it likely will be better.
To use chipotles as a taco seasoning, chop them by hand or in a food processor. Go easy on the amount you add to your taco meat because chipotles are spicy. (I like spice and I use three chipotles for 1 pound of ground beef.)
Dilute the chopped chipotles with water and stir into browned ground beef or turkey. Simmer until the water evaporates and the meat is coated in a rich sauce.
Taco seasoning FAQs
What can I use instead of taco seasoning?
Try making your own taco seasoning with chili powder, cumin, paprika, garlic powder, onion powder, oregano, red chili pepper, salt, and pepper. Or use Santa Fe seasoning, chili powder by itself, Sriracha sauce, or chipotle peppers.
Do you drain meat before adding taco seasoning?
You can drain the meat if you are watching your cholesterol or fat intake. But know that the fat does add flavor and texture to taco meat.
What's the difference between chili powder and taco seasoning?
Taco seasoning is a blend of several spices, while chili powder is simply ground red chilies.
How should I use taco seasoning?
Taco seasoning is not just for tacos. In the event you make more seasoning than you need, rest assured, it won't go to waste.

Generally, you can use taco seasoning on meats and vegetables. You can also use it in soups, chilis, marinades, dips, and salad dressing. You can even use it tomato-based pasta sauces or to add a new flavor to pizzas and casseroles.
Have tacos, with or without taco seasoning
You can still have tacos, even without taco seasoning. Try making your own Mexican spice mix or using one of the substitutes outlined above. And have fun experimenting — because you may stumble across a better way to make tacos!
Last update on 2023-06-19 / Affiliate links / Images from Amazon Product Advertising API