Corned Beef Grilled Cheese Recipe

If you are looking for a great grilled cheese sandwich recipe to prepare for dinner or for St. Patrick's Day, this corned beef grilled cheese is perfect for you. This sandwich is packed with sliced deli corned beef, onions, and jarlsbeg cheese. If you cannot find jarlsbeg cheese, you can replace it with shredded or sliced Swiss. The best part about this recipe is that the onions and corned beef are mixed with a sauce that contains dark beer, Worcestershire sauce, and mustard. The sauce really adds a nice flavor to this grilled cheese sandwich. The bread that is used in this recipe is marble rye. Enjoy.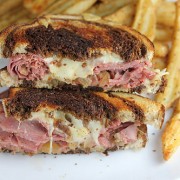 Corned Beef Grilled Cheese
Ingredients:
1 ½ tablespoons unsalted butter
1 small onion (thinly sliced)
1 tablespoon sugar
salt and ground black pepper
¾ cup dark beer (such as porter)
2 ounces deli-sliced corned beef (cut into strips)
2 teaspoons Worcestershire sauce
1 tablespoons whole-grain mustard
1 ½ cups grated jarlsbeg cheese
4 slices marble rye bread
Directions:
Melt ½ tablespoon of butter in a large skillet over medium-high heat. Add the onion and sprinkle with sugar, ½ teaspoon of salt and ground black pepper to taste. Cook, stirring occasionally, until the onion is soft and golden (about 10 minutes).
Add the beer and continue cooking, stirring occasionally until the onions are tender and the liquid is slightly syrupy (about 8 more minutes). Remove from the heat and stir in corned beef, Worcestershire sauce and mustard.
Divide half of the cheese between two bread slices, top with the corned beef mixture, the remaining cheese and two bread slices.
Melt the remaining 1 tablespoon of butter in a large skillet over medium-heat. Add the sandwiches and cook, turning once, pressing occasionally with a spatula, until the bread is toasted on both sides and the cheese melts, about 4 minutes per side. Add more butter to the pan if needed.