When you hear pork tenderloin, the first thought is a slab of juicy meat first browned on the stovetop, then roasted in the oven. But you won't always want to use this tedious appliance, which brings us to stovetop pork tenderloins. Plus, oven recipes tend to make the shyest of us all reluctant to try. So, why not give the stovetop a go at this tasty pork cut?
Pork Tenderloin Nutrition Facts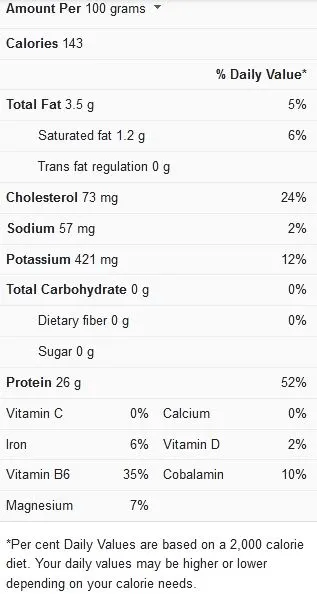 Why Stovetop Pork Tenderloin?
We always find a way to make things more convenient, especially for the newbies of the kitchen. Even veterans like to ease things up now and then. And the stovetop pork tenderloin recipe caters to both levels. Here's how;
It's Speedy- You won't need to wait hours before you can enjoy your dish or dazzle your guests. The combined time it takes to prep and cook the pork tenderloin doesn't exceed 20 minutes.
It's Delicious- The meat is simmered in a flavorful sauce that's just perfect for its kind. And it's a splendid way to show your friends you've gotten a hand on gourmet dishes.
It's Convenient- You don't need more than ingredients you probably already have, save only a few. And the recipe can be made ahead of time, then stored in the fridge or freezer for days.
It's Economical- With average-sized pork tenderloin, you have a hearty meal to share with more people. And because it's prepared in a savory sauce, you can offer it as a main course, side dish, or topping for another recipe.
View this post on Instagram

Making Pork Tenderloin on the Stove
You can have this mouth-watering recipe at your beck and call, provided you follow the instructions. But don't worry, it's not as demanding as you may fear. Stovetop pork tenderloin is almost as effortless as it is tasty.
Prepare the Pork Tenderloin
Your pork tenderloin may come with some silverskin on the back. If you find such, gently cut it off with a knife. Silverskin doesn't soften when cooked and is not what you want to bite when eating this sumptuous dish.
Once that's done, cut the pork tenderloin into smaller pieces. You want the meat sliced in 3/4 inch pieces of roughly circular shapes. Of course, the shape doesn't half as important as the thickness, so let's focus more on the latter. And this procedure is crucial if you want the meat to cook faster. Plus, it doubles the number of servings you can have.
Season the Pork Tenderloin Pieces
While it's possible to impress more flavors in this recipe, let's stick with a simple sprinkle of salt and pepper during searing. Then, combine other ingredients you'll use afterward in a processor. The sauce ingredients may include your favorite spices and herbs in a base of apple cider vinegar andolive oil. But you can also consider more options like lime juice for tang or honey for an added sweetness.
View this post on Instagram

Cook the Pork Tenderloin Pieces
Start by hearing some olive oil in a skillet or pan over a medium-high stove. Then, gently place the meat pieces, ensuring they stay on one layer. Cook both sides for some minutes until you get a good dose of browning from the heat.
Once the pork tenderloin has been seared to preference, add the sauce and cook the meat in it. It's from here that the burst of flavor will be infused into the meat. And ensure to cook for around four to five minutes for maximum deliciousness. But only set the recipe down for eating when the meat reads 145F on an internal thermometer.
Print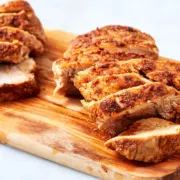 Stovetop Pork Tenderloins (6 Servings)
---
One pork

ten

derloin, two pounds

Two tablespoons

olive oil
Pepper
Sauce
Quarter cup olive oil
Quarter cup fresh cilantro, packed
There tablespoons lime juice

One tablespoon

honey

One teaspoon

apple cider vinegar
Three-quarter teaspoon minced onion
Quarter teaspoon chipotle powder
Quarter teaspoon black pepper
Half teaspoon sea salt
One small shallot
Zest from

one

lemon
---
Instructions
Dab off any excess moisture from the pork shoulder and trim off any silverskin. Then, cut the roast into medallion sizes of three-quarter-inch thickness.
Pulse the sauce ingredients in a blender into puree and set aside. Then, sprinkle the pork shoulder medallions with salt and pepper to taste.
Cook the oil in a pan or skillet over a medium-high stove, and brown the pork at one to two minutes per side. Then, add the puree and stir to mix with the medallions.
Cook for about four minutes, or until the meat reads 145F on a probe thermometer, then serve the recipe hot and as desired.
Another way can be seen in this video.