If you're familiar with tilapia, then you know this tasty fish is one everyone loves to have. The freshwater fish has an attractive white flesh with a mild but balanced sweetness that excels at every cooking method. Most times, tilapia fillets are fried in a pan or grilled over indirect heat. But it can also be cooked in the oven, and here's how to watch for its doneness.
Tilapia Nutrition Facts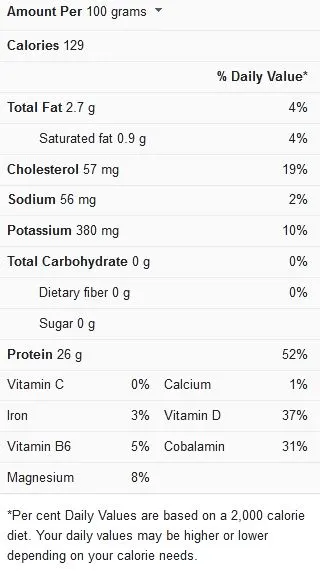 Why Do People Cook Tilapia in the Oven?
You may have wondered why anyone would bother to cook tilapia in the oven. I mean, the stovetop is already an easy way to do it. But everything comes with its perks, and oven-baked tilapia is no exception. And these, for instance, are enough to make anyone consider such a cooking method for the fish;
Fast-You can whip up tilapia in the oven in a short time. Once you've combined the ingredients, toss the tray in the oven and expect it to be done in less than 30 minutes!
Convenient-Oven-baked tilapia doesn't need much to make it tasty. And a simple blend of pepper, salt, and olive oil will result in an explosion of flavor.
Large Batch-There's enough space in the oven to cook more of the fish. And you can feed a large group in a very short time.
Versatile-Oven-baked tilapia works in numerous situations. It's a great standalone dish that pairs with vegetables, grains, pasta, and potatoes. But it also works in sauces and casseroles, sandwiches, tacos, burritos, and many more.
View this post on Instagram

Tips for Cooking Tilapia in the Oven
Oven-baked tilapia is undoubtedly tasty, and its straightforward procedure also makes it appealing. But these factors alone aren't what make the recipe successful. Other aspects which make the dish a major contender also come into play.
You have to use fillets of roughly the same size. Cooking tilapia of varying thickness will cause uneven doneness.
The fish needs to be blotted dry before seasoning. Tilapia tends to come wet, and if cooked so, the fillets would turn out soggy. So, use paper towels to mop off excess moisture.
Add a drizzle of olive oil to the tilapia fillets so the surface browns when it cooks. The olive oil coating also allows the dry spice sprinkles to stick.
Seasoning options for tilapia completely depend on your preference. But note that the fish is mildly flavored yet delicious. So, at best, only ad seasoning as a support instead of a base.
For seasoning, you have options from black pepper to chipotle powder, dried thyme, parsley, and so on. Spice mixes like Adobo seasoning, creole seasoning, liquid seasoning, and lemon pepper are great options. Add more cayenne, paprika, ground caraway, garlic powder, or ginger powder to boost the spiciness. Also, consider smoked paprika for that woody flavor or soy sauce with brown sugar for a sweet and savory blend.
Consider lining the baking pan with parchment paper or foil, so cleanup is easier. But you can also bake the fish on a plain sheet if you prefer. Then, of course, it helps first to grease the pan's surface with cooking oil, so the fillets don't stick as they bake.
Cooking Time for Oven-Baked Tilapia
The oven is set to a temperature of 375F for the fillets. At this level, the tilapia cooks at a steady rate with little chance of overheating. Any higher in the oven temperature, and they'll char quickly. It'll take between 20 to 25 minutes for the fillets to cook in such an oven fully. And you'll know they're ready when they can easily break apart with a fork.
View this post on Instagram

Leftover Oven-Cooked Tilapia
It's possible to have excess food after a recipe, and in the case of fish, you may worry that there's nothing to do with it. But oven-cooked tilapia is so versatile; it works in anything. And the leftovers will keep for up to three days in an airtight container in the fridge. This period is enough time to use the baked tilapia in recipes like;
Tacos and burritos
Fish sandwiches and burgers
Herbed potatoes
Subs
Fish cakes
Fish rolls
Samosas and so much more.
Print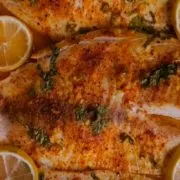 Baked Tilapia (4 Servings)
---
Four Tilapia fillets, four ounces
Frozen cauliflower with red pepper and broccoli, 16-ounce package

Two teaspoons

butter

½ teaspoon

garlic salt

¼ teaspoon

Old Bay Seasoning
One lemon, sliced
---
Instructions
Prepare the oven to heat up to 375F and grease a baking dish as you wait. Then, place the fillets in the baking pan and dot the surface with butter. Next, top each fillet with two slices of lemon and spread the frozen vegetable mix around them. Then, sprinkle with pepper and salt.
Cover the baking dish and slide it into the oven. Then, cook for 25 to 30 minutes until the fish easily flakes with a fork. The vegetables added should also be tender at this point.
Take the dish out and serve the Tilapia fillets as desired.
This video can also help you learn more.