The craze for barbecuing and grilling has taken hold of virtually everyone in the hemisphere. And the introduction of electric and gas burgers has made it so much easier and fun, especially for novices. Today, almost everyone has one type of George Foreman's contact grill in their kitchen, making it easy to prepare their favorite BBQ meals indoors. But not all know how to transfer from the traditional outdoor grills to these types properly.
If you're a burger lover, this move can seem painful to you, but it shouldn't be. You can still make your tasty patties on your indoor George Foreman contact grills without hassle. And once you master how it works, you may not want to revisit your classic charcoal grill ever again!
Burgers Nutrition Facts
Making the Best Burgers on George Foreman Grill
As with any grilled recipe, it takes skill and knowledge to create delicious results. And cooking on the George Foreman grill is no exception. So, it helps to understand the principles for making the best patties before preparing some on your electric appliance.
Selecting the Ground Beef
Any ground beef will make exquisite burger patties, whether it's gotten from the sirloin, short ribs, chuck, or Kobe beef. You only need to ensure it respects two requirements; top quality and an 80/20 ratio. First, the ground beef must be made from high-quality beef if you want the best flavor. And such types are gotten from purely grass-fed cows.
Ground beef but also comprised of 80% protein and 20% fat. This ratio is the best option for the perfectly balanced patty texture and structure. At an 80/20 ratio, the patties carry enough fat to hold the meat in place and won't dry out to give an unpleasant chew.
 

View this post on Instagram

 

Seasoning the Ground Beef
Moderation is crucial when adding seasoning to ground beef. As such, stick to simple spice combinations for your ground beef. For example, you could consider the typical egg with black pepper and salt. Or you can trust the fat content in your burger for effective binding and only add salt, minced garlic, and black pepper.
Other options that work include parsley, minced shallots, ground ginger, onion powder, barbecue sauce, Worcestershire sauce, soy sauce, and hot sauce. Plus, since the George Foreman grill is an indoor electric appliance, a few drops of liquid smoke will add the charcoal taste you'd expect from the typical grill.
Also, when you're mixing the spices, use a fork to turn it into the meat instead. Finally, your warm hands will offset the fat in the ground beef.
Shaping the Patties
Cut the ground beef into equal sizes and gently form the patties with your fingers. Gently compress the middle so the burgers come out light and airy. You'll also want the patties to be around ½" to ¾" thick, about four to five inches in diameter.
 

View this post on Instagram

 

Burger Cooking Time on George Foreman Grill
Most George Foreman contact grills take about five minutes to reach high heat, which is the level you'll want to cook the burgers. And at such temperature, it'll take around three to five minutes to cook the burgers if you're cooking them to medium-rare. Medium burgers will need about four minutes, while well done will be fully cooked in five minutes. You'll also want the top of the contact grill closed when you do.
Print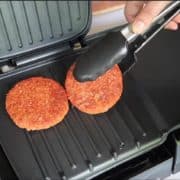 Grilled Hamburgers (4 Servings)
---
One pound ground beef, lean
Four burger buns

One tablespoon

parsley, freshly minced

One teaspoon

Worcestershire sauce

One teaspoon

liquid smoke

One teaspoon

sea salt

½ teaspoon

pepper, freshly ground
---
Instructions
Mix the ground beef in a bowl with Worcestershire sauce, parsley, salt, pepper, and liquid smoke. Then, place it in the fridge and turn on the grill. Then, wait for five minutes for the grill to reach the perfect hotness.
While you wait, take out the ground beef and split it into four equal parts. Mold each portion into a ball between your palms, and press them into circular patties about ½ to ¾-inch thick.
Position a drip tray directly below the grill and arrange the patties on the hot rack. Place the grill cover and cook the meat for three to five minutes. Check the burgers with a meat thermometer for the preferred doneness.
Once ready, move the patties to a plate to rest for two to three minutes. As you wait, you can toast the buns if desired. Then, pack the patties on Kaiser rolls and serve with your favorite side dish.
Also, watch this clip for more tips.