As there are numerous types of potatoes globally, so are their different cooking times. And if you're a huge lover of the vegetable, it can feel overwhelming converting from your favorite type to another. Unfortunately, not everyone who loves Russets is a fan of red potatoes. And for many, their knowledge on cooking duration ends at mashed and baking techniques.
But it's not as problematic as you may fear, and potatoes aren't that different in preparation. So what's needed is a detailed comparison of the various types and how they're mostly cooked.
Potato Nutrition Facts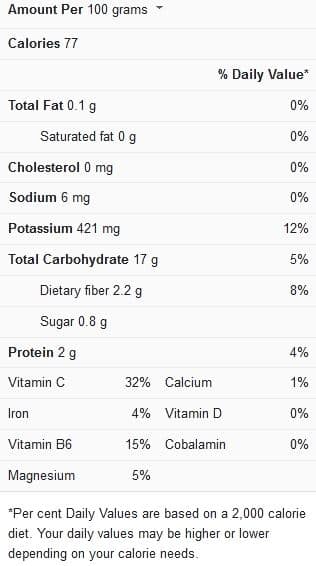 Potato Types and Uses
The first step is to understand the different potato varieties available. Then, it would help if you also learned where they're best used. For example, a familiar hint at the source of some of your favorite potato dishes will give you a heads-up on how they're cooked. And it also helps you properly master the cooking time for each recipe.
That said, some of the most common potato varieties around us include russets, Yukon gold, white, Peruvian, long white, round red, and yellow. New potatoes also belong to this list, though they're not as popular as the others mentioned
Knowing the many options available, we can now sort them according to the best ways they can be used.
Russets are probably the most popular, as they're great at everything from mashing to baking, roasting, fried, and boiling.
Long white potatoes work in all but boiling and frying, while regular whites excel at these aspects.
Peruvian potatoes are another excellent option for baking roasting, while round reds are better boiled.
New potatoes aren't just good for boiling also but roasting too.
And the classic yellow potatoes almost convinced you that they were explicitly made for mashing.
Checking Potato Doneness by Cooking Method
Knowing which potatoes are best for different recipes, you can now focus on the proposed cooking time. And since various methods of preparing potatoes are available, we'll highlight them for your convenience.
Boiling
Potatoes can be boiled or fried on the stovetop, and each technique cooks differently.
By stovetop boiling, it takes about 10 to 15 minutes to cook small potatoes. And this duration also applies to diced, cubed, or sliced ones. Larger sizes, however, need longer and cook for about 20 to 25 minutes. And in both cases, the potatoes are deemed ready when they're easily pierced with a fork or knife.
But the stove isn't the only place to boil potatoes, and the other methods may require different times. For instance, boiling potatoes in the microwave or instant pot take the same time as the stovetop. But slow cookers need about six to eight hours on LOW to funny cook potatoes.
Frying
View this post on Instagram

While some potatoes need to be sliced or diced before sautéing on the stove, others can be cooked whole. But regardless, the doneness times are roughly the same. The average fried potatoes recipe takes 10 minutes to reach doneness, but some can use as much as 20 minutes. The key is to observe when the potatoes become fork-tender, regardless of whether they're whole or cut into pieces.
Air fryers also take about 20 minutes, with instructions that you toss the potatoes halfway through. And this duration is mainly at a temperature of 400F. You can go less, meaning more cooking time for your recipe. But it isn't advised to go higher than this temperature, or the potatoes would scald and burn without thoroughly cooking.
Roasting
View this post on Instagram

Potatoes can also be roasted in an oven or on the grill. And most times, varieties used are types that can be eaten with the skin-on. Most roasted potatoes recipes involve tossing in oil and seasoning and cooking at a high temperature. And the magic number is 400F for 30 minutes, though others consider cooking at 425F for 25 minutes.
But roasting on the grill is an entirely different case. First, most recipes suggest cutting them into wedges so they can cook to dryness. Then, the recommended quarter-inch-thick potato slices are packed in foil and cooking oil, cheese, spices, and seasonings. Both methods can be done in 30 minutes, with the potato wedges needing constant flipping so it doesn't burn.
Baking
View this post on Instagram

Most baked potato recipes are done in the oven, but you'll also find some in the microwave and on the grill. And the oven is most straightforward, which is why it's commonly used. Regular practice in such cooking methods involves washing the potatoes and poking holes in them so steam can escape from the cooking. And the potatoes are usually cooked for about an hour, with occasional flips every 20 minutes.
Microwave baked potatoes may take a shorter time, with most recipes suggesting 14 minutes with a flip at the halfway mark. But for larger sizes, you may need one-minute increments to soften the vegetable.
Air fryers need about 40 to 50 minutes to bake potatoes, especially at the 400F temperature. And grills require the potatoes to be wrapped in foil and cooked over heat for about 30 to 40 minutes.
Print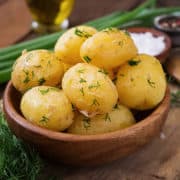 How Long Do Potatoes Take to Cook?
---
Description
Oven-Baked Potatoes (4 Servings)
---
Four russet potatoes; washed and dried
Olive oil
Grounded black pepper
Salt
---
Instructions
Set the oven to heat up to 425F, then pike holes around the potatoes with a fork. Then, rub the surfaces with olive oil and add a generous sprinkle of pepper and salt.
Arrange the potatoes on the rack and bake for 50 to 60 minutes, turning every 20 minutes for even cooking.
Serve when the insides are soft to pierce and the skin is almost crumpled.