We're always on the lookout for easier ways to prepare our favorite recipes. And we can say most of us have a special place in our hearts for baby potatoes. These starchy little spuds are great with a combination of spices and herbs and taste amazing; however, they're cooked. But of all the various methods of preparing small potatoes, the stovetop is still most versatile.
You can either boil baby potatoes in water or sauté in oil and herbs. But the method you use depends on how you like them to taste. Plus, each technique relies on a few factors to come out fantastic. So, to be sure you're doing it right, a few tips might come in handy.
Potatoes Nutrition Facts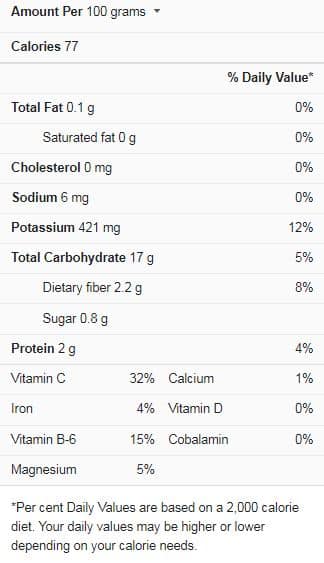 Baby Potatoes Cooking Tips
To make the best-tasting mini potatoes, you should remember these factors;
Choosing the Potatoes
Russets baby potatoes are great for boiling because of their starchy content. But they come out soggy when sautéed or fried in a pan. For the latter, Yukon baby potatoes are best due to their creamy texture. And if you don't have these types, any other creamy variety will do.
View this post on Instagram

Preparing the Potatoes
If you're boiling the potatoes, you can leave them whole in the water. But make sure the selected potatoes are approximately the same size, so they cook evenly. For the pan-frying or sautéing methods, it's best to cut them in halves or slice them in coins first before cooking in oil.
Seasoning the Potatoes
Any combination of seasoning, aromatics, and spices works for stovetop baby potatoes, including paprika, black peppercorns, coriander, garlic, and cumin. But if you're cooking in a pan or skillet, it's best to sprinkle in your dried spices at the very end; otherwise, they'll burn out. But if you're dealing with freshly chopped herbs like rosemary or celery, they can be added early in the recipe.
Also, note that you'll need oil with a high smoking point for the sautéing method. As such, combine equal parts of olive oil with butter for both crispiness and creaminess.
View this post on Instagram

Cooking Baby Potatoes on the Stovetop
Now, we can dive into the cooking methods for baby potatoes;
By Boiling-Toss the potatoes in a pot filled with about an inch of water, and then add the spices, aromatics, and salt. Leave the potatoes on the stove to reach a boil, and then reduce the heat, so it simmers for about five to eight minutes. Drain the water and remove the solid spices and aromatics, if any. Then, toss the boiled potatoes in butter and sprinkle salt to taste. If the baby potatoes are large, be sure to cut them in halves before you toss.
By Sautéing-Place a large skillet or pan over medium-high heat and add some oil. Then, slice the baby potatoes into halves or quarter-inch coins and add them to the pan. Sprinkle the herbs and seasoning, and cook untouched for about four to five minutes. You'll notice the baby potatoes turn crispy golden by this time. Next, flip the potatoes, so the other sides cook for the same amount of time. You can add more seasoning and spices at this point as well. And once they're ready, serve warm.
Print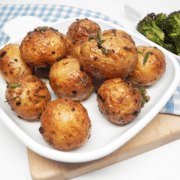 Sautéed Baby Potatoes (6 servings)
---
One pound baby potatoes, cleaned and cut into ¼ inch coins

One tablespoon

vegetable oil

One tablespoon

olive oil, extra virgin

One tablespoon

rosemary, freshly chopped

One teaspoon

garlic powder

½ teaspoon

chili powder
Black pepper, freshly ground
Kosher salt
---
Instructions
Set a skillet on medium-high heat and pour the oil. Let it cook until hot, and add the potatoes. Season with the pepper, salt, and rosemary, and leave it to cook untouched for four to five minutes.
When the potatoes turn golden and crisp, flip them and cook for another four to five minutes. Add the chili and garlic powder, and stir for about two minutes until the potatoes are soft. Serve warm and as desired.
Do you want more recipe ideas for stovetop baby potatoes? Watch this video.